A Very Hygge Holidays
Slow down, simplify, and savor the season with these cozy comforts.
Winter is officially here (at least for us up north in Renewal by Andersen's home state of Minnesota), and suddenly we find ourselves beset with early sunsets, long cold snaps, frequent snow/sleet/ice storms, and all the other stresses and headaches that seem to come dancing in as Daylight Savings Time takes its leave.
But take heart! It doesn't have to be that way. Enter "hygge" (pronounced hoo-gah), a Danish concept of celebrating the little things in life. Hygge is about taking time away from the daily rush to be together with people you care about, or even to relax by yourself, and enjoy life's quieter pleasures. There is no direct translation in English, although "cozy" comes close. (The New Yorker calls it "a quality of coziness and comfortable conviviality that engenders a feeling of contentment or well-being." A mouthful, but truth.)
Hygge is not confined to any particular season—as the Danish people would tell you, it is more of a way of being, all year-round—but winter is especially suited to it.
So as the calendars reach their final pages, and the days grow dark and dreary, why not do as the Danes do and embrace all that is cozy? After all, there is a reason that Scandinavian folk, and the Danish people in particular, are consistently named some of the happiest humans on the planet.
Picture it: you're wrapped up in a wool blanket, a fire is crackling, and you're holding a steaming mug of apple cider. Sounds nice, right? We think so. So get ready to unplug, connect with friends and family, and create an environment of self-care and relaxation, as we get Hygge for the Holidays.
Simplify Your Surroundings
Hygge is all about surrounding yourself with things you love (aka "things that spark joy," in Marie Kondo-speak) in a calm and peaceful environment. One of the best ways to do that? Decluttering. You don't need to liquidate all your earthly goods...just take a look around and eliminate the things that make you feel stressed and bring some of your special treasures to the fore (bonus: this time of year, that can include family heirloom holiday decorations and handmade decor).
There are lots of ways to declutter, from simply putting away things that are left out to more extensive overhauls. What to do with your "get rid of" pile? Selling, recycling, or tossing all work—but you can also breathe new life into old items by upcycling/repurposing. Not only is the arts and crafts/construction time a great "hygge" activity, it's also a chance to turn trash into (useful) treasures and keep stuff out of a landfill.
Some fun upcycling ideas to get you started: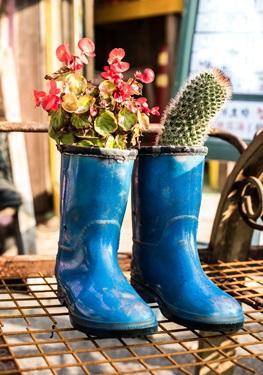 ●
Turn old baby clothing into a quilt.
●
Repurpose treasured T-shirts into scarves, pillows, or blankets. Try making a purse or tote from old blue jeans. Turn
singleton socks
into bean bags, tea cozies, arm warmers, toys, and more!
●
Use some spray paint to breathe new life into old items--glam up that wheelbarrow, take an old coffee table and turn it into a cute side table for your patio, take old terracotta pots and transform them into matching storage bins.
●
You can make planters and container gardens out of almost ANYTHING! Old boots, spray painted tires, that newly glammed up wheelbarrow, empty soda bottles, mugs, you name it!
●
Upcycled pallets make an inexpensive choice for handmade patio furniture. Add a few colorful throw pillows, and you have eco-friendly, trendy outdoor seating!
If you need some inspiration for ideas on ways to repurpose and upcycle household items, a great place to look is Pinterest.
Another way to extend the lifespan of items is donation. Donating can be a great option for items that cannot be sold or if you feel you don't have the time to spend selling. You can feel good that you are helping reduce waste as well as providing much-needed resources to people who wouldn't otherwise have access to them.
If you want more pro tips on clearing the clutter, check out our complete guide to decluttering in our April Earth Day issue.
Ride the tide.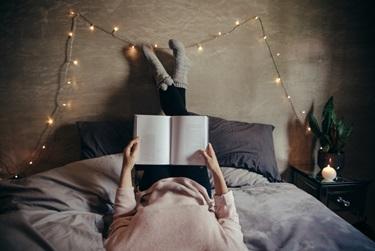 We don't mean go surfing (but that is fun, too…if you aren't ice-bound like those of us here in Minnesota!)—we mean join the flood. Jólabókaflóð—or The Yule Book Flood—refers to the Icelandic tradition of exchanging books on Christmas Eve and then spending the day reading. It's not a Danish tradition, but cozying up and reading all day fits right in to the theme.
Iceland is a highly literate country—and reading is next to a national sport. One 2013 study showed that 50 percent of Icelanders read at least eight books per year, while 93 percent read at least one. Aside from the U.K., it publishes more books per capita than anywhere else in the world—nearly one in 11 people will publish a book in their lifetime. And roughly 80 percent of the very robust Icelandic publishing industry's revenue comes in in those two month's leading up to The Flood.
While we have Black Friday to kick things off here (who are we kidding? Stores have flocked trees and jingle bells aplenty before the clock strikes midnight on All Hallows Eve, these days), in Iceland, their holiday flood starts with the November release of Bokatidindi (roughly translated into "Journal of Books"), a catalog of nearly every book published in Iceland. On Thorlaksmessa (December 23), the bookstores in Reykjavik will be packed; on the 24th, the new treasures are unwrapped, and then everyone grabs a hot drink and curls up with their tome.
Looking for a book to give (to someone else or yourself) to celebrate Jólabókaflóð? Check this list of 100 Books to Read in Your Lifetime from the editors at Amazon.
Savor the Scents
One of the easiest ways to set a cozy tone in your home are candles. The Danes swear by them. Our sense of smell is closely linked to memory and emotion, so taking advantage of it is a great way to instill a sense of homey comfort on a cool evening. Add as many candles as you'd like, but a few will suffice. Fall conjures up the scents of pumpkin spice, apple, cinnamon, and vanilla. If you want to go for a sweeter smell, try the popular salted caramel flavor. That'll get your taste buds going!
If candles aren't your thing, try essential oils. If you're new to it, start with ginger, cassia, nutmeg, and cardamom. Essential oils make it easy to experiment with layering scents to create a signature aroma. Other essential oils to try mixing and matching include tangerine, coriander, black pepper, cedarwood, rosemary, patchouli, vetiver, and juniper berry.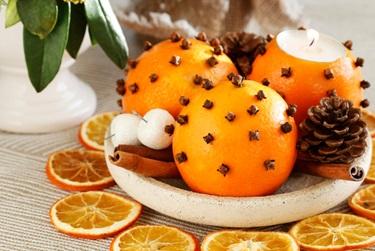 Smells good, looks good, and (maybe) makes you feel good? You must be talking about a pomander (from the French phrase, pomme d'ambre, i.e. apple of amber, referring to ball made of perfumes and hung from a chain).
In folk medicine, pomanders were supposedly able to ward off infection. While this may or may not be the case, they do serve as a wonderful all-natural air freshener.
Stud an apple or an orange with whole cloves and tie with a festive ribbon. Place it in a drawer like a sachet, hang in a doorway, or fill a decorative bowl with them and set them on the table. See full instructions on making your own pomanders here.
Treat Your Tummy
What is the coziest food you can think of? For the Danes it's usually cake because hygge is all about treating yourself. But they also fancy a warm round (or two) of coffee, tea, hot chocolate, apple cider, or mulled wine. Ready for a toasty tummy? Try one of these two treats:
Glogg (Danish Mulled Wine)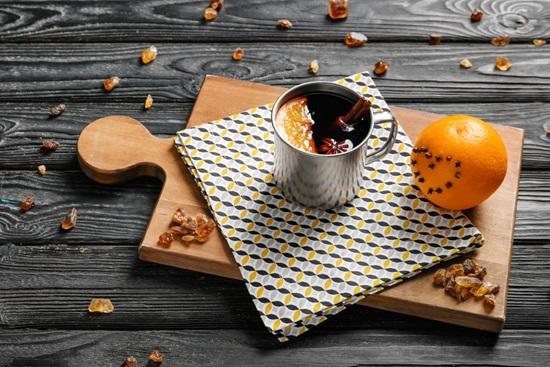 Ingredients
For the glogg essence:
• 4 handfuls of raisins
• 10 ounces port
• 1 bottle heavy red wine
• 1 cup brown sugar
• 8-10 cinnamon sticks
• 20g (allspice)
• 20g cloves (whole)
• 10g cardamom (whole)
For the glogg:
• 2 bottles heavy red wine
• 3/4 cup brown rum
• 3/4 cup vodka
• Peel of 1 orange
• 3/4 cup freshly squeezed orange juice
• 1 cup chopped almonds
Instructions:
1.
Soak the raisins in the port, preferably for 24 hours
2.
Start by making the glogg essence. Pour the bottle of red wine into a pot, add the sugar and cinnamon, allspice, cloves and cardamom, and heat to just below boiling point. Turn off the heat and allow to cool, then strain out the aromatics.
3.
Add the additional bottles of red wine, spirits, orange peel and juice to the glogg essence. Again, heat to just below boiling point, and then add the raisins, port and the almonds. Serve warm.
Adapted from: The Little Book of Hygge: Danish Secrets to Happy Living
Eggnog Hot Chocolate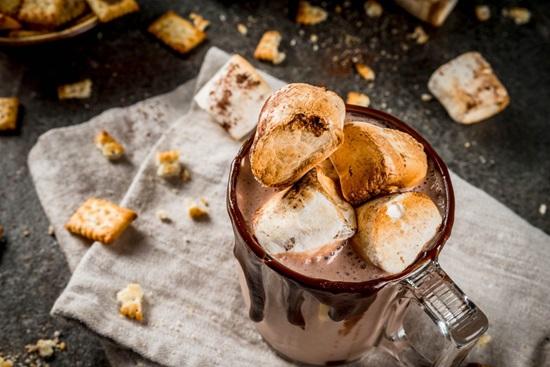 Ingredients
Homemade Eggnog Ingredients
•
4 pasteurized egg yolk(s)
Hot Chocolate Eggnog Ingredients
•
3 cups homemade eggnog
•
1 cup whole milk
•
1 cup finely chopped dark chocolate
•
3 tablespoons sugar
•
pinch kosher salt
•
marshmallows
Instructions
Homemade Eggnog Instructions
1.
In a medium pot over medium-high heat, combine the milk, heavy cream, nutmeg, and a pinch of kosher salt until you see small bubbles rising to the surface, stirring occasionally to avoid burning.
2.
Meanwhile, use mixer to beat egg yolks and sugar together until the yolks lighten in color and sugar is completely dissolved.
3.
Remove milk mixture from heat and very slowly pour it into the egg yolks, whisking constantly to avoid eggs from cooking.
4.
Return mixture to pot and cook until the mixture reaches 160°F. Remove from heat and stir in vanilla.
5.
Pour into mixing bowl and let cool completely. If serving later, set in refrigerator to chill, up to a few days.
Hot Chocolate Eggnog Instructions
1.
Place homemade eggnog, whole milk, dark chocolate, sugar, and a pinch of kosher salt in a medium pot over medium heat. Warm mixture, stirring occasionally, until chocolate is fully melted.
2.
Divide among four glasses and top with marshmallows toasted in broiler or with kitchen torch and sprinkle of nutmeg. You may also substitute whipped cream.
Want some additional food and beverage indulgences well-suited for a fall evening in front of the fire? Check out some of these delicious autumn offerings!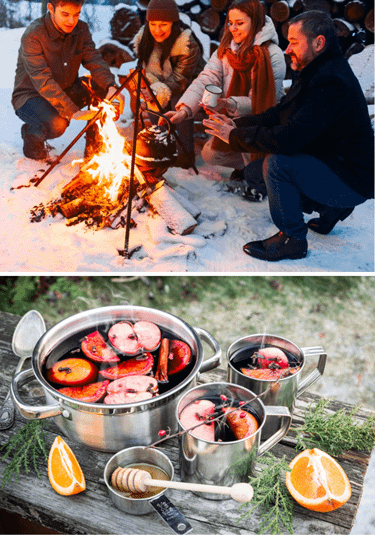 Head to the Great Outdoors
Hygge doesn't have to look like the inside of a Pottery Barn catalog. It doesn't have to look like anything INSIDE at all, in fact. Outdoor activities can still be hygge (if this were summer, for example, we'd say grab a blanket and stretch out for a nap in the sunshine at a local park or hang in a hammock and read a book). A connection to nature, spending time with loved ones, unplugging, these can all be found in candle, couch, and fireplace-free hygge activities.
Fall and winter weather don't have to keep you indoors (something the Scandinavians will attest to). Prep a picnic lunch and take your holiday meal on the road to visit a local state park. Let fresh air grow that appetitie! Nobody says you have to eat your turkey at the dining room table: Many parks and recreational spaces are open on Thanksgiving and for the long weekend. Pack some turkey sandwiches and head outside and see what your local park system has to offer.
Host your family and friends for an outdoor "potluck". Bring blankets and warm drinks (glogg, anyone?); start a bonfire or use a portable propane heater. For entertainment, classic around-the-fire games like Vampire/Mafia/Werewolves, Never Have I Ever, 20 Questions, Chubby Bunny, etc. can be adult-centric or family-friendly, depending on your audience. More active options include a hike or a trail run, or playing yard games like badminton, croquet, or bean bags.
Bake Some Magic
One of life's simple pleasures has to be baked goods, right? It's hard to get more cozy than making cookies or cakes or breads (unless you count putting on your PJs and cuddling up on the couch to EAT some of those cookies or cakes or breads...and maybe some of that cocoa eggnog. There's no judgement, only good vibes, in the hygge house!). One of our favorite recipes is also one of the easiest: Cream cheese sugar cookies. Soft, not too sweet, and absolutely adorable.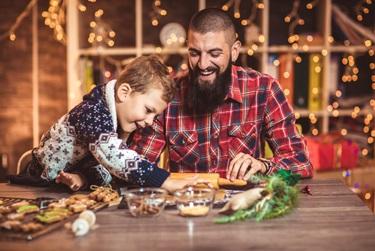 If leaving out cookies for Santa on Christmas Eve is a tradition in many families, and making a gingerbread house falls squarely into the hygge idea of handmade décor...why not combine all of the above? Try these cute little gingerbread trees this year. Bake the cookies and then assemble the trees...make one giant tree, or assemble a mini-forest. They make wonderful gifts, are great to take and share at gatherings and parties, and are tasty gifts to send home with guests and holiday visitors. Make it a family affair, and enlist the kids' help with baking and decorating.
Instructions are below!
Snowy Gingerbread Trees
You will need:
• Gingerbread cookie dough (we like
this recipe from Baked by an Introvert
)
• Icing (see below for recipe)
• Pastry bag for icing (if desired)
• Star-shaped cookie cutters in a variety of sizes—3 or more works best; we used 5 for medium sized trees, and 10 for larger ones. (You can also trace a pattern on card stock and cut the cookies by hand)
• Parchment paper to roll out and bake on.
• Any additional decorations (powdered sugar for snow, colored icing for tree trimming, silver or gold sugar pearls, etc.)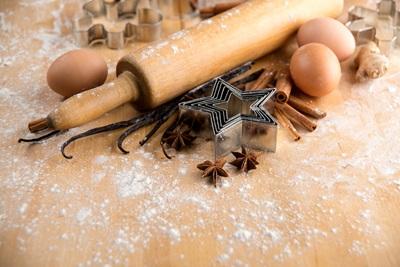 How to make it:
1. Prepare dough according to recipe. For ease of use, separate into 2-3 batches, and freeze or chill, working with only one section of dough at a time.
2. Roll out dough to ¼" thick on parchment paper.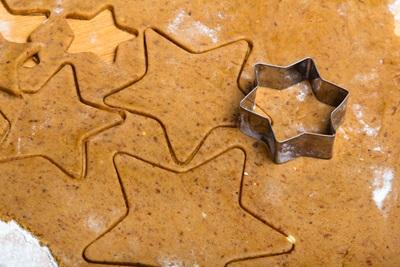 3. Use cookie cutters to cut out stars. For taller trees, use 2-3 of each size, per tree. For each tree, make an extra star of the smallest size for the top.
4. Ball up extra dough, re-roll and cut additional stars (or make extra cookies!).
5. Bake according to recipe directions; allow to cool. While cookies are baking, make the icing (see next step).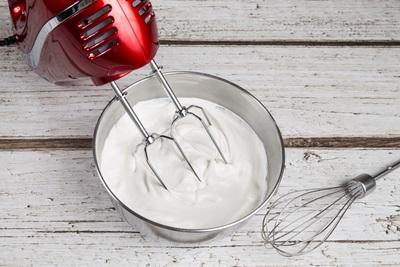 6. Prepare icing. Sift approximately 3 cups pure icing (confectioners') sugar through a fine sieve. In a separate bowl, lightly beat 2 egg white until mixture is just broken up (do not whip into peaks). Beat in the icing sugar 1 tablespoon at a time, until it reaches desired consistency. Using a wooden spoon mix in 1/2 tsp. lemon juice. Separate into multiple bowls if different colors are desired. For precision icing, use a pastry bag or a bottle.
7. Assemble trees. Stack stars starting with the largest at the bottom, ensuring that the points of the stars alternate. Depending on how many sizes of stars you have, and how tall you would like your trees, you may use 2-3 of each size, per tree.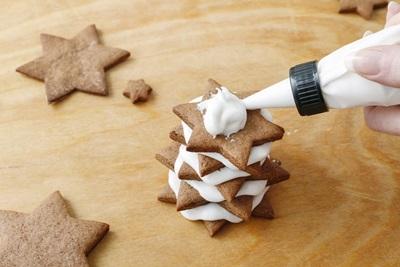 8. Use a dollop of icing as "glue" between each layer. Use a little if you want it to remain hidden, or more if you would like it to double as "snow".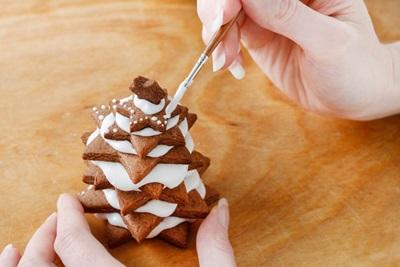 9. Decorate! Get creative—pipe trim onto each tree, use icing to affix silver or gold pearls, dust with powdered sugar for snow.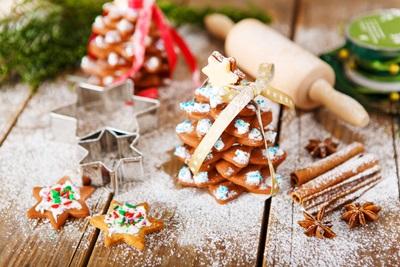 10. Enjoy!
Pile on the Pillows
Textiles--from table runners to rugs; blankets and throws to poufy pillows--are a great way to transition the feel of a room from summer to autumn with minimal effort. They are the decorator's equivalent of donning your leggings, booties, and chunky sweaters. While breezy fabrics and cool linens are ideal for summer's heat, the brisk air of fall calls for heavy, durable, warm fabrics awash in rich, deep, earthy hues and solid patterns.
Try a cable knit or faux fur blanket for a luxe touch. Get creative--a swath of tartan is not only good for a fuzzy fireside throw, it also can be a great idea for a table runner (and, of course, kilts. Always kilts.). Go traditionally fall with a palette of neutrals or warm tones, or, for a striking contrast to all of the reds and orange of the season, shake things up with a pattern in vivid blues and greens.
And before you get to snuggling on your favorite reading chair or couch, there's one more thing to help spice it up (pumpkin style) and turn it into an inviting fall theme.
"I'm looking for pillows with lots of cozy texture and rustic cozy colors. Pillows are great ways to bring fall into your living area without needing to purchase a bunch of overtly fall décor," suggests designer, blogger, author, and Instagram star Liz Marie Galvan. If you want to amp up the cozy factor, Liz suggests picking large euro pillows. As an added bonus, pillows can be easily changed using removeable covers. Saves on storage space, and makes clean up convenient. (Especially if you have pets and kids, as does Liz Marie)
Mood Music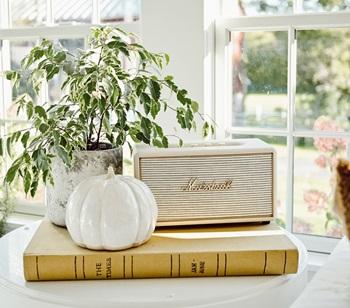 Last but not least...when you think of a cozy atmosphere, don't forget about the sounds in your room.
Logs crackling amid a fire are a good start, but what about music?
Liz Marie loves to be surrounded by sound, and recommends finding a good speaker to set the tone--both visually and acoustically. Her Marshall Stanmore speaker has a retro vintage look that goes perfectly with their theme of "cozy neutral," and fills the space with tunes in tune with her mood.
"In our home, I love playing music to make our space feel more relaxed and set the mood for a happy calm space. Our go-to playlist is called Cozy White Cottage on Spotify!"
Book Club
You've got your wool sweater and socks on, the candles are lit, the mulled wine is coating your throat with delight. Now, what will you read? If you need some more hygge inspiration, and you didn't get enough books during Jólabókaflóð, you can pick up Meik Wiking's "The Little Book of Hygge: Danish Secrets to Happy Living." You can also check out Liz Marie's book, Cozy White Cottage… and find even more creature comforts at Get Inspired With Liz Marie.
Mood music and textile images courtesy of Liz Marie Galvan and White Cottage Farm blogs.