Veterans from Renewal by Andersen of the Greater Twin Cities Honor Vietnam War Vet
When RbA Design Consultant Aaron Johnson pulled into Craig Eckels's driveway a few months ago, he didn't know exactly what kind of conversation he'd be in for. That feeling is pretty normal for any design consultant meeting a homeowner for the first time. But as soon as Aaron met Craig, he could tell that they had something special in common.
"As the appointment progressed, I discovered that he used to fly 'Hueys' (military helicopters) in Vietnam, I flew Blackhawks in the National Guard, and that common ground really set us up to have a great time together," says Johnson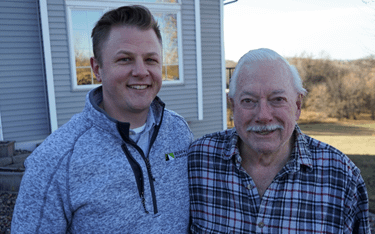 The two went on to talk about their experiences in the military. Aaron served in the Army National Guard as part of the 211th Charlie Company from 2018 - 2019, in which he spent time in Kuwait, Iraq, and in Jordan.
Craig served in the Vietnam War during the late 1960s, and as you talk with him you can see how his experiences and homecoming still weigh heavily on him.
"We were pretty much spat upon and worse. Nobody has ever acknowledged any of us veterans from my era until recently," says Craig.
Craig went ahead with a window replacement project through RbA, but left a couple of items off the project list. That's when Johnson had an idea.
On November 7, 2022, after months of planning, Johnson showed up to Craig's house on install day, to tell him that the Greater Twin Cities team would be donating a patio door and casement window, thus, completing his entire replacement project.
Not only that, Jeremiah Miller, a talent recruiter for RbA and Andersen, a veteran himself, and the founder of the non-profit Free Flags for Vets, donated a flag and pole to Craig, so that it can wave proudly in his front yard. Another veteran, Greater Twin Cities General Manager Nolan Kohlrusch was also at the install, presenting Craig with an RbA Challenge Coin and thanking him for his service.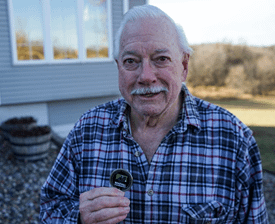 Those few moments on Craig's front step nearly brought him to tears.
"To see this, it was just a fantastic experience. I was trying to choke back some tears because it was wonderful, just a wonderful experience," Eckles says.
This show of gratitude all started with a conversation. A conversation between a homeowner and a design consultant, who discovered a shared connection, veteran to veteran.
"There's a culture in this organization that everyone wants to be a part of, and we get to bring that to the homeowner every single day. I'm so grateful for the organization's willingness to highlight Craig and thank him for his service. It means the world to me," says Johnson.
That feeling of giving back, was also felt by Nathan Lentscher. He's an installer for the Greater Twin Cities team, and was at Craig's house that day working as he typically does, helping to install windows and doors. Lentscher is a veteran himself, having served in the United States Army and was stationed at Fort Sill in Oklahoma. Being a part of this surprise for Eckles made him smile.
"It feels nice to give back," says Lentscher.
To Craig Eckels, your service to our country will not be forgotten. To Aaron, Jeremiah, Nolan, Nate, and to all veterans and current servicemembers in our RbA network, we thank you!
We Did It!
Another successful United Against Cancer campaign is in the books, and we could not be more proud of and grateful to EVERYONE who helped out. From car washes and bake sales to dunk tanks and cook-offs, all of our locations, large and small, pitched in to help raise funds to support the American Cancer Society. We also are grateful to all of the homeowners who also supported our efforts, and for our friends at Andersen Corporation. Thanks to these UNITED efforts, we have achieved our $2 MILLION fundraising goal. Thank you, again, from the bottom of our hearts!