Small Moments; Big Impact
How one veteran's simple gesture of appreciation became a nationwide nonprofit
Sometimes, very small moments can make very big impacts on our lives and the lives of others, putting us on a path that leads us to perhaps not where we had intended to go, but rather exactly where we needed to be.
Call it serendipity, call it the butterfly effect, call it a random series of events, but that's what happened to Renewal by Andersen/Andersen recruiter/talent acquisition partner Jeremiah Miller in the spring of 1994.
"Completely randomly, my junior year in high school, I'm just sitting there and my best friend comes up to me in in study hall and says, 'hey man…I'm gonna join the Army.' And I was like, 'okay, when/how did this happen?' And he said 'just now. I just decided.' To which I responded, 'Sure. Cool. I'm in, too, then.'
"And just like that, that's how I ended up in the Army," Miller says with a laugh.
"It hadn't been something I had been pondering. I wasn't from a military family—my stepdad had actually served stateside in the '70s, but I never even knew it until I accidentally found his old dress uniform in the back of a closet. It just wasn't something anyone had ever brought up."
No one had brought it up, but Miller was, as the song goes, "in the Army now."
"That's how it all started—almost 30 years in the service, and it all started because I said, 'sure, what the heck.' I just joined the military…no joke, I had no clue what I was doing."
So, while other kids were working summer jobs at the Dairy Queen or detasseling, Miller spent his summer break between his junior and senior years attending basic training in 1995, and by 1996 had become a "full-fledged Army guy," as he puts it.
Miller did his "three by five"—meaning three years of active drilling, followed by five years of Inactive Reserve. Something that, back in the '90s, was relatively low-key. "In those days, unless there was, say, going to be a draft and they had to call up the inactive reserves, you pretty much were out of the service and off doing your own thing," he says.
But in 2002, as our world changed in the wake of 9/11, so did the need for military personnel. And Miller's life had changed substantially by then, as well. Now a father (to a four-year-old daughter) and wanting to go back to school for a change of career, he decided to get back into active service. Moving from the Reserves to the Guard, he went to work in Human Resources.
"It was during that time that yeah, they were calling up a lot of folks. And I knew that I COULD be called to deploy…but as an HR guy, well, I didn't think much would come of it, but was fine with the possibility."
And then Miller met a girl. And they started dating. And got married. And found out they were pregnant. And in August, right before their baby was due, Miller got the notice he was being deployed.
Four weeks after welcoming a son, Miller left for six months of training, and then went directly on to Iraq—his wife at home being the sole parent to three small children. He was scheduled to be overseas for a year, and was 60 days from coming home when the President decided to do a surge. Because his unit (among many others) was already there, and trained, and ready to go, they were extended for six more months.
"I left for training in September of 2005. Touched down in Kuwait in March 2006. In total, my deployment was 22 months. I had been home once early in the deployment for a two-week leave, but other than that? It wasn't easy. Especially for my wife who was now a mom, a new mom, a stepmom, and also a dad, while I was gone. Life was very stressful for all of us.
"When I finally flew home…it was crazy. I mean, my son, who was just born when I left, was TWO. So much had happened. I told my wife that I'd never do that again, that I was home for good, that that was the end of the deployments."
Which of course meant… in 2009, he got the call to deploy again, this time for 13 months. "I thought, well, we managed 22 months, so 13 should be okay," he says. "But… my wife was pregnant, and she was due a couple of days after I was scheduled to leave."
The couple's doctor agreed they could induce her a bit earlier, and Miller was there in June for the birth of his son. Four days later, he left for six weeks of training, and then on to the "Desert of Death" area of Afghanistan until July 2010.
This time, he was home for good, and now in a new role as a warrant officer—a position that "allowed him to do more, be more, help more."
It was that drive to do more…and maybe a little bit of that serendipity again that moved Miller to tackle an issue facing his hometown of Waseca, MN.
"I had happened to notice when I was out for a run that a lot of the flags that were flying around town looked pretty ragged and shredded. And, you know, as a vet…that kind of upset me. But the question then was like, WHY are they shredded? I mean, I had no clue what flags cost or how long they lasted, all that."
After a little bit of research, Miller learned that a flag itself (not counting pole and hardware, etc.) was about $25—which, he realized, could be cost prohibitive, especially for a lot of the older folks who may be on a strict fixed income.
"I thought, you know what? I can do something about this. I want to make it so vets, current or former service people, can call me up, and say 'I want a flag,' and we can make it happen," he says.
"I'm also a small business owner, and as soon as I started talking about this idea to the local business community, people wanted to help," Miller recalls, smiling.
"I told them, we're not a nonprofit yet. I've got nothing. We're nothing yet. We're an email address and a dream. And they all said, 'well, okay. How can we give money to this dream?'"
And so, in 2016, Free Flags for Vets got its start with a few thousand dollars in seed money, a Facebook page, and a guy who knew a guy who sold flags.
And it took off almost immediately. "We started locally, but then with the Facebook page taking off, I had people calling and emailing from all over. I was sending flags not just to outstate Minnesota, but to Hawaii, Georgia, Tennessee…everywhere."
Eventually, the reach of Free Flags for Vets was so wide and the requests so numerous, that Miller realized he needed to pause his nationwide efforts and revamp the program a bit. "I loved being able to help, but all of our donations, all of our support and funding at the time was coming in from the local community—and I really wanted to make sure I served our local service men and women first, and that I could give back here," he says.
"After that—I wasn't doing any advertising or promotions, everything was local word of mouth, and we were largely supported by repeat donations from local people and military people. And still—we were doing great.
"The program had also expanded a bit, because as I was going around giving out these flags, I was talking to people and it came up—do you have a flag pole? And they were like, no, I don't. And I realized there was a whole other component to this.
So I started making the poles and hardware available as well, and we'd install those, too."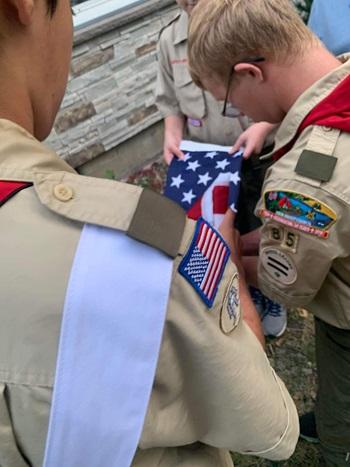 In yet another moment of right place, right time, Miller's sons happened to be getting involved in scouting just as Free Flags for Vets was taking off. And, after hearing about the program, the Scout master suggested that their troop might be able to help out with the installations.
"Having the scouts help was a win-win," says Miller. "I'd get the vet's name, purchase the flag and pole and supplies, and let Sean [the Scout leader] know, and we all meet at the house. The boys were responsible for digging the hole, installing the pole, pouring the cement, all that.
"But it's not just about them doing some work/community service," he continues. "While they're working I encourage the homeowner to come out, and we stand nearby and start talking—'where did you serve, what branch were you in, what was it like'… all that stuff. So the boys are getting a history lesson, and hearing stories and learning about things they've probably not been exposed to—especially in the case of some of our older vets… and the vets are getting the chance to connect, and talk, and just tell stories to open ears.
"That connection and sense of community is important. A lot of these people, this is stuff that they wouldn't maybe otherwise talk about, and having us there gives them someone to share with. I've had sons and daughters of the veterans come up to me afterwards, and be like 'Man, I had NO idea my dad did ANY of that stuff. He's never talked about it…but you got it out of him.
"I tell them that it's because vets talk to vets, you know? We feel comfortable together. I can understand the jargon. I get the questions they're asking, where they're coming from."
Miller will be the first to tell you: he loves people, and he loves to talk—and, of course, he is a veteran of a combat zone, and still serving. So having these conversations, hearing other people's stories, is one of the most rewarding parts of the program for him.
"Man, I'll tell you. You want to be a blubbering mess? Some of these stories… I had a friend who was telling me about his dad, a WWII vet. Showed me a video where his dad basically was like 'It's nothing special. That's just what you did back then, etc.' and he was saying how he was encouraging his dad to open up about it, to be proud of it, and that it really WAS special.
"Now, my friend didn't know about Free Flags for Vets, and when I asked if his dad had one, and he said he didn't…I told him we absolutely had to get him one, and let's go set it up.
"When we did the install, it was dark, and we showed up, and my buddy introduced me to his dad, and said what we're doing and why we wanted to honor him with it, and the next thing you know, we're ALL blubbering messes. And then the fellow starts telling me all of his stories, and there's his son, listening to every word, and hearing all these things that he had NO idea about. None. And he was himself a 50-plus-year-old man."
By 2019, Miller knew that his program had legs, and was toying with the idea of becoming a nonprofit so he could grow it—with the goal of it eventually becoming national. "Jared Allen's Homes for Wounded Warriors was an inspiration," Miller says, "but first we needed to get nonprofit status."
One day, while sharing his ideas with a buddy at a club meeting for the Combat Vets Motorcycle Association®—a group of combat and other veterans who ride, but also do a number of charity events like ruck walks, benefit rides, and more—a fellow member piped up and said that his wife was an accountant, and she knew the steps involved for getting 501c3 certified, and could help get all the paperwork filed, free of charge.
Together, they got the forms completed and submitted…and then COVID hit.
"I knew that that was going to be tough. And it was. I think we maybe did one or two installs in 2020. But we got the letter saying we were officially a 501c3 and I knew things were going to pick up again, and when they did…it was going to be fast, and we needed to be ready."
Miller used the time to form a board (including his now-adult oldest daughter, and his wife—with whom he also runs a small business), and together they mapped out a plan for next steps. "And it did happen fast, just like we thought," he says.
At their first major fundraiser as a registered nonprofit, Free Flags for Vets raised more than $5,000 right off the bat. They had a logo designed and began branding work, including custom apparel to get their name out there. A volunteer helped them set up a website, and new requests and orders can be processed through that or via Facebook.
Miller also switched flag and pole vendors, upgrading to telescoping poles and setups that can withstand hurricane-force winds, and even include floodlights for proper nighttime display. (Fun fact: the flag and pole vendor Miller purchases from is ALSO a veteran-owned business)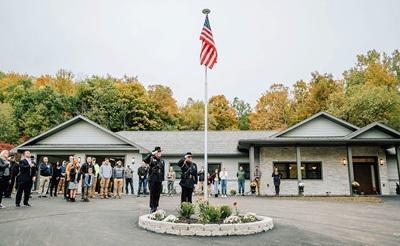 And, of course, because this is a story of chance happenings and serendipitous connections… Miller happened to discover that his new company (he started with Andersen in early 2022) had done work with Jared Allen's Homes for Wounded Warriors.
"I had heard it keep coming up, and since I'm on the Military ERN at Andersen (Employee Resource Network), I reached out to our ERN chairman to see if he could get me a contact there—and they [Jared Allen's group] called me up and said, 'hey, we just lost our flag and flag pole provider, so we are absolutely looking for someone who can donate and install those!' So it worked out perfectly—we are SO excited to be a part of that, and have done two so far."
Aside from the two Homes for Wounded Warriors projects, most of this year's installations have been in Minnesota, ranging from St. Francis to Waseca, but the requests have continued to come in from all over—and business is expanding again.
"With the new board, and official plans, and the marketing efforts and all of that—it's starting to take off. We're working with the Scouts and trying to involve more troops from all over. Ideally, we'd love to connect at a national level with both Boy and Girl Scouts—see if we can't get a badge or patch for these types of projects.
"I actually just got a request from a gentleman in Indiana who said he had the flagpole—he just needed the hardware to repair it so he could fly a flag again. So I got in touch with the Scout troop in his area, packaged up all the hardware and sent it to them, and they are going to take it out to him and present the new flag for him."
In addition to the eponymous free flags for veterans, Miller says non-servicepeople will also now be able to purchase flags and poles from the organization, and a portion of the proceeds will go back to supporting veteran causes. They will also have apparel and accessories available for purchase. "It's another win-win—people can support vets with their purchase; our group is also buying from a veteran-owned business; and people can show their pride and get the word out about our organization at the same time," Miller says.
In the end, though, for Miller it will always be about making connections and creating those small, but life-changing, moments for fellow veterans.
"Let me read you an example of a letter I just got," Miller says, reading aloud: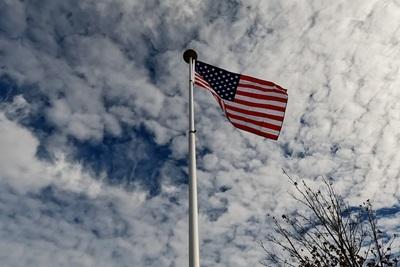 "Hi. My name is _____. I served for six years in the Navy. I'm a disabled vet with service connection. I just purchased my first home in El Reno, Oklahoma. The only thing I'm missing in my home is the pride and joy of displaying my love for my country by having a flag pole and the US flag to let my pride show to everyone that might pass by.
"I respectfully request to be put on your list for a flag to fly, and if possible, one of your lights to go on top.
"I barely make it by every month. I also have major PTSD, so my daughter handles all of my personal business because I can't function well and my memory is fading. Thank you so much for your undivided attention. God bless you. And most of all, God bless you, United States of America.
"You want to know why I do this? Why I told my wife—this is it. This is my retirement job. I want to be doing this for the rest of my life? That's why. Hearing stories like that."
"It seems like such a minor thing—a flag. But it feels like a big thing. It creates community. It lets people feel acknowledged. It's something we can do for veterans that lets them show their pride, and us show appreciation."
For more information on Free Flags for Vets, to learn how you can support the program, or to find out how to request a flag if you or a loved one is a veteran or active service member, visit the Free Flags for Vets site, or follow them on Facebook.
Recently Miller visited the home of an RbA customer and veteran to provide him with a flag and pole. See that story here.
Miller's club, the Combat Vets Motorcycle Association®, was instrumental in the Ben Kopp memorial charity ride visit, our September featured team story. Read more about it here.