Renewal by Andersen of the Greater Twin Cities Surprises Gold Star Family
Honoring a homeowner's fallen grandson
This week, Renewal homeowner Jon Burud received a touching surprise visit that had everyone tearing up and showed our Difference Maker culture in action.
RbA Twin Cities Design Consultant Michael Rokusek has sold a few window replacement projects to Burud. The two developed a personal relationship, and Michael learned that Burud's grandson, Ben Kopp, was a fallen army ranger and decorated veteran who served in the war in Afghanistan.
Michael shared the story with his wife, RbA Marketing Director Chelsea Rokusek. Soon after, a team was pulled together from RbA Twin Cities and Cottage Grove. The plan? Surprise Burud with a check for the Ben Kopp Memorial Ride. For 12 years, this motorcycle ride in Ben's name has raised money for veteran-oriented causes.
In a twist, when the plan was shared with the Andersen Military Connections Employee Resource Network, member Jeremiah Miller, an Associate TA Partner at RbA, shared he was also a member of the motorcycle association that hosts the Ben Kopp Memorial Ride. His group, the Combat Veterans Motorcycle Association Chapter 48-7, matched the donation from RbA. That's a total of $10,000 to support this year's memorial ride!
The recipient of the donation is BelieVet, a Minnesota-based organization that trains service dogs for military veterans. In addition to these donations, RbA gifted Burud's remaining windows on installation day. "This...all of this. This is all just so touching. The generosity is unbelievable," says Burud.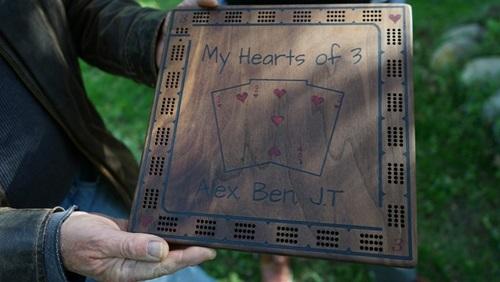 Sadly, Ben is not the only family member Jon Burud has lost. Over the years, he has also lost two sons, Alex and JT. Burud is an avid cribbage player, and he recently pulled the three of hearts five times in a row during a cribbage game. This statistically remarkable occurrence reminded him of the three young hearts he lost.
As one last gift to Jon, the RbA team presented him with a customized cribbage board embossed with an image of the three of hearts and the names of Jon's lost loved ones.
"We can make a difference in the lives of those that we touch," said Twin Cities General Manager Nolan Kohlrusch, who also crafted the cribbage board. "Anytime we have an opportunity to go above and beyond and do something like this, we want to do that. It's an absolute joy."
Check out the touching scene in the video below.
A group of RbA and Andersen employees plans to attend the ride this summer.
Featured Video:
John Colaneri on why he chose Fibrex® material
TV personality John Colaneri gives us the downlow on why he chose it for his own home...Consider everything you expect from a window. Fibrex® material makes a difference in every instance. Measured across a range of conditions that affect efficiency, maintenance and beauty, Fibrex® material performs well compared to wood, aluminum and fiberglass, and especially well against vinyl. Learn more in this month's featured video, or visit us on our
website
to learn more!