Creating a Cozy Cottage
A farmhouse-style renovation with Liz Marie Galvan
When it comes to creating a cozy family farmhouse, designer, author, shop owner, and lifestyle blogger Liz Marie Galvan of the White Cottage Farm blog is an expert.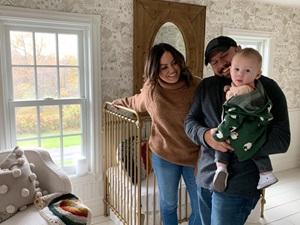 A born-and-raised farmgirl, Galvan, along with her husband Jose, moved back to her home state of Michigan in 2014 and set to work restoring an 1840s farmhouse to its former glory—one project at a time.
Combining her love of French and English country style with an appreciation for functional American design, she's bringing to life a cottage-style farmhouse look that's uniquely her own. And it IS a true farmhouse-style life for Liz Marie and Jose—who share the space with their dogs and cats, sheep, goats, alpacas, bees (check out this feature with beekeeper Jose), and, of course, their precocious little design helper—three-year-old Copeland Beau.
Whether it's in her books, at her store, or in her home, Galvan is all about cozy. But cozy just isn't a color palette or a certain fabric pattern or knickknacks—it's about the totality of things. It is a lifestyle (check out our feature on the Danish concept of hygge to see how an entire nation gets cozy). Says Galvan, "Cozy is about transforming our own little corner of the world into a private refuge – not a place of perfection, but a place of peace."
So how does she do it? What goes into the cozy farmhouse design style—and how can you incorporate some of that into your own home?
Read on to discover more details about her design decisions, how windows and doors are helping to create her aesthetic, and her tips for bringing the farmhouse look to your own home.
Bringing in the Big Guns
Windows were one of the first things that came to mind when Galvan considered which design elements could reflect the look and feel of the original home.
"Most people don't think a lot about the aesthetics of windows—window treatments, yes, but windows...not so much," points out Galvan. "But windows themselves can be a game-changer."
"When I think of early architecture, I instantly think of divided-light windows," Galvan said. "One of the key parts of our renovation was to use a historically accurate grille pattern. So every window and door we've added to the house has simulated divided light grilles, bringing a sense of history to the space both inside and out."
But even though Galvan knew the window style she was after, she was stumped about where to start.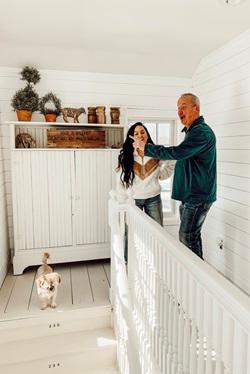 "So, I couldn't help but do what I've always done… give dad a quick call to get his opinion. We both take home renovation seriously, and he's got so much experience.
"He's a builder supplier. He sells everything under the moon when it comes to building a house... He sells to local builders from West Michigan Lumber. Outside of supplying material, he is pretty creative and very knowledgeable about all things to do with houses and renovations. And if he doesn't know the answer, he always knows who to call. He has given me some great ideas and steered me away from some of my too-crazy ones. He's always in the know of the newest and best products, so naturally it's our first go-to when it comes to a new project... making sure it's dad approved," she says.
And, of course, she says "It definitely helps that he knows my style and my dreams for my home.
And so what did dad recommend?
"Working with Andersen was the only option," she smiles.
And with that advice (exceptionally wise advice, if we dare say), Galvan tag-teamed her window and door project, with our sister company Andersen Windows handling the lower level and Renewal by Andersen tackling the upstairs.
Style and Form
For the lower level, Galvan chose Andersen® Windows' white 400 Series double-hung windows with a colonial grille pattern. White matches the interior color palette (all the walls and floors are a soft white), and the square grille pattern mimics the divided light windows from the 1800s. "The grilles really bring the farmhouse to life, both inside and out. It's just so classic American farmhouse to me," Galvan said.
She also chose this grille pattern for a series of Andersen® hinged inswing patio doors, which are repeated throughout the first floor. This includes a set of patio doors providing easy access to the rear patio and pool area. And when Galvan's planned pool house is built, it too will include a hinged patio door to mirror the look of the main house. The repetition of form, color, and pattern is all part of creating a look. "Cohesion is important in my designs," Galvan said.
Living Better
The window upgrade not only complemented the historical period of the home's structure to define the look, it also eliminated the drafts and performance issues she was experiencing from the old windows that came with the home -- a good reminder that old-school charm does not need to be accompanied by old-school discomfort.
When Galvan and her family first moved in, nearly every window was either non-functional or "screeched so loudly you didn't want to open them." The windows were drafty and not well-insulated, making for not only chilly interiors but noisy ones. Since the renovation, Galvan said their house is noticeably quieter, and they can more easily maintain the temperature.
Upstairs, the designer chose double-hung windows from Renewal by Andersen. "I love double-hung windows for their ventilation capabilities," Galvan said. She feels confident opening the upper sash (glass panel) in son Cope's room knowing the airflow is healthy, and he can't reach the opening.
But the biggest selling point for the designer: double-hung windows are easier to clean from all stories (an important factor for someone who washes their windows once a month). "With the release of two clips, I just tip the windows inward and easily clean them from inside the comfort of my home."
Bringing It All Home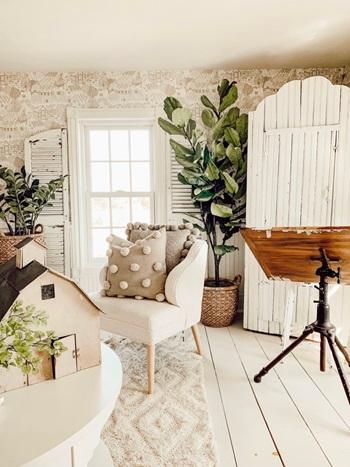 Windows can often be overlooked in a renovation, but Galvan says it's a decision not to be downplayed. In general, she notes that it's important to invest in the structural and functional aspects of a house ("especially if it's older like ours") before diving into personal design touches. She also recommends working in stages. Living in a constant remodel can feel frustrating, so the designer recommends prioritizing family needs and functions.
If you're ready to start your own window project, we're here to help. And of course, since Renewal by Andersen is a start-to-finish company, you don't have to worry about anything—we handle everything from the sales, to design of your custom windows, to the manufacture and installation…AND the cleanup.
But what if you're NOT quite ready for that level project? What are some other simple ways to bring that cozy cottage or farmhouse vibe into your own home? Here are five fast farmhouse fixes from the Queen of Cozy…
Go Natural.
Natural wood, that is. If you are searching for the perfect table, picture frame, or bookshelf for your farmhouse vibe, use natural wood for a finish.
Says Galvan, "Natural wood really evokes that old-time feel. In our home we have wood flooring in every room, but you can also bring in natural wood kitchen cabinets, dressers, trim and so much more."
To be eco-conscious while nailing the weathered look, consider sourcing locally reclaimed lumber, where possible. You can continue the wood motif by adding shiplap accent walls or even shiplap ceilings to certain rooms.
Reuse; Repurpose.
Speaking of reclaiming…upcycled items can add just that right level of charm. Galvan uses rustic farmhouse fabrics like grainsack, tobacco baskets, chicken nesters, farmhouse signs, barn wood and more. About 80 percent of her home's furniture is antique or vintage, she says.
Antiquing is not only fun, but when you find that perfect treasure, there may be a touch of triumph involved. However, if the treasure hunt starts to feel more like a search for a needle in a haystack, consider going the "faux antique" route. Many stores sell convincing reproductions.
Use It; Don't Lose It.
When looking for décor items, you may not have to stray farm from home. Part of the farmhouse style is the utilitarian nature of its design. So when you're looking for some simple ways to give your home a farmhouse or cozy cottage feel, put your most-utilized items on display — let pots and pans dangle from a rack, give your market bags and aprons an artful moment by hanging them on the door, and don't be afraid to prop up a cute broom and dustpan against the wall.
Pile on the Pillows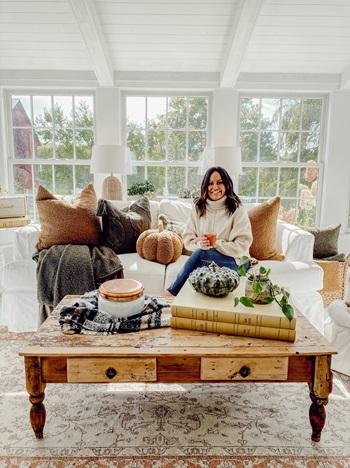 Textiles—from table runners to rugs; blankets and throws to poufy pillows—are a great way to transition the feel of a room with minimal effort. In warmer seasons, breezy fabrics like percale and cool linens are ideal for summer's heat. As the calendar changes to fall and winter (aka now), you can swap those for heavy, durable, warm fabrics.
Try a cable knit or faux fur blanket for a luxe touch. Get creative—a swath of tartan is not only good for a fuzzy fireside throw, it also can be a great festive idea for a table runner. Go traditionally fall with a palette of neutrals or warm tones, or, for a striking contrast to all of the reds and orange of the season, shake things up with a pattern in vivid blues and greens.
And before you get to snuggling on your favorite reading chair or couch, there's one more thing to add… everyone's favorite easy accessory: pillows.
"I'm looking for pillows with lots of cozy texture and rustic cozy colors. Pillows are great ways to bring fall into your living area without needing to purchase a bunch of overtly fall décor," suggests Galvan. If you want to amp up the cozy factor, do that by picking large euro pillows. As an added bonus, pillows can be easily changed using removeable covers—saving you storage space, and making cleanup easy (especially if, like Galvan, you have kids or pets, or…llamas).
Mood Music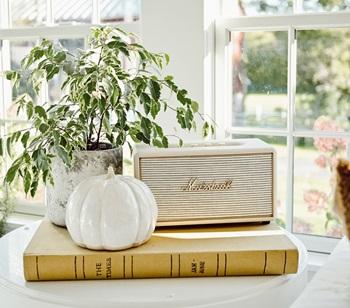 Last but not least...when you think of a cozy cottage atmosphere, don't forget about the sounds in your room. Turns out, there's a playlist for everything.
Liz Marie loves to be surrounded by sound, and recommends finding a good speaker to set the tone--both visually and acoustically. Her Marshall Stanmore speaker has a retro vintage look that goes perfectly with their theme of "cozy farmhouse neutral," and fills the space with tunes in tune with her mood.
"In our home, I love playing music to make our space feel more relaxed and set the mood for a happy calm space. Our go-to playlist is called Cozy White Cottage on Spotify!"
Want to see more of Liz Marie's project? Check out Get Inspired With Liz for more information, additional blog and design articles, and links to Galvan's social platforms.