Get Hygge This Fall
Enjoy the turning of the season with these cozy comforts.
This autumn, why not do as the Danes do, and embrace all that is cozy? You're wrapped up in a wool blanket, a fire is crackling, and you're holding a steaming mug of apple cider. Sounds nice, right? The Danish swear by this ambiance. In fact, they have a term for it: "hygge"—pronounced "hoo-ga"—which is loosely translated to comfort and enjoying the simple pleasures. Hygge is so synonymous with Danish life that it may contribute to why Danes are known as the happiest people on the planet. But being cozy doesn't just mean warm blankets and a fire, it's all about creating an environment of self-care and relaxation. So, as the leaves flutter off their branches and coat your yard, here are easy ways to cozy up to fall before you head outside for a dreaded round-one session of raking.
Savor the Scents
One of the easiest ways to set a cozy tone in your home are candles. The Danes swear by them. Our sense of smell is closely linked to memory and emotion, so taking advantage of it is a great way to instill a sense of homey comfort on a cool evening. Add as many candles as you'd like, but a few will suffice. Fall conjures up the scents of pumpkin spice, apple, cinnamon, and vanilla. If you want to go for a sweeter smell, try the popular salted caramel flavor. That'll get your taste buds going!
If candles aren't your thing, try essential oils. If you're new to it, start with ginger, cassia, nutmeg, and cardamom. Essential oils make it easy to experiment with layering scents to create a signature aroma. Other essential oils to try mixing and matching include tangerine, coriander, black pepper, cedarwood, rosemary, patchouli, vetiver, and juniper berry.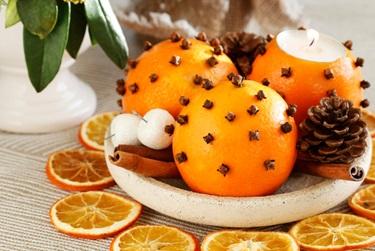 Smells good, looks good, and (maybe) makes you feel good? You must be talking about a pomander (from the French phrase, pomme d'ambre, i.e. apple of amber, referring to ball made of perfumes and hung from a chain).
In folk medicine, pomanders were supposedly able to ward off infection. While this may or may not be the case, they do serve as a wonderful all-natural air freshener.
Stud an apple or an orange with whole cloves and tie with a festive ribbon. Place it in a drawer like a sachet, hang in a doorway, or fill a decorative bowl with them and set them on the table.
Treat Your Tummy
What is the coziest food you can think of? For the Danes it's usually cake because hygge is all about treating yourself. But they also fancy a warm round (or two) of coffee, tea, hot chocolate, apple cider, or mulled wine. Ready for a toasty tummy? Try one of these two treats:
Glogg (Danish Mulled Wine)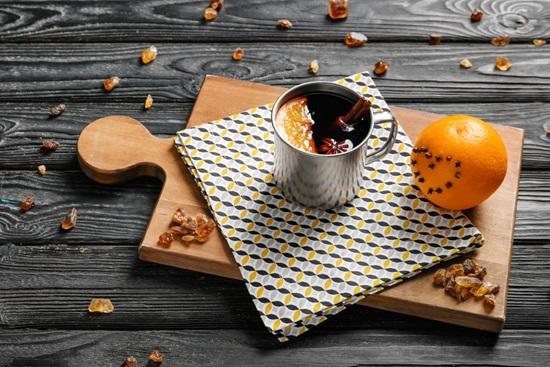 Ingredients
For the glogg essence:
• 4 handfuls of raisins
• 10 ounces port
• 1 bottle heavy red wine
• 1 cup brown sugar
• 8-10 cinnamon sticks
• 20g (allspice)
• 20g cloves (whole)
• 10g cardamom (whole)
For the glogg:
• 2 bottles heavy red wine
• 3/4 cup brown rum
• 3/4 cup vodka
• Peel of 1 orange
• 3/4 cup freshly squeezed orange juice
• 1 cup chopped almonds
Instructions:
1.
Soak the raisins in the port, preferably for 24 hours
2.
Start by making the glogg essence. Pour the bottle of red wine into a pot, add the sugar and cinnamon, allspice, cloves and cardamom, and heat to just below boiling point. Turn off the heat and allow to cool, then strain out the aromatics.
3.
Add the additional bottles of red wine, spirits, orange peel and juice to the glogg essence. Again, heat to just below boiling point, and then add the raisins, port and the almonds. Serve warm.
Adapted from: The Little Book of Hygge: Danish Secrets to Happy Living
Eggnog Hot Chocolate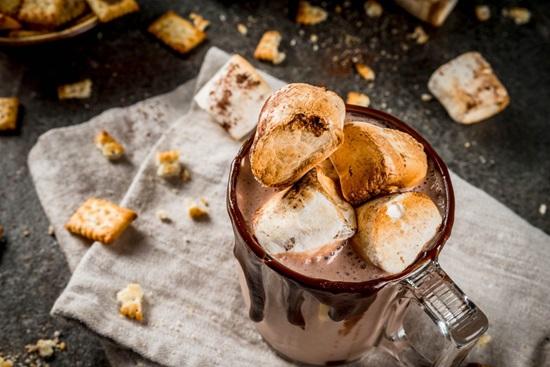 Ingredients
Homemade Eggnog Ingredients
•
4 pasteurized egg yolk(s)
Hot Chocolate Eggnog Ingredients
•
3 cups homemade eggnog
•
1 cup whole milk
•
1 cup finely chopped dark chocolate
•
3 tablespoons sugar
•
pinch kosher salt
•
marshmallows
Instructions
Homemade Eggnog Instructions
1.
In a medium pot over medium-high heat, combine the milk, heavy cream, nutmeg, and a pinch of kosher salt until you see small bubbles rising to the surface, stirring occasionally to avoid burning.
2.
Meanwhile, use mixer to beat egg yolks and sugar together until the yolks lighten in color and sugar is completely dissolved.
3.
Remove milk mixture from heat and very slowly pour it into the egg yolks, whisking constantly to avoid eggs from cooking.
4.
Return mixture to pot and cook until the mixture reaches 160°F. Remove from heat and stir in vanilla.
5.
Pour into mixing bowl and let cool completely. If serving later, set in refrigerator to chill, up to a few days.
Hot Chocolate Eggnog Instructions
1.
Place homemade eggnog, whole milk, dark chocolate, sugar, and a pinch of kosher salt in a medium pot over medium heat. Warm mixture, stirring occasionally, until chocolate is fully melted.
2.
Divide among four glasses and top with marshmallows toasted in broiler or with kitchen torch and sprinkle of nutmeg. You may also substitute whipped cream.
Want some additional food and beverage indulgences well-suited for a fall evening in front of the fire? Check out some of these delicious autumn offerings!
Pile on the Pillows
Textiles--from table runners to rugs; blankets and throws to poufy pillows--are a great way to transition the feel of a room from summer to autumn with minimal effort. They are the decorator's equivalent of donning your leggings, booties, and chunky sweaters. While breezy fabrics and cool linens are ideal for summer's heat, the brisk air of fall calls for heavy, durable, warm fabrics awash in rich, deep, earthy hues and solid patterns.
Try a cable knit or faux fur blanket for a luxe touch. Get creative--a swath of tartan is not only good for a fuzzy fireside throw, it also can be a great idea for a table runner (and, of course, kilts. Always kilts.). Go traditionally fall with a palette of neutrals or warm tones, or, for a striking contrast to all of the reds and orange of the season, shake things up with a pattern in vivid blues and greens.
And before you get to snuggling on your favorite reading chair or couch, there's one more thing to help spice it up (pumpkin style) and turn it into an inviting fall theme.
"I'm looking for pillows with lots of cozy texture and rustic cozy colors. Pillows are great ways to bring fall into your living area without needing to purchase a bunch of overtly fall décor," suggests designer, blogger, author, and Instagram star Liz Marie Galvan. If you want to amp up the cozy factor, Liz suggests picking large euro pillows. As an added bonus, pillows can be easily changed using removeable covers. Saves on storage space, and makes clean up convenient. (Especially if you have pets and kids, as does Liz Marie)
Mood Music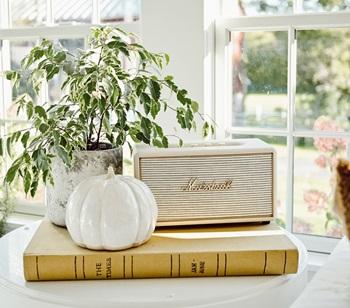 Last but not least...when you think of a cozy atmosphere, don't forget about the sounds in your room.
Logs crackling amid a fire are a good start, but what about music?
Liz Marie loves to be surrounded by sound, and recommends finding a good speaker to set the tone--both visually and acoustically. Her Marshall Stanmore speaker has a retro vintage look that goes perfectly with their theme of "cozy neutral," and fills the space with tunes in tune with her mood.
"In our home, I love playing music to make our space feel more relaxed and set the mood for a happy calm space. Our go-to playlist is called Cozy White Cottage on Spotify!"
Book Club
You've got your wool sweater and socks on, the candles are lit, the mulled wine is coating your throat with delight. Now, what will you read? Round out your hygge vocabulary with this book from Meik Wiking: "The Little Book of Hygge: Danish Secrets to Happy Living." You can also check out Liz Marie's book, Cozy White Cottage… and find even more creature comforts at Get Inspired With Liz Marie.
Mood music and textile images courtesy of Liz Marie Galvan and White Cottage Farm blogs.