Go Bold With Black Windows
Five reasons Black isn't just Back...it's here to stay.
Some trends come and go, while others catch on and create a movement. Black windows have not only grown in popularity but have firmly anchored themselves in the design world, with no signs of fading into obscurity.
Why do we love it? Because black windows create instant elegance in any room, pairing well with décor from any time period and architectural style, and adding contrast to both indoor colors and outdoor views.
The black color movement (we're not calling it a trend) has captivated the hearts of many, and with good reason. Why do we love it? Because black windows have the power to give a home a modern update, elevate its overall appearance, and allow homeowners to add their own personal touch. They pair well with décor from any time period and architectural style, and add contrast to both indoor colors and outdoor views.
Need some more convincing? Let's get into the alluring charm of black windows and find out why we think they're here to stay as beloved fixtures in home design.
A versatile and modern classic
One reason to love black windows is their ability to enhance the aesthetics of both classic and modern architectural styles. Black windows have a timeless appeal seeped in history.
Originally, black windows were made from steel frames used in industrial factories and warehouses, serving a practical purpose. During the Industrial Revolution, metal frames became favorable over wood for their strength, fire resistance, and capacity to hold larger windowpanes, allowing for more natural light. Over time, their sleek and minimalist design caught the eye of architects and homeowners looking to bring a modern touch to their spaces.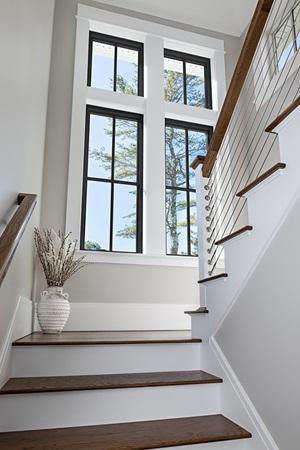 Today, Renewal by Andersen is able to offer black windows in sleek frames thanks to our proprietary Fibrex® composite material. Because our unique process fuses the versatile color into the Fibrex® material, it means we can offer long-lasting, low-maintenance colors—including dark exterior colors like black, that are not typically found with vinyl windows. And unlike wood windows, there's no painting or staining required, and they won't chip or corrode or flake or peel. And the strength of Fibrex means thinner frames...and thinner frames means more glass area, and more view.
A remarkable quality of black windows is their incredible versatility. Says home improvement expert and TV host Matt Muenster, "You always hear '___ is the new black.' That's because its appeal says, 'I'm timeless, but I'm also bold.' And, it's very stylistically and architecturally versatile. You can use it to accent a traditional-style detail, or create a clean, modern statement. So, when your windows wear black, they work with everything – every style, every period." (Muenster used black windows from Renewal by Andersen in his own architecturally significant home check out the walkthrough episode in his limited web series, Get Inspired With Matt, and see the final project!)
Black is a neutral color, creating endless opportunities to play and experiment. It harmonizes effortlessly with various color palettes and design choices. Black windows allow you to draw attention to or play down existing features in your home.
For example, take a traditional farmhouse with charming white siding and striking black windows. Black windows can add a sense of sophistication to its rustic façade. On the flip side, if you have a sleek, modern home with minimalist design elements, black windows can integrate seamlessly into the environment, enhancing its overall aesthetic
High-contrast; high impact
Our eyes are naturally drawn to contrast, and black windows offer an excellent opportunity to create eye-catching focal points. On the exterior, pairing black windows with white siding creates a striking contrast. Picture a plain white bungalow with simple gardens. Add black windows and suddenly your home has curb appeal that catches the eye of everyone who passes by.
The exterior appeal is just the beginning. Inside your home, the drama continues. Black windows stand out against light-colored walls, creating a sense of depth and dimension. The interplay of light and shadow adds movement, giving your living space new life and energy.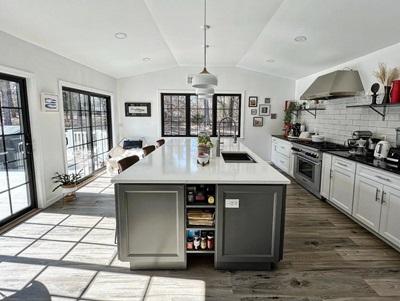 Some might consider black a bold choice. But the truth is, yes, black can be bold. But just because it is a contrast to the other elements doesn't have to make it...loud.
The long and the short of it (the light and the dark of it?) is that black windows can seamlessly coordinate with other dark elements and fine details in your home like trim, light fixtures, or cabinets...or just as seamlessly serve as a contrast. The result is an interior that exudes sophistication and style.
As interior designer and Renewal brand ambassador Breegan Jane explains, "People are nervous about making design decisions when it's not their profession... I see them overthink it. But you can't go wrong with black."
Frame up the view
Black windows aren't just functional; they're artists in their own right. Breegan Jane, who recently added black windows to her coastal home in Malibu, shares her perspective, saying, "Black framed windows are a way of making art out of your view. My favorite way to frame artwork is to put it in a black frame with a white matte, and I feel like by selecting black windows you are creating that artistic moment and I wanted to make sure that my ocean views were framed in a way that draws your eye towards the outside. Just like a black frame draws your eye towards the artwork on a wall."
The contrast between the black frame and the outside draws attention to the view, turning it into a work of art. Imagine waking up to the gentle waves of the ocean, framed by elegant black windows. Or perhaps you prefer the lush greenery of a garden captured like a painting in your living room. With black windows, your view becomes an integral part of your home's interior design.
Make a statement, simply
There's something undeniably appealing about the simplicity of black windows. Their sleek design and striking presence usher in a sense of modern minimalism. When you opt for black windows, you're making a statement—a statement that says you appreciate clean lines, uncluttered spaces, and the beauty of simplicity.
The sleek and striking design of black windows also often eliminates the need for window treatments. The absence of curtains or blinds allows natural light to flood the space to maintain a clean and uncluttered look. In a world where less is often more, black windows are the perfect complement to a modern and minimalist lifestyle.
Your friends know...Black is the New Black
Whether it's moody, all-dark exteriors; striking, black kitchen cabinets; or midnight-hued soaking tubs and other bath fixtures…black is back in design. And as we've seen in this article, black is one of the most versatile design choices for windows. Blacks and other ultra-dark colors can make a bold statement, especially when used in concentration; but it can also be used sparingly as a dramatic accent. And…it can also function as a neutral, blending into its surroundings and eliminating distractions.
But don't take our word for it; hear from other folks like you—check out some of these examples from some of the Andersen and Renewal by Andersen homeowners using black in their designs.
Your homes, your styles.
Nestled in the woods about an hour outside of Portland, snuggled up alongside the Wilson River, is the retreat of @bearcreekfalls. Their gorgeous new windows showcase the view outdoors—AND complement all the natural wood finishings in their home.
Forget saving the drama for your mama…revel in the drama. The swoon-worthy dark exterior and black windows from @shelby_livinglifeactivated pair beautifully with the wood beams and expansive porch (that shouts "come on up and have a sit"). White trim adds energy and interest and keeps the front elevation of the home from becoming foreboding.
Vancouverite @housetohome_yvr brings the drama and makes a bold statement with all-white décor and pops of black in stark contrast (including their new patio doors from Renewal by Andersen).
This next kitchen remodel is not only one of our favorites…it was one of the most-interacted with in our user gallery. Just the right amount of black makes @seoulo's kitchen sing.
Have we mentioned how we LOVE the use of grilles as an accent in this kitchen? Divided-light grilles on the contemporary sliding doors…but no grilles on the gorgeous picture window. It's the ultimate fenestration mix-and-match!
Y'ALL! The CAT matches the DÉCOR. Perhaps he was the inspiration for the color scheme? Or the reason they wanted to bring the outdoors in?
Simple. Elegant. Classic. We can't enough of this kitchen/dining area redo by @sarahmelbythomas.
Leave it to @carrinoanthony (also known as our very own Anthony Carrino, designer, builder, and TV personality) to be on-trend but not overbearing. When you hear "nifty wallpaper (ceiling-paper?) and an intricate tile pattern on the floor," you may at first think…how does he pull it off? But check it out—the two go together like PB&J (or like…Kitchen Cousins!), and are balanced in the middle with that to-die-for black soaking tub and sleek black windows.
If you thought a dark color palette or black windows would overwhelm a small space…let's head over to @carrinoanthony's Insta to see that no, it's actually the Goldilocks of kitchen design. The black cabinets? The appliances? The windows? Ahhhh…it's Just Right for his cozy stone house in the Catskills. (See more of his project
here
)
Designers know what's going on. Breegan Jane told us about using black windows/doors to frame a view... and the rest of Anthony Carrino's project is living that dream. From the wall of patio doors that connect the living room to the outdoor kitchen and firepit area, to the ALL-WINDOW sunroom…@carrinoanthony is maximizing his indoor-outdoor living spaces. Mountain breezes, expansive views, and all the Vitamin D you can soak up? Sign us up!
Back to @bearcreekfalls again for this one. When you have an epic view of the forest, are sitting on 3.5 acres of densely wooded land, are in sight of the Bear Creek waterfalls, and have Wilson River frontage…why WOULDN'T you want to take in the view from every angle? This picture window is just the ticket for that.
Who amongst us doesn't like a little extra daylight and vitamin D, asks @gatheranddrift. (And we LOVE those big, square grilles!)
When is a window wall not just a wall? When it's also a mini-room! Bay and bow (projection) windows not only add a big bank of daylight—they can be configured to add extra livable space, whether it's a breakfast nook, a sunny nap spot for our furry friends, or extra storage. The black frames of these windows against the light colored ceiling and built-in bench really make this bonus space shine... and @lexi_poosky is taking advantage of her human's good fenestration choices!
Showing that Cousin Anthony is not the only one in the family who appreciates the beauty and versatility of black windows and doors, as well as the extra light and the functionality of a wall of patio doors… check out the rambler redo from @colanerijohn (AKA another one of our awesome brand ambassadors—and "Kitchen Cousin" John Colaneri).
His revamped abode includes a big bay window that serves as a catnappery for furry friend Luna, and then floor-to-ceiling daylight with sets of patio doors. (And, of course, all that natural wood accent pieces!) Want to see more of John's project? Check out
Get Inspired with John
!
The total package
Black windows have transcended their industrial roots to become a beloved feature in contemporary home design. With the versatile ability to seamlessly blend into various architectural styles, frame picturesque views, and make a bold statement, black windows offer a world of possibilities.
If you've been a long-time admirer and think it's time to add them to your home, now is a great time to make it happen. Black windows have proven that they're here to stay. Take your home into the modern era by giving it a timeless and updated look with sleek and sophisticated black windows.