Team Spotlight
Renewal by Andersen of Greater Maine partners to give away tickets for community heroes; teammates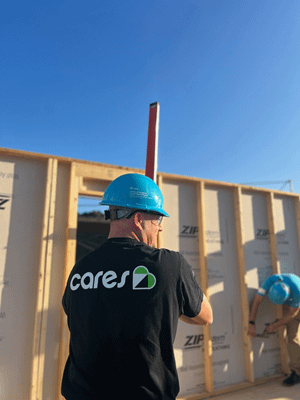 This month Renewal by Andersen teammates from several locations had an incredible opportunity to show their true giving spirit.
Difference Makers from locations around the country, as well as from our corporate HQ in Cottage Grove, MN, came together to volunteer alongside more than 2,100 other volunteers on a week-long project to construct an entire neighborhood of Habitat for Humanity homes as part of the Jimmy & Roselyn Carter Work Project.
The Carter Work Project is an annual Habitat for Humanity initiative launched in 1984 in partnership with former U.S. President Jimmy Carter and former First Lady Roselyn Carter. Since then, the couple has continued to inspire groups of volunteers and soon-to-be homeowners to Habitat sites across the world to create new safe and affordable housing communities. (Learn more about the Carter Work Project on their website.)
"When you work for Renewal by Andersen, a company that promotes teamwork and collaboration, you get to see firsthand the wonderful things that can be achieved," says Christine Salamone, Product Manager for Renewal by Andersen of Western New York.
Salamone is also a member of the Renewal Cares Council that flew to Charlotte, North Carolina, and volunteered on the Carter Work Project alongside team members from RbA of Greater Charlotte, and other Renewal volunteers including engineers, marketing and communications team members, andlocation leadership.
"As I stood in the middle of the massive construction site for the Jimmy & Roselyn Carter Work Project with 700 other people who had the same motivation to just make someone else's dream come true, my exact words were 'Wow, look at how much can get done when everyone focuses their energy on something good,'" Salamone says.
Volunteers included engineers, marketing and communications team members, location leadership, and more. In addition to the person hours and labor, Renewal by Andersen also donated product used in all 39 of the homes in the neighborhood.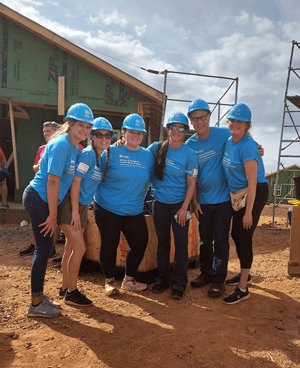 "I'm overwhelmed by the generosity of Renewal by Andersen and their contribution of time and product for the homes at the Meadows of Plato Price," says Sharon Esler Sullivan, owner of Renewal by Andersen of Greater Charlotte. "To [contribute to the project in such a meaningful way] is a testament to 'Who We Are'. These homes are symbolically the opening to new lives and dreams for the home owners,"
"This was about a dream, not a home; this was about community, not windows and doors; AND most importantly this was about connection," Salamone says. "Sometimes miracles are just good people with kind hearts."
The Meadows neighborhood is expected to be complete and ready for homeowner move-in around early- to mid-2024.
Also coming in 2024, the Habitat for Humanity team announced the exciting news that next year's Carter Work Project will be hosted in the Twin Cities, MN, home to Renewal by Andersen and our sister company, Andersen Windows.. Andersen and Renewal look forward to having this big initiative move into our own backyard so we can even better support the Carter Work Project and continue making a difference in the lives of future homeowners. Want to learn more? Check out Habitat for Humanity's blog post.
Why I Support the ACS:
Katina's Story
Katina Lane-Fomby, Director of Human Resources at Cottage Grove is a long-time supporter of the American Cancer Society. Her story is a very personal one, as well. Lane-Fomby watched her mother survive breast cancer...and then went on to be diagnosed herself not long after. Throughout it all, she has remained positive and is so very grateful for her support network. Watch her story in this month's featured video. Thank you, Katina, for sharing. Our network stands with you as we all stand United Against Cancer!