Team Spotlight: Following Finn
Follow along as Finn the red setter em"barks" on his training to become a service dog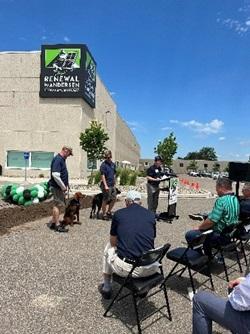 A special guest appearance at the Renewal by Andersen corporate offices prompted many smiles and "awwww"s. For those of you who may have been visiting our showrooms, you may have caught a glimpse of him!
A young Red Setter named Finn made his debut RbA appearance at the groundbreaking celebration for the newest warehouse facilities earlier this summer. Yes, Finn is named after the term fenestration, which as many of you may know, is the term used to describe the arrangement, proportioning, and design of windows and doors.
If you missed Finn's heartwarming appearance, you can watch it below, and of course, you'll be able to see more of him soon. We'll be following Finn through training at Believet as he becomes trained to serve as a support dog for a military veteran.
Finn was born October 11, 2021, and was donated as a puppy to Believet, a Minnesota-based nonprofit organization that provides highly skilled service dogs, free of charge, to disabled veterans. He is currently living with his foster family and will soon begin with bird and gun training, which will teach him noise tolerance and how to fetch on command.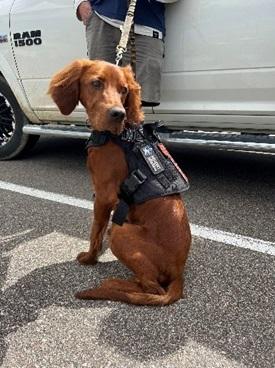 As a newly recruited trainee, there's no guarantee Finn will graduate from training, but because of his calm disposition, not to mention that huge smile and handsome charm, the trainers feel pretty confident Finn will find a forever-home with a veteran.
Does the name Believet sound familiar? That's because Believet was the organization that RbA helped support back in May. Believet is one of this year's beneficiaries of the Ben Kopp Memorial Ride, a motorcycle ride that raises funds for veteran-associated organizations in honor of Ben Kopp, a fallen soldier and grandson of an RbA homeowner, Jon Burud. We shared the story of Jon and the ride in honor of his grandson in our June issue.
When the team working on Jon's windows heard about his grandson, a team from RbA Twin Cities and the Andersen Military Connections Employee Resource Network came out to his house on installation day to present him with a check for $5,000 to the Ben Kopp Memorial Ride and Believet.
But the story doesn't end there. RbA of Cottage Grove has had the opportunity to stay in touch with Believet and has now partnered with the nonprofit to help them get their story out. RbA is proud to support Believet and all they do for veterans. Learn more about them at believet.org.
Featured Video:
Ambassa-dog Rossi Carrino
Anthony Carrino is a familiar face to Renewal fans--both for his work on HGTV's
Kitchen Cousins
, as well as his time as an RbA brand ambassador. Rossi Carrino is 40 pounds of happy-go-lucky. The always-up-for-adventure Rhodesian ridgeback/whippet mix was rescued from St. Lucia and now enjoys chilling in his new sunroom, hiking with mom and dad (he was Ring Bearer at their wedding, too), and chasing S-Q-U-I-R-R-E-L-S. (Don't worry, Anthony, we won't say the word out loud!) See more of Rossi (and Anthony's projects at
Get Inspired With Anthony
)!