Spotted at IBS
8 Design trends that will dominate 2020.
With special guest contributors, designers Becki Owens and Will Taylor
Every year tens of thousands of visitors descend upon the NAHB International Builders' Show® (IBS)—the largest annual light-construction show in the world. Attendees to the 2020 show in Las Vegas, NV, (January 21-23) came from across the building, construction, architecture, design, and home improvement trades to connect with their peers, see the industry's latest techniques, and check out the all of the new and trending items from top product manufacturers.
With more than 600,000 net square feet of show floor and 1,400-plus exhibitors, there was a lot to see and experience—including, of course, the Andersen Window booth. At the show, our sister company took the opportunity to showcase innovations including Big Doors, pass-through kitchen windows, and more.
Renowned designers and influencers Will Taylor and Becki Owens also presented in the Andersen booth. Afterwards, they both walked the show floor, searching for the trends that will shape design in 2020.
Check out the eight trends they found!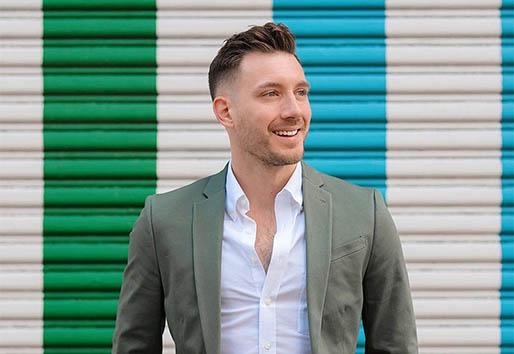 Will Taylor
Will has been blogging about his love of colorful design, fashion and travel since 2009 on his website Bright Bazaar.
Forbes listed him in the top five influencers in home decor and design, and his two bestselling design books have been translated into 12 languages.
Will's accessible approach to design and fashion has led to more than 2.6 million fans across his social media channels, including Instagram, and to hosting design segments for Good Morning America.
Will's Trends
Matte Black
Matte black has been trending for a while now and it's not showing any sign of going anywhere. From lighting to hardware to windows, it was far and away the most regularly used finish at the show. Many brands I spoke with at the show confirmed it is becoming one of the most popular options with clients and customers.
Modern Lines
Across the show I couldn't help but notice the abundance of minimal, modern, and clean lines. This was expected in appliances, but I also saw these in windows and lighting, too. Consumers are seeking options without fancy patterns or prints that could detract from their surrounding environment. Using products with clean lines helps to make an interior feel more open, light and less cluttered — a popular theme for the home as modern life has us feeling overwhelmed and exhausted with constant connectivity.
Stylish Automation
The key difference this year for automation is the level of sophistication and style. From faucets to windows, automation was everywhere--and in every finish and style. Gone are the clunky tech after-thoughts/add-ons. In their place are streamlined pieces offering smart tech and style. Plus, much of it is designed to work with your existing smart home devices.
Creative Composites
Composites are looking more natural than ever before. From roofing and decking to windows and siding, I was taken aback by the beautiful, natural-looking wood grains and rich colors. People are now expecting performance and aesthetic combined and won't compromise on either, so quality has also improved across the board.
(Editor's note: and of course, we'd be remiss if we didn't mention that "windosws" includes our own windows made with Andersen's exclusive proprietary
Fibrex® composite material
!)
Customization
With all of the new technology available, brands are going above and beyond when it comes to "uniquely you" design. They are offering customers and clients new levels of customization not seen before – including customized shower heads (you KNOW you needed one)! The trend of a personalized, tailored look is set to continue to build as people want their home to reflect who they are--not just how they live.
Becki Owens
Becki is a full-service, residential designer. Based in southern California, she got her start by designing model homes in large developments, which segued into a business staging homes.
From kitchen makeovers, to new builds, Becki is passionate about the environments she creates. Three words that inspire her designs? Simple, clean, and elegant.
Becki showcases her projects on her highly popular social media channels, where she reaches over 1 million followers on Instagram alone.
Learn more about trends and Becki's current projects at BeckiOwens.com.
Becki's Trends
Indoor/Outdoor Living
Especially in warmer climates, homeowners are wanting to create spaces that seamlessly connect the indoors and their outdoor entertaining spaces. The MultiGlide Pass-Through window by Andersen is a "must do" in my next project. It's such a fun way to bring the outdoors in and provides a view to the outdoors when you're in the kitchen cooking, cleaning, or preparing for guests.
Gold and Matte Black Finishes
Gold finishes aren't going anywhere! Matte black is becoming even more popular with a lot more styles and is now a standard option in many home furnishings. With mixed metals being another popular design trend, utilizing gold and matte black finishes is a great way to achieve the mixed metal look while creating contrast and visual interest.
Handmade Tiles
The look of meticulous, handmade items and expert craftsmanship is continuing to rise as homeowners opt for finishes that look and feel unique and different. At the show, I saw handmade tiles that aren't perfect in shape or thickness - I love this look! You can tell they are handmade when they are installed, the finished product looks amazing and textured.