Fall Home Prep Checklist
Get ready for autumn with these easy to knock-off chores around the house
We're sure you'd rather be strolling through an apple orchard or enjoying hard cider at that new brewery, but sooner or later that fall to-do list catches up with us all. With the arrival of fall, comes a list of home projects. While it's tempting to postpone these chores in favor of enjoying the crisp, cool air, it's essential to not neglect your home during this busy season. In fact, fall is the perfect time for a yearly reset for both you and your home. The good news is that you don't have to sacrifice your entire weekend to tackle these autumn projects. We'll cover the essential tasks that should be on your fall to-do list, so you can still enjoy autumn and get your home ready for the season ahead.
Bring Outdoor Furniture In

As days grow shorter, it's time to think about your outdoor furniture. Bringing these pieces indoors for the season isn't just an act of preservation, it's a smart investment. Storing your outdoor furniture can extend their lifespan, save you money, and shield them from the elements so they're ready to shine next spring.
Before bringing your outdoor furniture in, it's a good idea to give them a good cleaning. When it comes to your furniture, plastic, vinyl, and simulated wood/wicker are easily maintained with some soapy water and a garden hose (or a pressure washer). However, metal and natural materials like wood, wicker, and rattan are a bit more high maintenance. Bobvila.com has some great tips on how to care for your outdoor furnishings.
The most effective way to protect your outdoor furniture when the chilly weather rolls in, is to store it someplace safe and dry. This could be in a garage, shed, or basement. If your furniture has cushions, consider removing and stashing them in a deck storage box or bins to protect them from moisture, dust, or debris. Now, if space is tight and you can't fit your outdoor furniture inside, a sturdy cover is a good option. A cover can shield your furniture from the elements year-round, making it a worthwhile investment. If you're looking for a budget-friendly option, a waterproof tarp will do the job just fine.
Clear Out Gutters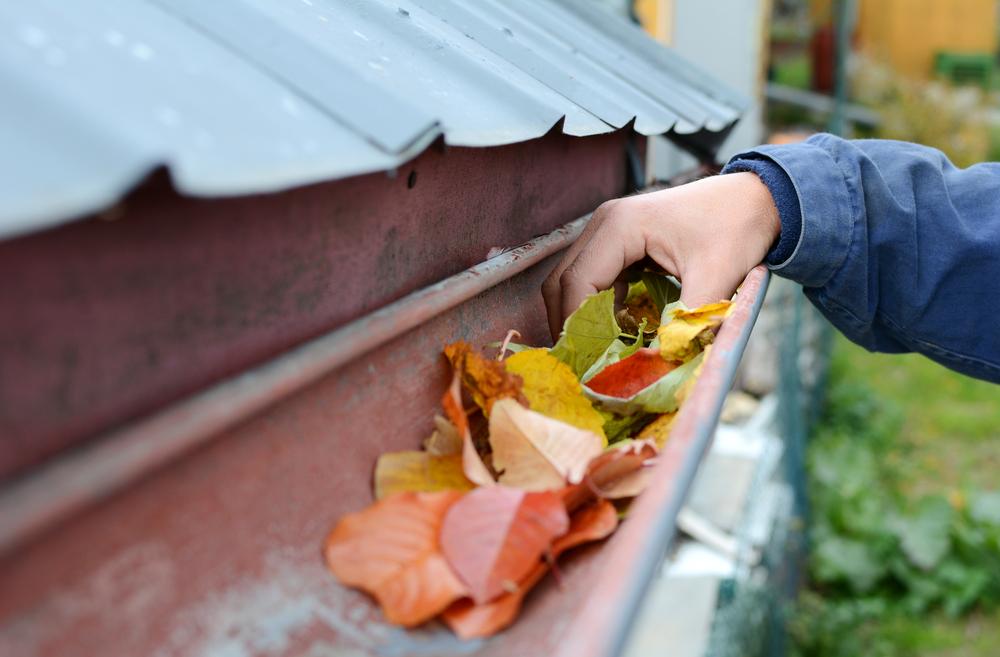 Fall foliage may be stunning, but it also means falling leaves. And where do they end up? You guessed it, your gutters. Don't forget that gutters play a vital role in keeping your home safe and dry. By diverting water away from the house, they reduce the risk of hefty water damage to your basement, siding, roof, wall, foundation, and more. Ignoring this chore now could lead to costly repairs down the road.
It's also a good time to check the overall health of your gutters. Keep an eye out for small cracks or splits that could be letting water seep into the fascia behind your gutters. Do you see puddles of water or mold? That's a sign that your gutters are clogged, and debris needs to be removed.
When you're ready to clean out your gutters, equip yourself with the right gear. Grab gloves, a high-quality, sturdy ladder, and a screwdriver to tighten any loose brackets while going through your gutters. Use a gutter scoop to removed debris, which you can make from an old milk jug or purchase at the hardware store.
Safety first! Make sure you use a high-quality ladder that extends to the right height. Always have a buddy nearby in case you need a hand or have any mishaps. If you're not too keen on heights, consider calling in the pros for some extra peace of mind.
Check Your Windows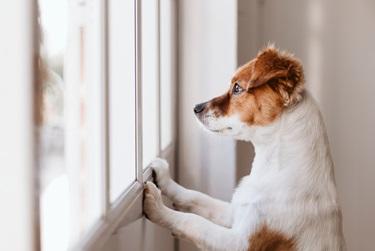 Late autumn and winter days can be dark and dreary. Don't let dirty windows make it worse. These last lingering days of warm weather is a great time to get rid of the grime and clean your windows. Head into fall with a clear view and capture all of those last lingering rays. Need tips on cleaning your windows? Check out this great column on window cleaning made easy with our guest blogger Laurie March, of HGTV's "House Counselor" fame.
But what if it's not just some smudges on your windows bringing you down...To help turn your home into a cozy winter retreat, it's also important to inspect your windows for leaks or drafts. Changes in temperature or humidity, combined with normal wear and tear, can lead to cracked or shrunken window seals. These pesky drafts not only affect your comfort but can cause energy bills to soar.
Here are 7 questions to ask when checking your windows:
• Are they damaged? Damaged windows can leave your home vulnerable and create compounding issues that will worsen over time if not repaired quickly.
• Do you feel drafts or leaks? Drafty windows not only make your space uncomfortable, but they may be a sign of damage from insects or moisture.
• How is your home's temperature control? If you find your home hot and muggy in the summer or freezing cold in the winter, your old windows could be to blame.
• Are they dated? Style preferences change and so do safety codes. If you have an older home, it may need updated windows to comply with fire egress regulations.
• Are you seeing poor performance? If you feel like you've put in a workout when opening or closing your windows, it may be time to replace.
• Have you done a sound check? If pedestrians on the sidewalk, cars flying by, or the yappy dog next door are giving you grief, replacing your windows could help give you peace and quiet.
• Are they just plain worn out? Sometimes windows have served their purpose for as long as they were meant to. Chipped, water-stained, or dated windows signal it's time for an upgrade.
Not sure whether you need to replace or repair your windows? Schedule a free, in-home window diagnosis.
If you decide it's time to replace your windows, these Renewal by Andersen® replacement windows are great options to consider.
With these windows, you can cozy up without worrying about cold spots or skyrocketing energy costs. Our High-Performance Low-E4® SmartSun™ glass is 70% more energy efficient in the summer and 47% more energy efficient in the winter compared to ordinary dual pane glass.* And we now offer an enhanced triple-pane option to help keep you even cozier. Curious about glass options and how they can help with energy costs? Learn more about all of our glass options here.
Fertilize Your Lawn
After a scorching summer, your lawn deserves some care. Experts say that fall fertilization is key to a healthy lawn. Fertilizing in the fall helps your lawn recover from the harsh weather and prepares it for the winter months ahead. A well-nourished lawn will reward you by bouncing back with lush, green color come spring.
When choosing a lawn fertilizer, look for an easy-to-apply, nutrient-rich option that will help your lawn build strong roots. Fall is also a great time to get perennial weeds like dandelions and clover under control, so a 'weed and feed' option is also a good choice.
Ideally, aim to feed your lawn about six to eight weeks before the average first frost in your area. For most homeowners, that will fall between September through early November. After you've applied fertilizer, make sure to water your lawn generously.
Fix Your Foliage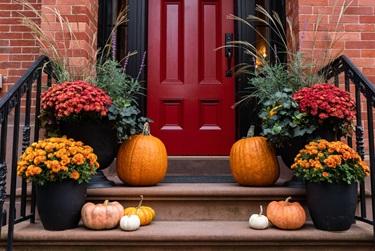 While it might feel like it's time to put the garden to bed, don't do it quite yet! There are a few garden chores that are important to do now, that your future self will thank you for.
Plant fall bulbs like tulips or daffodils now and they'll give you a stunning display come spring. If you live in a cooler climate, get your bulbs in the ground by October. If you live in a warmer climate, you have a little more time and can wait until mid- to late- November.
Before tucking your garden bed in for the winter, tidy it up by cutting back perennials that are done blooming. It's also important to rake away debris and pluck any persistent weeds to improve the health of your garden and prevent disease.
Continue to enjoy your garden and add vibrancy to your outdoor space by incorporating mums and fall planters. Ornamental kale comes in a variety of colors and is cold tolerant, making it another great choice for your fall garden. Continue watering outdoor plants until temperatures consistently fall below 40 degrees to get the most out of your fall florals.
Give Yourself a Cozy Retreat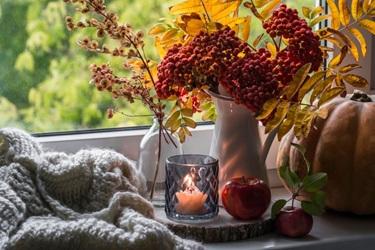 Before you settle in for the winter months, give your home a deep clean. Tackle those easily overlooked nooks and crannies to give your home a fresh start. Remove covers on throw pillows and toss them in the wash. Give doorknobs and handles a onceover to remove bacteria and grime that builds up over time. When's the last time you rinsed out your trash cans? Now's the perfect time to hose them down outdoors before it gets too cold.
To truly embrace the season, add an autumn-scented candle or diffuser to your space. Let scents like sweet cinnamon or warm apple pie transport you to a relaxing, fall retreat.
Here's a checklist of sneaky household chores we tend to forget:
• Wash baseboards and molding
• Rotate and/or flip mattresses
• Dust ceiling fan
• Deep clean the oven
• Wash throw pillows and blankets
• Wipe down light switches and doorknobs
• Dust window blinds
• Wash shower curtains
• Clean out the fireplace
Check these fall projects off your to-do list to show your home the love it deserves and give yourself a place to relax and enjoy the season.
*Values are based on comparison of Renewal by Andersen® double-hung insert window SHGF to the SHGC for clear dual pane glass non-metal frame default values from the 2006, 2009, and 2012 International Energy Conservation Code.