Strong Women; Strong World
Celebrating women in March
In March, we celebrate International Women's Day, as well as Women's History Month, and Women in Construction week--all things that we at Renewal by Andersen are proud to be able to honor.
In this March issue of atHome, you can: learn more about International Women's Day; get an inside peek into what it's like to be a woman in construction (and why it is awesome!); hear first hand from some of the female leaders from Renewal locations across the network about who challenges them or what has inspired them to achieve; and learn a little bit about the trailblazing women who helped get Andersen off the ground and made it into the global home improvement organization it is today.
From marking International Women's Day to celebrating the women who helped lay the groundwork for our company, we celebrate all women in March.
International Women's Day
International Women's Day (March 8) is a global day celebrating the social, economic, cultural, and political achievements of women. The day also marks a call to action for accelerating gender parity.
International Women's Day (IWD) has occurred for well over a century, with the first IWD gathering in 1911 supported by over a million people in Austria, Denmark, Germany, and Switzerland. Prior to this the Socialist Party of America, United Kingdom's Suffragists and Suffragettes, and further groups campaigned for women's equality.
Today, IWD belongs to all groups collectively everywhere and is not country, group, or organization specific. Individuals across the globe wear purple on March 8 to raise awareness, take part in community events, and work to promote activities that champion the IWD theme throughout the year.
This year's theme for IWD is "Embrace Equity." IWD reminds us that "It's critical to understand the difference between equity and equality. Equality is the goal, and equity is the means to get there. Equity isn't just a nice-to-have, it's a must-have--and focus on gender equity needs to be part of every society's DNA." As individuals, we are all responsible for our own thoughts and actions--we can challenge our own beliefs and change our actions.
The aim of the IWD 2023 #EmbraceEquity campaign theme is to get the world talking about "Why equal opportunities aren't enough." People start from different places, so true inclusion and belonging require equitable action. Equality-based solutions to social issues are typically rooted in impartiality, with no difference in services and policies, meaning the same for all.
However, equity-based solutions take into account the diverse lived experiences of individuals and communities, adapting services and policies according to these differences. Meaning that in order to even approach the equal opportunities, some individuals and groups need an extra leg up. The distinction between Equality and Equity is the difference between "everyone gets the same" and "everyone gets what they need, and accounts for barriers, circumstances, and conditions." Equity is a long-term and sustainable solution, and is a process for addressing imbalanced social systems.
Celebrating Women in Construction
This month, we are jam-packed with content about women within RbA who are doing amazing work and paving a successful path for themselves in the typically male-dominated construction industry. From installers to ops leaders and more. We ask you to join us in celebrating our RbA women behind the windows.
Renewal by Andersen of Eastern Iowa
Let's start with two of our installers from our Eastern Iowa location: Bridget Nesteby and Jena Adams.
Bridget Nesteby
Just a few years ago, Nesteby spent her days as a classroom-based special education teacher. But after a while, she decided she needed something different—more hands-on—and so she traded in her teacher's badge for a union card.
The switch suited her well. "I've always liked working with my hands, ever since I was little," says Nesteby.
Now, Nesteby is working as an installer for the Dubuque-based RbA of Eastern Iowa, tearing out windows, caulking in new ones, and helping make homeowners' remodeling plans a reality. Nesteby belongs to the Carpenters Local 678 - where she has worked her way through the ranks as an apprentice and recently became a journeyman.
That dramatic career change she made? She couldn't be happier about it.
"I realized that I have skills that I didn't know that I had. The men and women that I work with are phenomenal and encouraging and help you when you need it," says Nesteby.
She's proud of her work and likes to teach her daughter that she can do anything, no matter the job.
"As cheesy as it sounds, I love driving past with my daughter in the vehicle and say, 'I put that window in…I worked over there!' I like to have people like my work because I want to be good at it," she adds.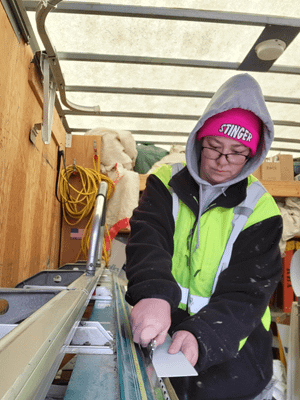 Jena Adams
Sometimes, Nesteby is paired with Jena Adams. Adams is a newer installer on the Eastern Iowa team, having started in 2022, and is currently working as an apprentice within the Cedar Rapids-based Carpenter's Union Local 308.
"I enjoy helping others, and I like being able to see the difference in windows we replace. I really like hearing homeowners' stories like when they say, 'my house isn't cold anymore' because of their new windows," she says.
Whereas Nesteby switched paths mid-life, Adams comes from a builder background. After high school, she helped build homes in California as part of AmeriCorps. Her older sister is a part of the local electrical union, and she has other women family members working in the trades.
Given her history, it's no surprise that Adams actively works to dispel the notion that the trades are just for men and encourages more women to join the construction industry.
"I'd love to get more females into the trades," she says.
While both women are new to their career as RbA installers, they've got a drive, a supportive team, and each other for inspiration and guidance as they build up their expertise and help build a foundation for the next generation of women in the trades.
Renewal by Andersen of Greater Charlotte
Next up are some inspiring women from RbA of Greater Charlotte. In addition to being proud female window and door installers, they also have the joy of working alongside family.
Team Roughneck (Bridgette, Veronica, and Matt Keagle)
Meet the Keagle family. The trades run in this family's blood.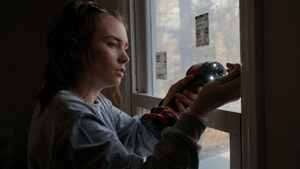 For about six years, Bridgette Keagle has been working in the trades, but her roots in this kind of work go back even further. Bridgette has been on work sites since she was a baby. Now 24 years old, with a baby of her own, she works alongside her dad Matt, and mom Veronica, as an installer for RbA – and she loves it.
"Working with my family… probably was the best opportunity possible," she says. "Knowing what [my dad] has to offer not only to the customer, but to RbA and the up-and-coming generation of RbA is awesome. Being able to carry on his legacy into RbA has been great. Hopefully, I'll be able to continue doing so when he's ready to step out."
Bridgette and her dad, Matt Keagle were one of the first of three install crews at RbA of Greater Charlotte when they first opened five years ago. With more than 30 crews now, this RbA location has clearly grown… and so has the Keagle team.
Veronica Keagle had dabbled in the trades with Matt in the past, so she was very familiar with it, but it wasn't until about four years ago that she made the career move to work for RbA alongside her husband and daughter. "It's enjoyable," she says. "We're on the same page, we all have the same objective, so I feel like everybody gives 200%."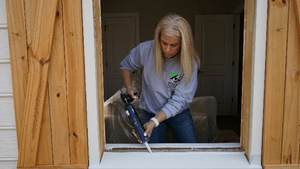 Previously, Veronica had worked in the healthcare industry. Sometimes she would get off a 12-hour shift at the hospital and help her husband on a job afterwards, doing the books for them on the weekends. Eventually, she left healthcare and joined her family full-time.
"I would be lost without her. She's an asset for sure," Matt says.
These women love what they do and take pride in it. "It's fun because the other teams don't treat us like women… They know that physically, we don't have the same strength as men do, so we make up for it in other ways," Veronica said. "But they treat us no differently than they would one of the guys."
Bridgette's advice to women considering the trades: "If you enjoy being outside and you want to be in action all the time and be in a different environment every day, get into it, it's worth it."
Team Culda (Rachael and David Culda)
The Culda team was also one of the original install teams at RbA of Greater Charlotte. This husband-wife duo has been working with each other for the past several years and have a great system down.
"She can read my mind better than anybody," David Culda said. "So a lot of times, if I need something, she's already on the way with what I need."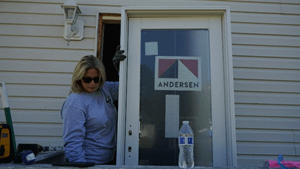 Unlike her husband David, Rachael Culda hadn't grown up in this kind of work, and she hadn't originally planned to get into it. But when David needed the help, she dropped her position in management and said, "sign me up!" Because of this big life change, she's discovered what she really loves.
"We get to make a difference every single day. It's kind of nice. You show up to your house, and everything's kind of old or outdated, and you get to make it beautiful," she said. "I love being active. Working at a desk has never really appealed to me. I like the more active aspect of things and I enjoy working with my husband. I think that's pretty fun."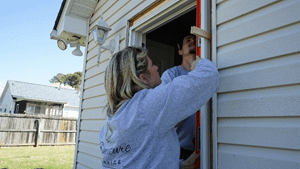 Rachael is passionate about encouraging and inspiring women into the trades. "I think a lot of women kind of shy away from this industry because it is hard. It can be tough, but we women are tough, so we can handle it," she said.
"I think Women's History Month, [and the chance to feature women in our line of work] is very influential. When we observe the achievements of our fellow women, it can really give us a sense of what is possible and what is obtainable. Women have a lot to bring to the table in this industry. We can be more meticulous, and so it's not really gender that defines our abilities. And I think it's important to recognize and encourage women who are willing to do this kind of work."
Renewal by Andersen of Los Angeles
One of the missions of International Women's Day day is "To forge inclusive work cultures where women's careers thrive and their achievements are celebrated."
That mission is what you'll find when you walk into RbA of Los Angeles. There, many of the offices are occupied by women, and it's not by accident.
For the past two years, Los Angeles General Manager Emilio Alfieri has helped build a core of rock-solid women leaders, all from different backgrounds. Having a diverse team is something Alfieri is passionate about. When hired in 2020, he was the first Latino general manager within RbA history–and right away, he noticed a void.
"I just thought it was really strange to not have diverse leadership in Los Angeles, and LA is a very diverse city."
So, he asked HR to widen its candidate pool, specifically asking to interview more diverse candidates including women. With new hires, and promoting within the organization, he says the current women leaders on his team "are the right choice for these roles."
So, take a moment to get to know these women. They exemplify what it means to be a leader. They are passionate, they get results, and they welcome any challenge head-on.
Amy Hwang, Operations Manager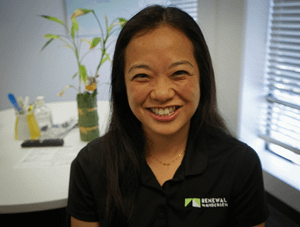 Amy Hwang was the first female leader who Alfieri hired in 2020. She says that right away she noticed the inclusive tone that he had set.
"People want to come to work. I've heard people say that before. We have a can-do attitude. I think our culture is dynamic, and the diversity brings that excitement and energy to our culture."
Being one of the few women operations leaders, Hwang says she is motivated to stand out.
"I feel incredibly motivated to add value, add my opinion, be that voice where there's not a lot of representation and to bring that voice to the table."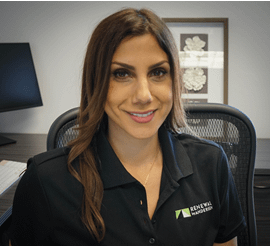 Natasha Alvarez, Installation Manager
Natasha Alvarez is one of the newest leaders on the LA team, having started her role about seven months ago.
has quickly come to love the support she receives every day. "Everybody wants to see you win, and everybody helps you win," she says.
Creating change and seeing it come to life makes her excited.
"I attend a monthly install manager meeting, and there's a bunch of video squares, and I'm the only woman in that square. And so that's very empowering. It's just paving the way for other women to be able to do the same," she says.
Eman Zubi, Sales Manager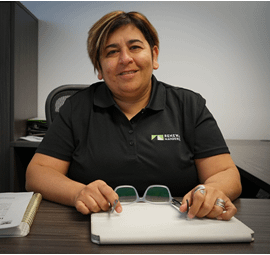 When we met with Eman Zubi in February, she was three days into her new role as a sales manager. It's a role she earned after spending the past couple of years working as one of the top-performing design consultants within the LA location.
"It feels challenging but also feels fulfilling because I now have a chance to be able to get people to experience the success that I had as a design consultant," she says.
Zubi notices the success of her fellow women leaders within the office and is inspired by it.
"There's nothing that women cannot do. We can do anything!"
Minerva Bojorge-Jaramillo, Sales Manager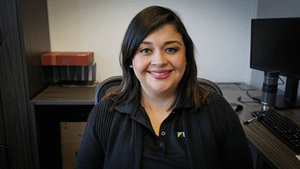 When you meet Minerva Bojorge-Jaramillo you can't help but notice her infectious smile right away.
"That kind of positive, uplifting attitude I bring along, that is my responsibility and my choice, and it could make a huge difference," she says.
Bojorge-Jaramillo started at RbA about two years ago. She says it's the culture, and the way that the company puts an emphasis on "walking the walk, not just talking the talk" that drew her in and what keeps her engaged.
"We're here to make a difference, and everybody is important. Everybody has the ability to contribute to the success of this company," she says.
"Seeing so many different women leaders in operations, sales and in different departments, it's encouraging. We get the chance to celebrate together and make each other better," she says.
Adrienne Llamas, Senior HR Business Partner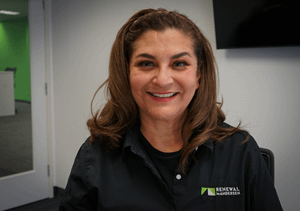 Another person on the team who keeps the Who We Are document close to heart is Adrienne Llamas. She's a Senior HR Business Partner supporting LA, Orange County, and Twin Cities locations, and is coming up on her one-year anniversary with Renewal on March 21. Building relationships and helping to provide an uplifting employee experience is important to her.
"It's been such a fantastic experience of being around people who want to be successful, who want to help you be successful. You couldn't ask for anything more," she says.
"Coming into Los Angeles every week, I get to be around strong women leaders. We walk around like a mighty strong team, and that is something to be very proud of."
Amailya Karapetian, Internal Operations Supervisor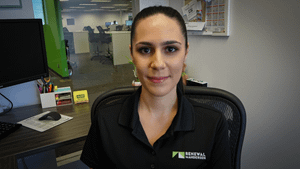 Amailya Karapetian has the longest tenure of this group of women. She started with Renewal by Andersen six years ago and didn't think she'd be with the company this long, but she kept earning new opportunities to move up. She started in events at RbA of Orange County, then made the jump to the LA office supporting the sales team and now working in operations.
"The opportunities and the doors that opened for me, and the people along the way who believed in me and talked me into taking positions that I hadn't seen for myself, those are really the pivotal moments that made it feel so successful," she says.
"You feel comfortable and at ease, and you know the people around you care the same way that you care. I think that's what makes it really special."
More From Women Leaders Across Renewal by Andersen
From marketing to operations, creative departments to sales teams, Renewal by Andersen is fortunate to have so many talented and accomplished women leaders. Here, a handful of them talk about what makes this a great place to work and to grow their careers.
Honoring the Women of Andersen
Not only are we proud of the thousands of women who contribute to our company's success every day we are also humbled and honored to share some of the stories of the talented, dedicated, and inspiring women in the Andersen family who helped make our company what it is today.
Sarah "Sadie" Andersen
In 1896, five years after the death of his first wife (Mary Cummings; mother of Fred, Herbert, and Mary), Hans Andersen married Sarah "Sadie" McDonald and the two began to build their lives in Hudson, Wisconsin.
It was in Hudson that Andersen Lumber Company was created in 1903 – but Hans did not do it alone. Sadie was a founding partner; her ideas helped influence the launch of the young enterprise. After Hans passed away suddenly in 1914, Sadie remained part of Hudson's tight-knit community until her death in 1934.
(The Andersen headquarters moved to Minnesota in 1913)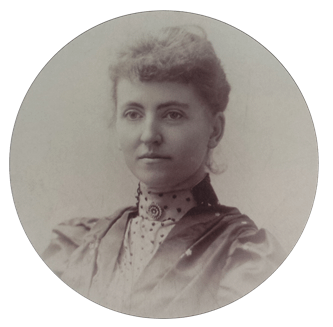 Sarah "Sadie" McDonald Andersen, founding partner of Andersen Lumber Company, in 1903.
Mary "Molly" Andersen
Molly Andersen was one of three children and the only daughter of Hans Andersen. It's no surprise that the sister to Fred and Herbert — two men who would go on to take over the Andersen presidency and vice presidency, respectively — would bring energy and creative thoughts to the business. Outside of her work with the company, Molly created the first American Field Service recreation camp for U.S. military nurses in Europe during World War I.
Molly lived to watch Andersen rank as the world's largest specialized window frame factory (1924), change its name to Andersen Frame Company (1929) and then to Andersen Corporation (1937), and hire its first female factory workers (1943).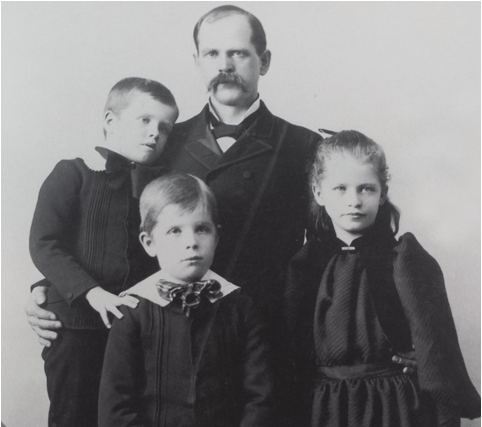 Hans poses with his children (from left to right) Fred, Herbert, and Molly, in 1892.
Kitty B. Andersen
During World War II, more than 250 Andersen employees joined the service, leaving many empty positions in the factory. Fred Andersen, the company's second president and Hans' son, married a woman by the name of Katherine "Kitty" Blount, who would go on to help the company adjust to the times. She was responsible for directing the hiring of women into the factory workforce.
As the female employees' "personnel director" during the first few months, Kitty Andersen made life in the factory more pleasant for everyone and very comfortable for the new female employees through initiatives such as overhead music, a new heating system and hot lunches.
Kitty was a major influence in the corporation, serving on the Board of Directors for a half-century. A philanthropist and community organizer, she devoted much of her time to civic causes such as blood drives, the Boy and Girl Scouts, senior citizen events, and the public library.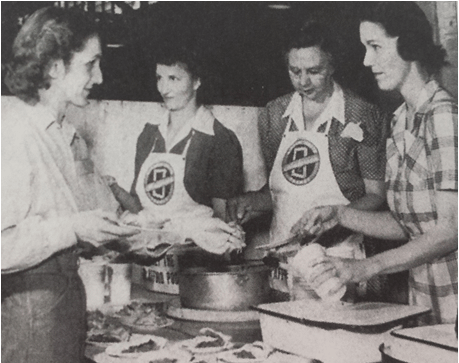 Kitty Andersen (right) organized a portable hot meal service for the first time in the Andersen plant during the Second World War.
Mary "Betty" Andersen Hulings
Another strong influence on the Andersen Board of Directors was Betty Andersen Hulings, who held a deep, abiding interest in the company and served an astounding 60 years on the board, frequently representing Andersen at trade shows, social and networking functions, and other events.
Betty was the granddaughter of Hans Andersen and wife of Bill Hulings, the company's fourth president. She joined the Board of Directors in 1937—the same year the company changed its name to Andersen Corporation. Betty married Bill, who was a purchasing agent at the time, in 1938. Bill became president in 1968.
Like Kitty, Betty believed strongly in generosity and philanthropy.
Together, Betty Andersen Hulings and her husband Bill lived by the principle, "From those to whom much has been given, much shall be required," and were strong supporters of many arts and educational institutions in the community.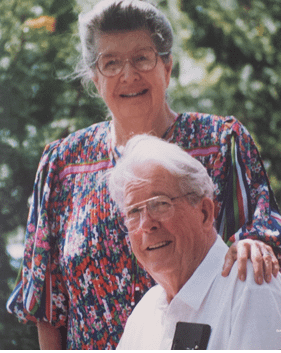 Mary "Betty" and Bill Hulings.
Sarah Andersen
As the daughter of Hans Andersen's grandson Hugh and Hugh's wife Jane Krause Andersen, herself a member of the Andersen board, Sarah Andersen grew up immersed in the company culture.
After finishing her education at Carleton College, Sarah served on the boards of several nonprofit organizations while also accompanying her mother to Andersen shareholder meetings. Over the course of five years, Sarah listened, learned, and studied the structure and workings of Andersen's Board of Directors.
In January 1983, Sarah joined the board and began working to cultivate it as an actual governing body. Because of her dedication and work, the board began to focus on long-term planning and succession for the company's continued success. For nearly four decades, Sarah worked passionately alongside board members and company leaders to carry on her family's legacy and transform the company's governance structure.
Elected chair of the board in 1993, she served as board chair for 11 years and also chaired the company's governance committee for 19 years. She became one of the company's strongest proponents of change. A passionate philanthropist and a tireless community volunteer, Sarah is also a champion for diversity, equity and inclusion, and has been especially committed to advancing business opportunities for women.
"Our products make people's homes and lives better," Sarah says. "It's important to me that our business accomplishes something positive and is socially responsible."
Sarah retired from the board in 2020.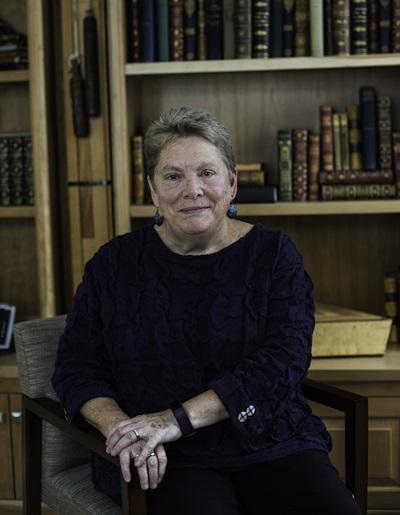 Sarah Andersen
Ellen B. Andersen
Sarah Andersen's eldest daughter, Ellen Andersen, joined the Andersen Corporation Board of Directors in August 2020. She serves on the Compensation Committee and the Governance and Nominating Committee.
Ellen is a veterinarian at North Shore Veterinary Hospital in Duluth, Minn. She holds a Bachelor of Veterinary Medicine and Surgery degree from the University of Edinburgh, Scotland. She serves on the Hugh J. Andersen Foundation board of directors and previously served on the advisory committee for The Raptor Center at the University of Minnesota.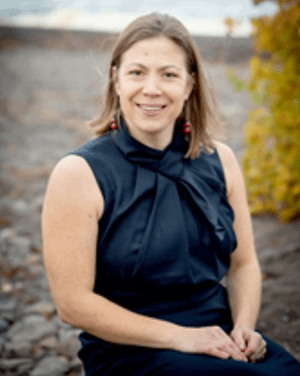 Ellen Andersen joined the board in 2020.
Lisa W. Copeland
Lisa W. Copeland, is a member of the fifth generation of the Andersen family. She is the daughter of the late Christine Andersen.
Lisa is an owner and Board Chair of SRI, which provides services to individuals and foundations. She is Chair of the Board for Family Services of Westchester and serves on the board of The Sharing Shelf, a clothing bank for children.
Prior to her current roles, Lisa was a teacher in New York City public schools. She is past president of the Junior League of Central Westchester and prior board member of the Hugh J. Andersen Foundation.
Lisa holds a Bachelor of Arts degree from Brown University and a Master of Education degree from New York University.
Lisa serves on the Audit Committee and on the Environmental, Social and Governance Committee.