Team Spotlight
Renewal by Andersen of Central PA helps Veterans housing project.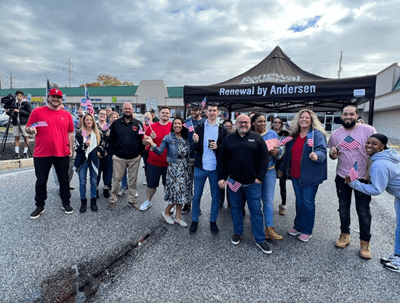 All across our retailer network, Renewal by Andersen is committed to helping our nation's veterans and their families. One amazing new project is taking place in Central Pennsylvania, where General Manager Linda Johnston and her team are donating more than $536,000 to Veterans Outreach of Pennsylvania (VOPA), the largest donation to date for this non-profit, which was established in 2018 to help veterans who are experiencing homelessness in Central Pennsylvania.
Renewal by Andersen of Central PA will provide windows, doors, sidelights, transoms, and labor for VOPA's Tiny Homes and Community Center initiative for homeless and displaced veterans across the Capital Region. The team, along with other donors, will build 15 tiny homes for veterans who are experiencing homelessness and a community center to be located along the Susquehanna River in South Harrisburg. The entire village will serve veterans free of charge. They will also contribute materials and labor for construction of the 6,500-square foot Community Center to be built near the houses. VOPA hopes to begin construction next spring.
"We take enormous pride in our products and workmanship and are honored to contribute to our veterans' essential housing in this unique communal setting. The veteran Armed Forces service men and women will have their individual needs met and also draw strength for their recovery from each other. Renewal cares about those who have given so much to protect us," says Johnston.
What an incredible way of giving back, Central PA! We're looking forward to seeing the progress of this project.
Check out this video, which shares a bit more about their project.
At Home With Laurie: Springfield Kidzeum
In this episode of At Home with Laurie, we're visiting a local business in the heart of historic Springfield, Illinois. Kidzeum recently underwent an enormous transformation, so we followed around a few frequent visitors to hear how Kidzeum impacts both the community and the lives of those who enjoy it! Want to see more content with Laurie March? Visit Get Inspired With Laurie or check out the full series in our video gallery.