Top Trends in YOUR Homes
You asked; we listened. Here are a few the top design trends for 2022…as shared by our followers on Instagram.
Curious to see how "What's Hot" plays out in the real world? Read on and take a peek into how these trends live and breathe in actual homes across the country. (And of course, THANK YOU to everyone who shares their project photos and tags us—design ideas are just ideas until real people put them into practice!)
Natural wood: The new neutral
Last year, we talked about the return to popularity of natural wood finishes and the rise of biophilic design. For 2022, we don't see that trend slowing down—if anything, it's raising the bar.
Bare wood is setting a new standard. Its warm color and clean look create a cozy feeling that works with styles ranging from minimalist to boho to modern.
Natural wood finish for flooring, as well as for décor accents, entry doors, window trim, and accent walls continues to take center stage
Andersen's custom front doors are offered in multiple wood species and stain options to achieve your preferred natural wood look. "When renovating my 1960s rambler, I wanted to combine its original mid-century modern feel with an updated rustic-contemporary aesthetic. The natural wood front door creates an accent while adding texture, making the space feel cozy and inviting," says designer, TV personality, and RbA Ambassador @colanerijohn (John Colaneri).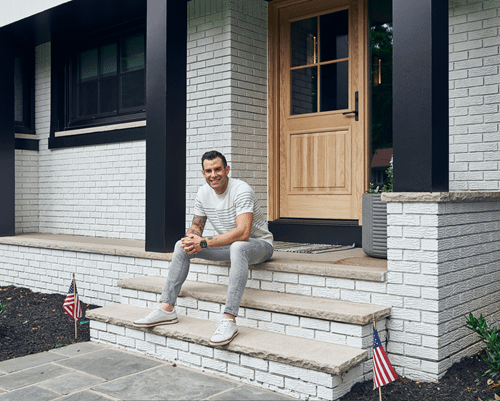 Or, bring the look inside with one of our stainable, paintable, real wood interiors for your replacement windows from Renewal. Says @ramblingfitness, who had four windows replaced with a natural wood interior, "What a difference they have made…We have an old house, which is awesome but also has a plethora of quirks. I'm feeling pretty dang grateful for a job excellently well done. It provides me the opportunity to enjoy my home, and you can't take that for granted."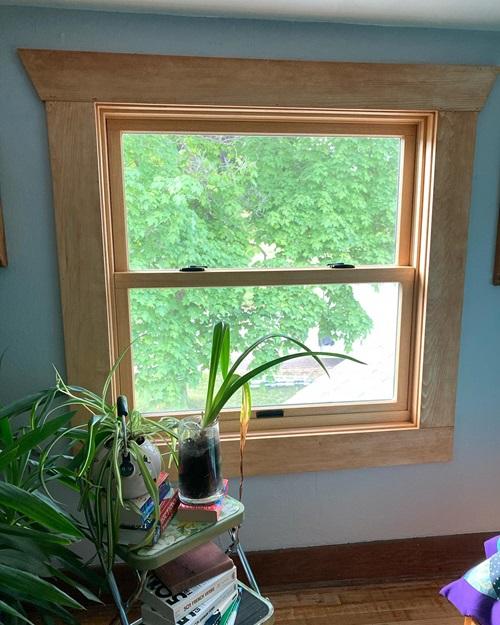 @carrinoanthony's studio apartment/guest quarters is instantly lighter and brighter with the natural wood walls and flooring. And check out the "woodsy" themed wallpaper and end tables out of real logs!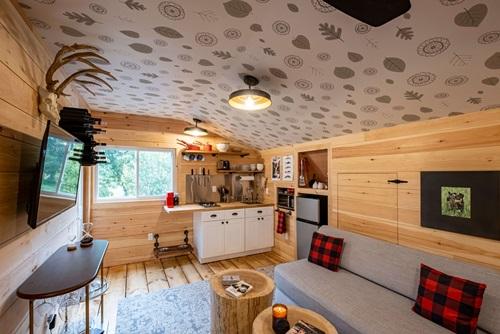 Nestled in the woods about an hour outside of Portland, snuggled up alongside the Wilson River, is the retreat of @bearcreekfalls. Their gorgeous new windows showcase the view outdoors—AND complement all the natural wood finishings in their home.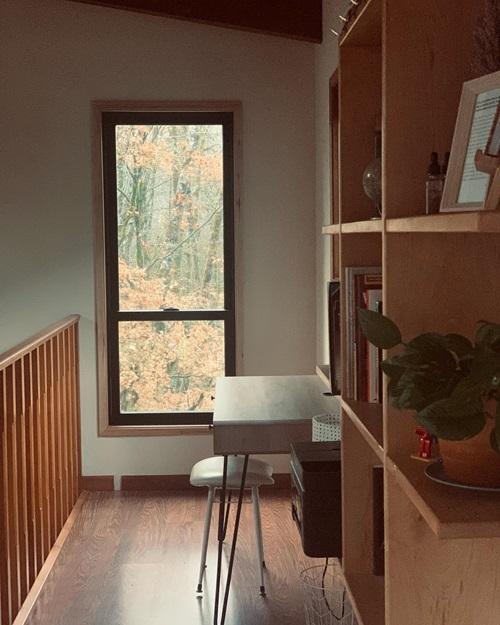 When @bloomingwithmeghan remodeled their kitchen, they brought the best of biophilic design to bear—gorgeous wood open shelving and accents (cutting boards as art!), coupled with exposed wood beams and hardwood floors make this kitchen to die for. (Or to live for—check out all the plants they have thriving in that natural light!)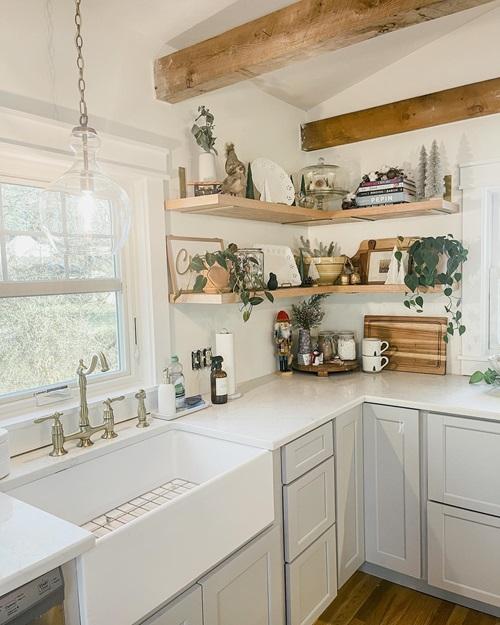 Black is the New Black
Whether it's moody, all-dark exteriors; striking, black kitchen cabinets; or midnight-hued soaking tubs and other bath fixtures…black is back in design. One of the most versatile design choices, blacks and other ultra-dark colors can make a bold statement, especially when used in concentration; but it can also be used sparingly as a dramatic accent. And…it can also function as a neutral, blending into its surroundings and eliminating distractions.
Forget saving the drama for your mama…revel in the drama. The swoon-worthy dark exterior and black windows from @shelby_livinglifeactivated pair beautifully with the wood beams and expansive porch (that shouts "come on up and have a sit"). White trim adds energy and interest and keeps the front elevation of the home from becoming foreboding.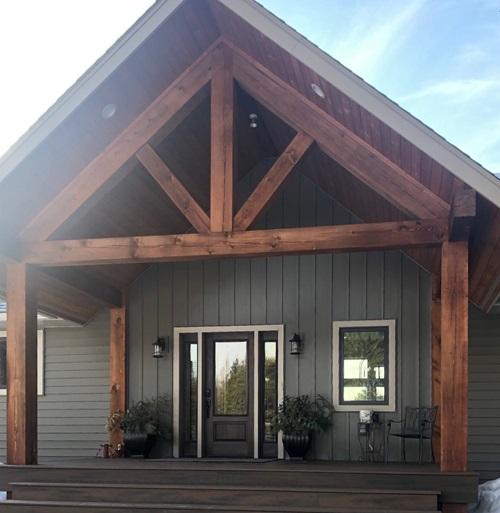 Vancouverite @housetohome_yvr brings the drama and makes a bold statement with all-white décor and pops of black in stark contrast (including their new patio doors from Renewal by Andersen).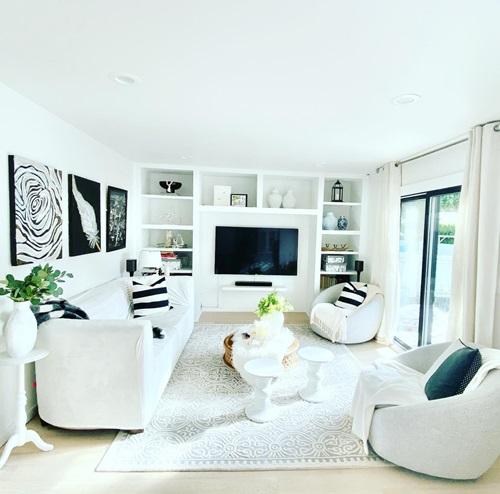 This next kitchen remodel is not only one of our favorites…it was one of the most-interacted with in our user gallery. Just the right amount of black makes @seoulo's kitchen sing. (And look! Natural-wood accents and plants/biophilic accents double down on trends)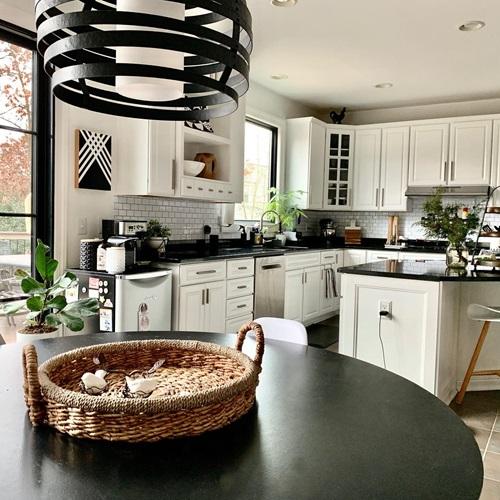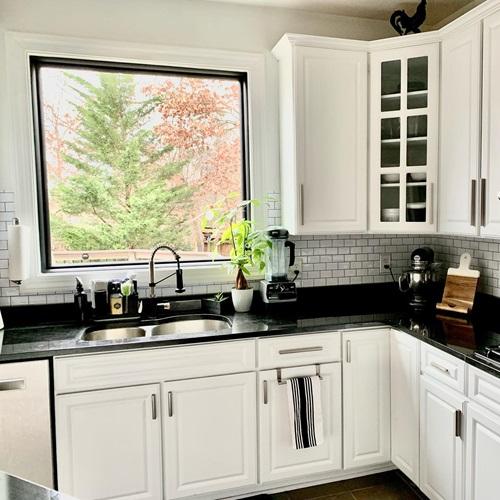 Have we mentioned how we LOVE the use of grilles as an accent in this kitchen? Divided-light grilles on the contemporary sliding doors…but no grilles on the gorgeous picture window. It's the ultimate fenestration mix-and-match!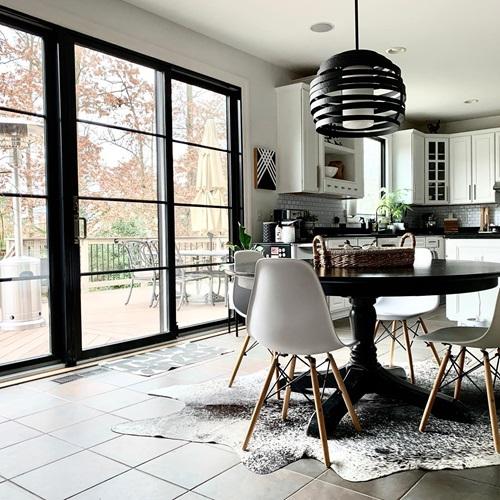 Y'ALL! The CAT matches the DÉCOR. Perhaps he was the inspiration for the color scheme? Or the reason they wanted to bring the outdoors in?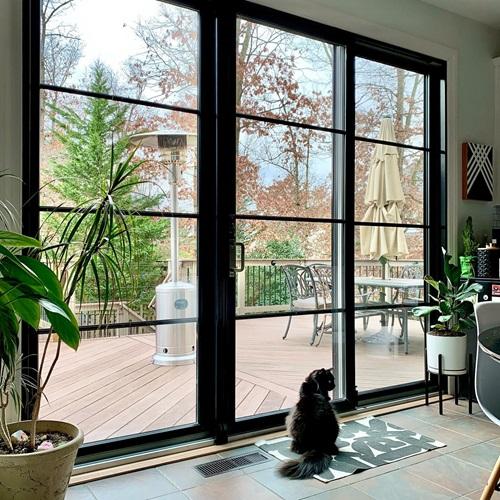 Simple. Elegant. Classic. We can't enough of this kitchen/dining area redo by @sarahmelbythomas.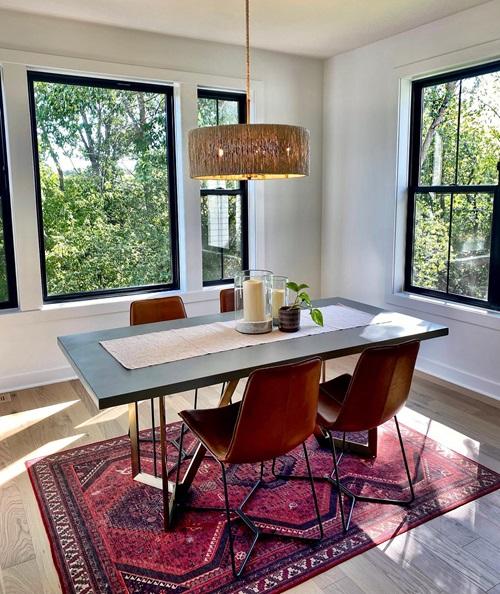 Leave it to @carrinoanthony (also known as our very own Anthony Carrino, designer, builder, and TV personality) to be on-trend but not overbearing. When you hear "nifty wallpaper (ceiling-paper?) and an intricate tile pattern on the floor", you may at first think…how does he pull it off? But check it out—the two go together like PB&J (or like…Kitchen Cousins!), and are balanced in the middle with that to-die-for black soaking tub and sleek black windows.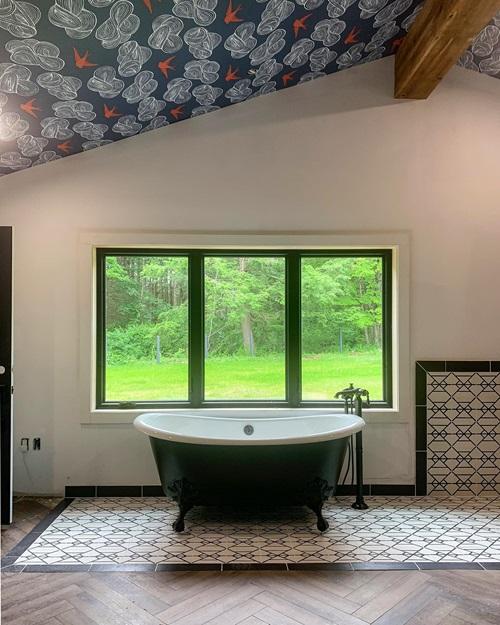 If you thought a dark color palette would overwhelm a small space…let's head over to @carrinoanthony's Insta to see that no, it's actually the Goldilocks of kitchen design. The black cabinets? The appliances? The windows? Ahhhh…it's Just Right for his cozy stone house in the Catskills. (See more of his project here)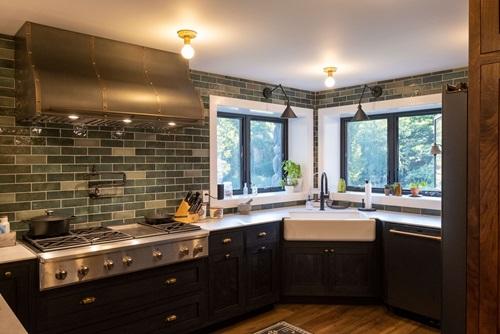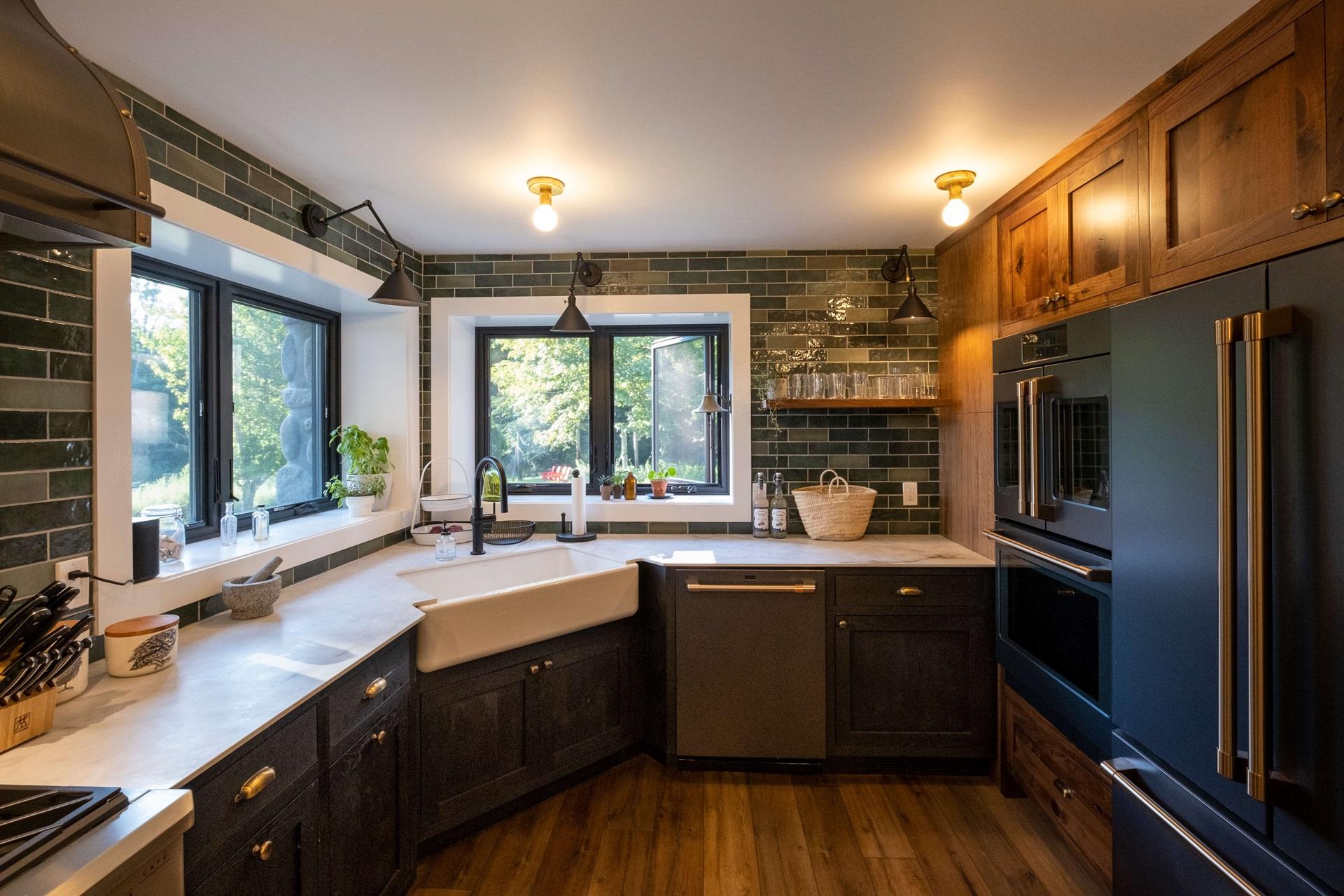 Window walls and Windows of Unusual Size
Giant picture windows, floor-to-ceiling fenestration, and sets of patio doors that bring the outside in are all on-trend this year—and with good reason.
Window walls and banks of patio doors are being used to carve out new spaces melding indoors and outdoors. Replacing blank walls with views of nature, abundant sunlight, and fresh breezes delivers on the desire for healthier homes while also creating ideal entertaining spaces.
Windows whose frames begin at our feet or extend far above eye level are no longer just reserved for two-story rooms with sweeping views. As sustainable design principles focus on optimizing daylight and our appreciation of its health benefits increase, everyone is looking for bigger windows.
@jamison_braun added these big sliders, turning their living room into a sunroom. And we would 100% curl up in that winter sunbeam…cozy!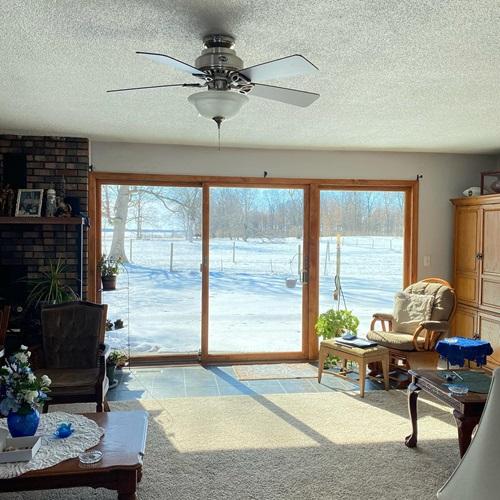 The mother-daughter duo @curatedandeclectic remodeled their sunroom and chose full-height casement windows so they could make the room usable year-round. Now it's their favorite room in the house! Thanks for sharing with us Barb and Alexa!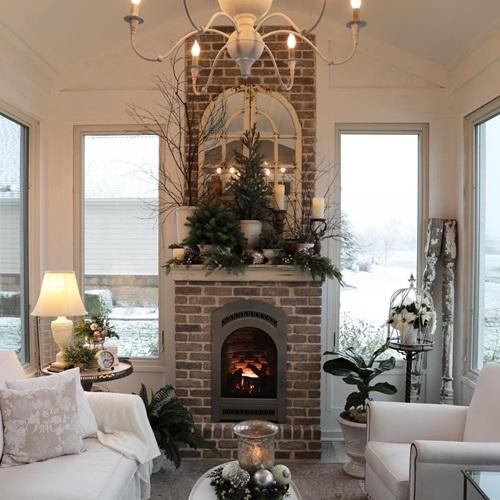 From the wall of patio doors that connect the living room to the outdoor kitchen and firepit area, to the ALL-WINDOW sunroom…@carrinoanthony is maximizing his indoor-outdoor living spaces. Mountain breezes, expansive views, and all the Vitamin D you can soak up? Sign us up!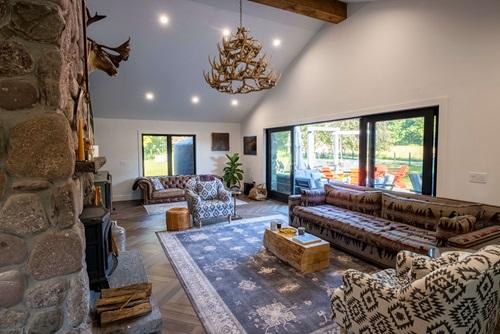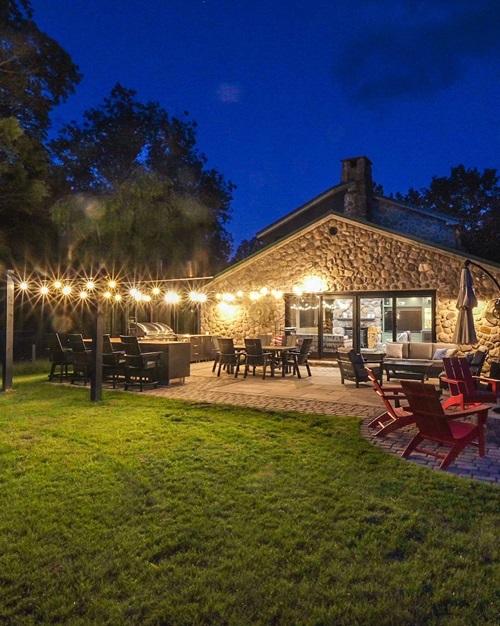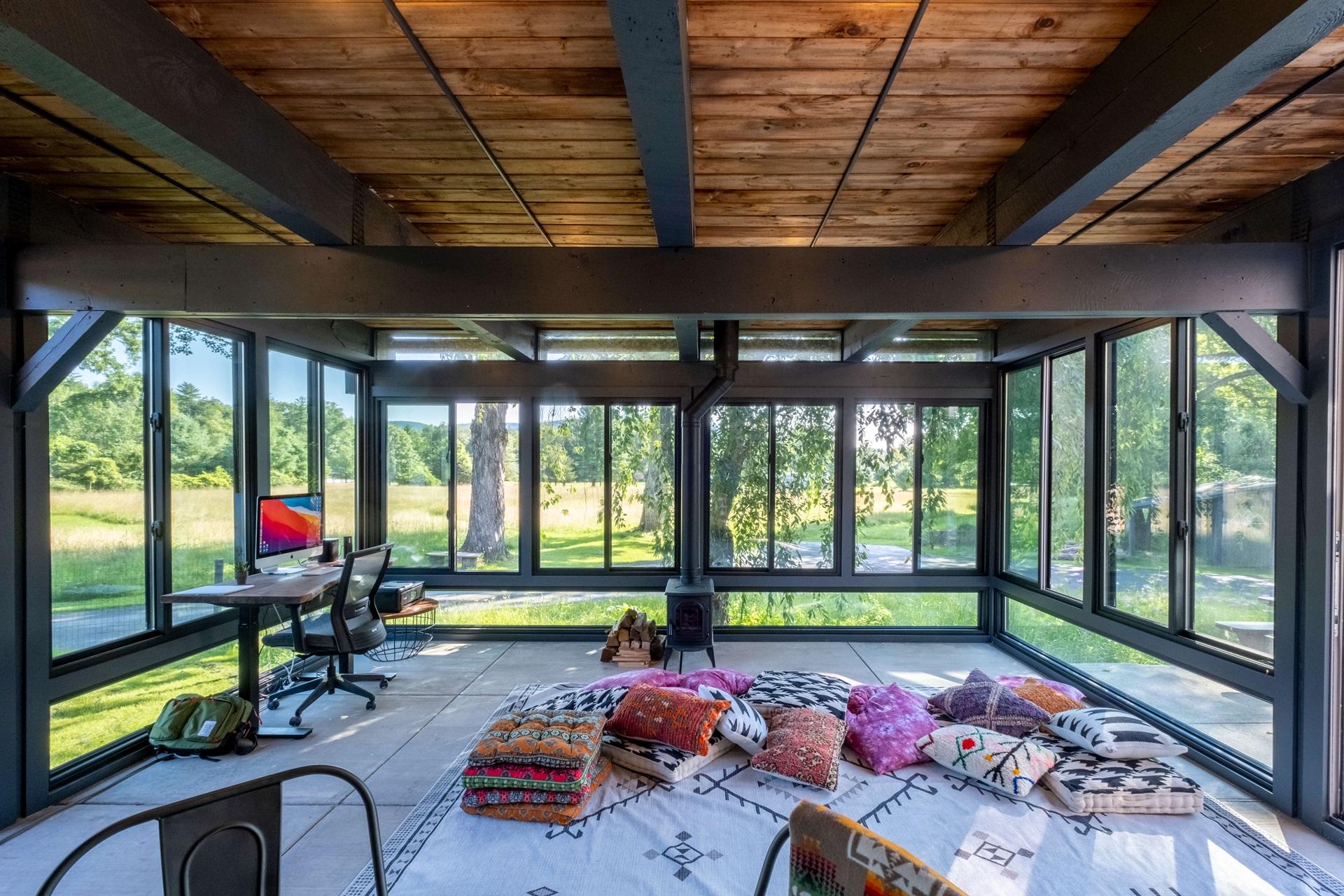 Back to @bearcreekfalls again for this one. When you have an epic view of the forest, are sitting on 3.5 acres of densely wooded land, are in sight of the Bear Creek waterfalls, and have Wilson River frontage…why WOULDN'T you want to take in the view from every angle? This picture window is just the ticket for that.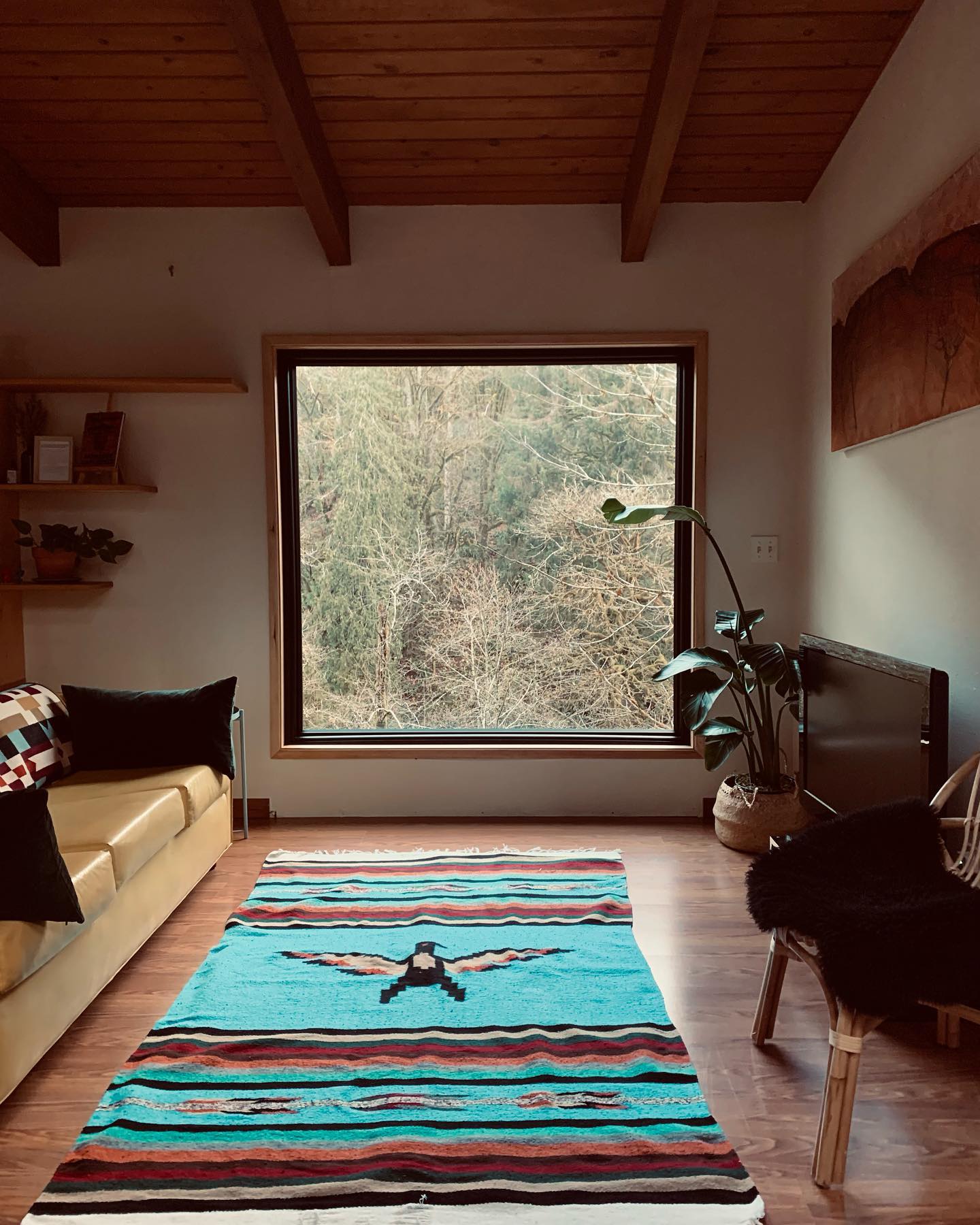 Who amongst us doesn't like a little extra daylight and vitamin D, asks @gatheranddrift. (And we LOVE those big, square grilles!)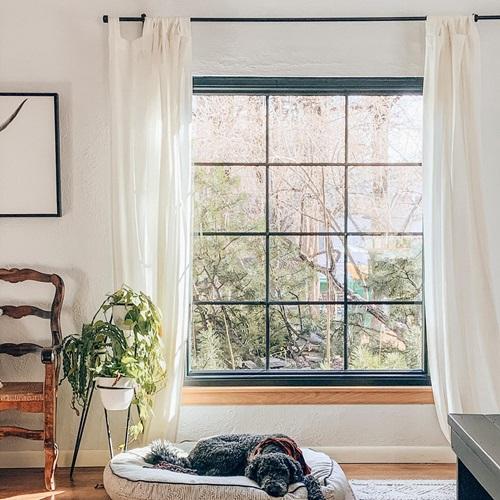 @william_wyman tops their window wall with transoms for even more light.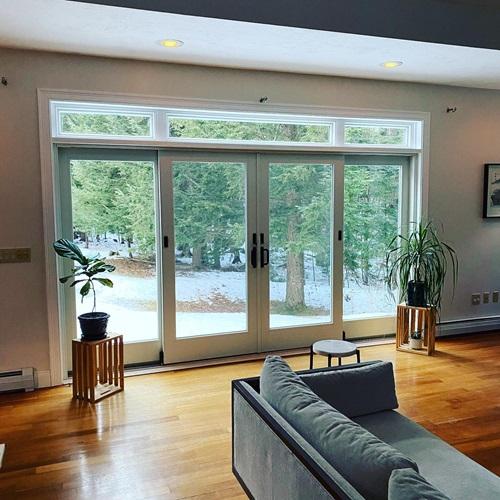 When is a window wall not just a wall? When it's also a mini-room! Bay and bow (projection) windows not only add a big bank of daylight—they can be configured to add extra livable space, whether it's a breakfast nook, a sunny nap spot, or extra seating and storage.
@lexi_poosky is taking advantage of her human's good fenestration choices!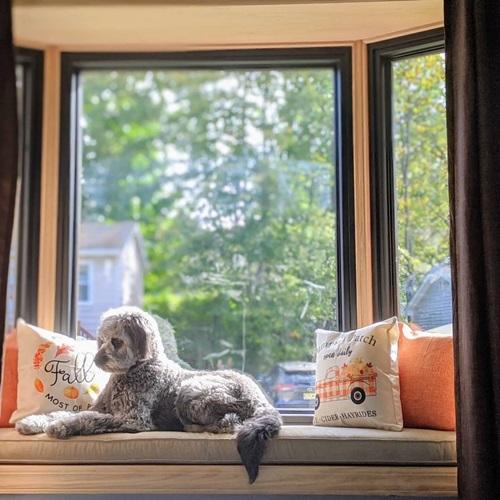 Showing that Cousin Anthony is not the only one in the family who appreciates the extra light and the functionality of a wall of patio doors… check out the rambler redo from @colanerijohn (AKA another one of our awesome brand ambassadors—and "Kitchen Cousin" John Colaneri).
His revamped abode includes a big bay window that serves as a catnappery for furry friend Luna, and then floor-to-ceiling daylight with sets of patio doors. (And, of course, all that natural wood accent pieces!) Want to see more of John's project? Check out Get Inspired with John!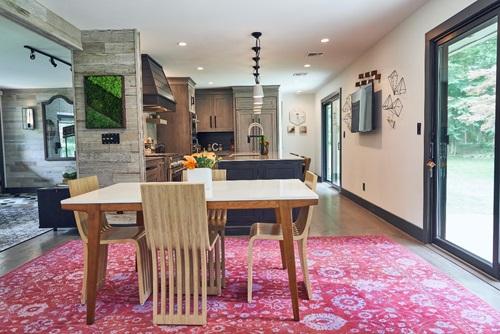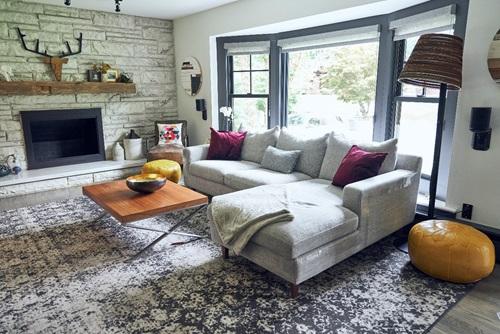 Do you want to see more awesome user-generated content from homeowners across the country? Visit our inspiration gallery! When you're on the site, you can also check out BOTH of Anthony's projects at GetInspiredWithAnthony.com, as well as see all of the stunning renovations that John made to his rambler at GetInspiredWithJohn.com.
And…of course, be sure to follow us on Facebook, Instagram, and TikTok—and tag us if you want to show off YOUR RbA projects!
Finally, our sister company, Andersen Windows, also did a trends piece this month. Be sure to check out their Designer Lookbook for more of what's hot!