Get to Know Gliding Windows
What makes gliding (or sliding) windows a great choice for replacement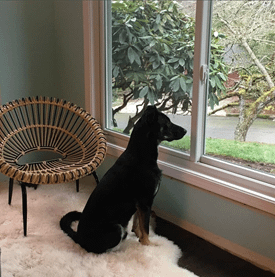 In some parts of the country, gliding windows (also called sliding windows) have gotten a bad reputation. Which probably isn't surprising considering how some brands design their windows…many window companies basically take a double-hung window, turn it on its side, and call it a "sliding window." This setup makes them hard to operate and clean (and hard to KEEP clean—especially the tracks), plus they are more likely to leak, leading to drafts and poor energy efficiency.
But for all of you who love the sleek, modern look and wide expanse of glass you get from a slider…take heart—Not all sliding windows are made the same! You know the old saying, "you don't know what you don't know"? Well, we think that everyone should get to know gliding windows, because the company you choose for your replacement windows matters. Check out these seven ways that Renewal by Andersen® gliding windows are unique, and we think you'll be all in!
1. Dual monorail frame
Next time you look at a gliding window, notice how the sash sits in the frame. Most of the time the sash sits on the sill (the bottom of the frame) on a dirty gray piece of weather-strip along the length of the sill.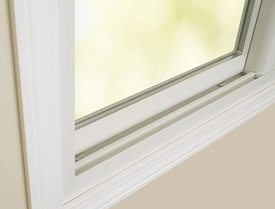 As you can imagine, not only does that accumulate grit, dust, and debris, and get otherwise filthy, but it also wears out over time, letting in air and water.
Our monorail frame has a ridge that runs around the entire perimeter of the frame in one continuous loop. There is one loop for each sash. This means that the sash envelops this monorail along the top, bottom and side of the sash, minimizing air and water infiltration in a superior way.
This monorail frame also eliminates the need for the unsightly fuzzy strip because the energy-efficiency and the weather-stripping are built into the sash which in turn glides easily on this frame.
2. Quality craftsmanship; durable design.
Have you ever noticed how fine handmade furniture, cabinetry, or other quality-built items or structures have a unique look to the corner joints? That joining technique is called mortise-and-tenon construction.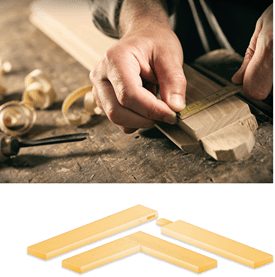 Mortise-and-tenon joints fall into the category of housed joints–where one piece (the tenon) slots or fits into another (mortise). This style of joinery, when done right (which can be tricky, as it takes precision cuts to make everything fit well) is very strong and stable--and of course, beautiful.
While traditional mortise-and-tenon joinery has been used for thousands of years by quality woodworkers around the world, less expensive windows are typically glued together which can produce unsightly corner welds.
Our goal at Renewal was to craft both a better looking and better-quality window. To do that, we combined state-of-the-art manufacturing technology with traditional mortise-and-tenon corner construction to create a more beautiful window with unprecedented performance.
The mortise-and-tenon corner construction eliminates those unsightly corner welds seen in many vinyl windows, so all you see is smooth, clean lines that enhance any view. And, of course, this style of corner joinery provides greater strength and durability--meaning our gliders won't sag even after several years.*
And when you combine the mortise-and-tenon joinery with our exclusive Fibrex® composite framing material, you get a product so strong that we can provide one of the largest gliding window sizes in the industry without sacrificing performance.
And just how big is big? How about 62"x108"? That's more than FIVE feet by NINE feet! Think of the beautiful views...and the bountiful breezes you can get with a "window wall" like that! And of course, because of our patented roller system with self-lubricating rollers and stainless-steel axles, opening your window is a breeze, too. Whether it's a mini 1'x2' window or a jumbo 6'x7' one, you'll have a window that is easy to operate, regardless of size.
3. Easy cleaning
We can make our windows where both sash move and are removable which makes exterior cleaning easy from the inside of your home.
Our patent-pending water-management technology features a sill design that directs water out quickly and efficiently keeping the elements away.
With our innovative sill and dual-monorail track (with no weatherstrip) design, cleaning our gliding window is simple…and as a bonus, the insect screens are easy to remove too!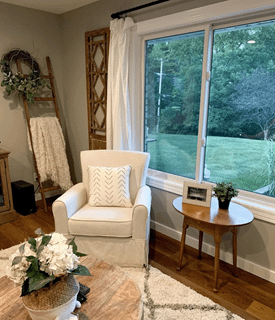 4. Dual-cam window lock
Cam refers to the function of the locking system. Locks on gliding windows are not meant just to lock your windows closed. They also actually play a very important part in the energy-efficiency of the window.
Most gliding window locks are single cam. They are meant to pull the two sash together so you don't get air coming in between the two sash which, when closed, actually sit nearly kitty-corner from each other (the ends don't butt up against each other).
A dual-cam window lock pulls the two sashes together, as it should, but also, at the same time, pushes the sash outward toward the frame so you get a nice, tight seal on the sides, top and bottom of the window as well.
In Renewal by Andersen® gliding windows, the sash is being pushed deep into the monorail frames, making it extremely hard for air to get through. Couple that performance with our industry-leading sill technology and our exclusive weatherstrip system, and you've got a window that is designed to provide weathertight performance year after year.
5. Dual fin weather-stripping
As we mentioned above, our windows don't use unsightly weather-strip. Our weather-stripping has a low-friction sheath over a foam core. It sits out of sight whether your window is open or closed. It closes in on that monorail system on contact for great energy-efficiency, easy cleaning, and superior aesthetics.
6. A breath of fresh air
Renewal by Andersen can make some of the largest gliding windows in the industry. So if you have a great view, we can make a window that allows you to see it. But what's even better is that this view can be accompanied by ventilation. These gliding windows can open from both sides so you get the best of both worlds – a great view and maximum ventilation.
7. Signature Service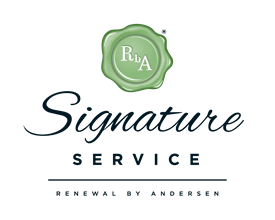 We'd be remiss if we didn't tell you that our
gliding windows
—ALL of our windows, in fact—come with our exclusive Signature Service…meaning we handle the entire window-replacement process from beginning to end.
You will have a single point of contact from sales to service, as we sell, design, manufacture, install, and warranty all of our own windows. It's white-glove service from start to finish, featuring the best people, an exclusive product, and a superior process!
Want to see more gliding window examples? Check out our gallery of Instagram images submitted by our homeowners below! You can also visit our Get Inspired section for more content or to schedule an appointment for a design consultation today!