Team Spotlight
Renewal by Andersen manufacturing honored for ESL program
Having an inclusive and diverse workplace is among the top priorities within RbA, and because of recent work in this area, the company is being recognized.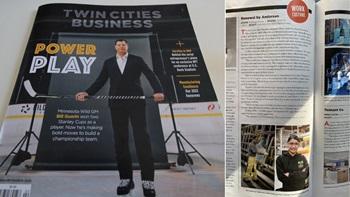 This week, Renewal by Andersen was awarded a Manufacturing Excellence Award on behalf of Twin Cities Business, known for its magazine, which features the manufacturing division at its corporate HQ in its February/March issue.
The magazine honored eight Minnesota-based manufacturers this year, both large and small, and were evaluated for their financial success, growth, innovations, and impact on Minnesota.
Renewal was recognized for its work culture, specifically, its commitment to growing a diverse leadership base and creating the English@Work program, which is now being taught across the Andersen enterprise.
Explains Julie Strommen, then Renewal's Talent Development Manager, "In 2019, we benchmarked 13 companies in order to better understand how to deliver an amazing employee experience for our manufacturing teams. What we discovered was that no one manufacturing/industrial company has fully figured out how to navigate the many cultural communities and languages present in this segment of the workforce, and truly let every employee bring their very best self to work.
"We wanted to be the company that set the standard in recruiting and retention for the manufactruingmanufacturing industry--and in particular for those in our English as a Second Language (ESL) communities," she says.
After digesting the results of the 2019 benchmarking, Strommen says, Renewal underwent a deep analysis of its diverse workforce to better understand the needs in creating a more inclusive working environment. The team learned that more than 20 different languages were spoken on the manufacturing floor, which in turn helped them re-design recruiting, onboarding, training and leadership development programs.
One such program was the English@Work program--a new, voluntary course that teaches English to manufacturing employees whose primary spoken language is not English. Employees are paid for their time during the 40-hour course, and learn English terms pertinent to their job and homelife.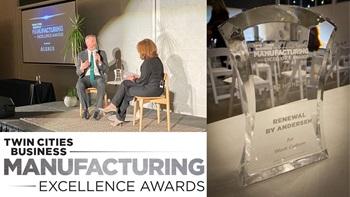 "These are tools that help folks build a career here. Diversity adds creativity to the workplace which will fuel our business into the future," says Jeremy Fossum, VP of Composites and RbA Manufacturing.
Cottage Grove Plant Manager Greg Beskow took the stage in Minneapolis to accept the award on behalf of RbA, and thanked the Andersen Senior Leadership team for making diversity a priority within the enterprise. He also talked about the impact of the ESL program on employees.
"Those people are so grateful because it's changing their lives, opening doors and giving them confidence that they never thought possible," says Beskow.
Do you know someone who'd be interested in being a part of the Renewal team? We are hiring in ALL departments! Visit
Careers at RbA today
!
At Home With Laurie:
Laurie's House
Home improvement expert Laurie March turns the tables in the At Home series--by opening the door to her own home and inviting us in! Check out her 1928 Spanish Colonial home and hear why she fell in love with it.
Want to see all of the episodes from this awesome producter, designer, and HGTV personality? Catch up here. And to see what else Laurie is up to, check out her Get Inspired page!