Team Spotlight
Renewal by Andersen of Central VA Helps Build St. Jude Dream Home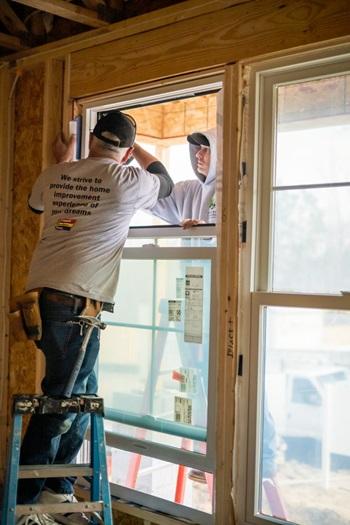 This March, Renewal by Andersen of Central Virginia partnered with StyleCraft Homes and St. Jude Children's Research Hospital to install 13 new windows for the 2022 St. Jude Dream Home, located in Moseley, VA.
The St. Jude Dream Home is part of a giveaway organized by St. Jude Children's Research Hospital where supporters can enter to win the beautiful house by purchasing a $100 raffle ticket. The 2022 Dream Home will be raffled off on Thursday, June 9, and all ticket proceeds go to helping St. Jude kids and furthering the work of St. Jude's. The organization's mission is to advance cures, and means of prevention, for pediatric catastrophic diseases through research and treatment. Consistent with the vision of its founder Danny Thomas, no child is denied treatment based on race, religion, or a family's ability to pay.
Says RbA of Central VA President and CEO Page Ewell, "At Renewal by Andersen of Central Virginia, our approach to business goes far beyond installing top-quality windows and doors. Above all, our team is passionate about giving back to the Central Virginia community. We are honored to contribute to the St. Jude Dream Home by donating and installing a houseful of beautiful Renewal by Andersen LLC windows."
The installation project was organized and coordinated by Operations Manager Paul Music. Says Music, "When you have something like this, for an organization like St. Jude that is able to provide free and no-charge service to these kids that are in much need that maybe can't afford such...[to be able to help], it really is moving."
He continues, "We are elated to be installing the windows for the St. Jude's Dream Home. While our will only go to one family, the proceeds from the raffle tickets benefit thousands of children across the nation. That truly warms my heart to know so many people will gain from the donation of our product."
Watch the video below to learn more about the project.
Featured Video:
Celebrating Earth Day 2022
This is the moment to change it all — the business climate, the political climate, and how we take action on climate. Now is the time for the unstoppable courage to preserve and protect our health, our families, our livelihoods… together, we must Invest In Our Planet.
"Invest In Our Planet" is the theme for Earth Day 2022. Hear from EarthDay.org President Kathleen Rogers about how we can all help that theme come to life.