Fast Home Fix-ups for Fall
Get your home ready for fall and winter with these quick and easy prep projects
The autumnal equinox has come and gone and that means fall is well and truly here. Before you skip ahead to decorating the yard for Halloween, why not take advantage of the remaining warm, sunny days and tackle a few of these key chores to prep your home for seasons to come.
Improve Your View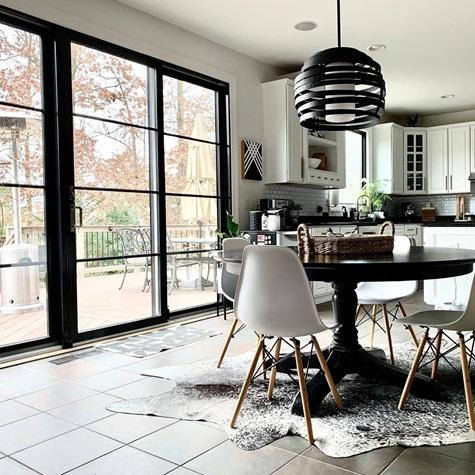 Okay, we admit...we're a bit biased about which chore should be at the top of the list, but us fenestration fanatics have to stick together, right? So let's dive in to this chore chart by assessing our window situation before the snow flies.
It sounds depressing, but yes, Winter Is Coming. And do you really want to go into cooler weather without all the protection from the elements you can get? Now is the time to give your windows the once over and see if it is perhaps time for repairs or replacements.
The change in temperature and humidity and normal wear and tear can cause window seals to crack and shrink. Check your windows and doors inside and out for leaks and drafts. If you aren't keeping the warm air in and the cold weather out…you are throwing money out the, ahem…, window (fenestration fanatics are also quite punny, in case you didn't notice). Check out these not-so-subtle clues and find out if you might need to repair or replace your windows.
Late autumn and winter days can be dark and dreary. Don't let dirty windows make it worse. These last lingering days of warm weather is a great time to get rid of the grime and clean your windows. Head into fall with a clear view and capture all of those last linger rays. Need tips on cleaning your windows? Check out this great column on window cleaning made easy with our guest blogger Laurie March, of HGTV's "House Counselor" fame.
Here's a fast fact for you: Renewal by Andersen® replacement windows will help you save money on your energy bills. Our High-Performance Low-E4® SmartSun™ glass is 70% more energy efficient in the summer and 47% more energy efficient in the winter compared to ordinary dual pane glass—helping keep you, your family, and your guests comfortable indoors throughout every season.* And we now offer an enhanced triple-pane option to help keep you even cozier. Check out the "review" of triple pane from our newest ambassador, Pawline, below!
Dodging drafts and avoiding air leakage got you down? Maybe the result of your examination suggests you've got poor-performing, outdated, unsightly, or difficult-to-operate windows and you're ready for something new. Or, maybe you're not sure whether you need new windows, but want to talk over your options. Schedule a free window diagnosis, and cross this fall chore off your checklist. Our representatives can do both in-home and virtual consultations—we want you to feel safe and secure!
Enhance Your Energy Efficiency
Did we mention winter is coming? (Yeah, we know...reality bites.) That means shorter, colder days...and an increse in utility usage. One great fall project is making a few simple tweaks around the home to become more energy efficient in the coming season.
Consider switching to energy efficient LED light bulbs--they are available for virtually any use case, and cost a fraction of traditional incandescents to run.
Get a good seal. A home energy audit that reviews your home's caulking, weather stripping, and even your attic insulation, will help you target old, damaged, or diminished materials for replacement, which can help reduce drafts and keep your space cozy.
Make sure your fireplace is properly outfitted with dampers, doors, and fireplace inserts to reduce heat loss. If you have a wood-burning fireplace, call a professional to have it inspected and cleaned in early fall before burning season--that's not just an energy tip, it's a vital piece of home safety.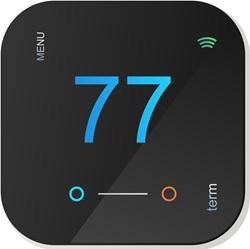 Upgrade certain features of your home such as your thermostat, large appliances, and windows to energy efficient products. Try using one of the new "smart" thermostats--you'd be surprised how intuitive and easy to use they are, and what a change they can make. (And many you can easily install yourself in minutes) And we'd be remiss if we didn't mention that replacing old windows with ENERGY STAR certified windows has been shown to lower household energy bills by an average of 12% nationwide!
Simple changes to your daily routine can make a difference, too! Turn the lights off when you leave the room, take shorter showers, and turn off the water while you brush your teeth. Unplug the "energy vampires" in your home when they aren't in use: plugged in electrical devices like TVs, stereos, microwaves, and other small appliances draw electricity even when they aren't actively running. Make it easy by using a power strip for electronic devices and flipping one switch to power them all down.
Deck/Patio Cleanup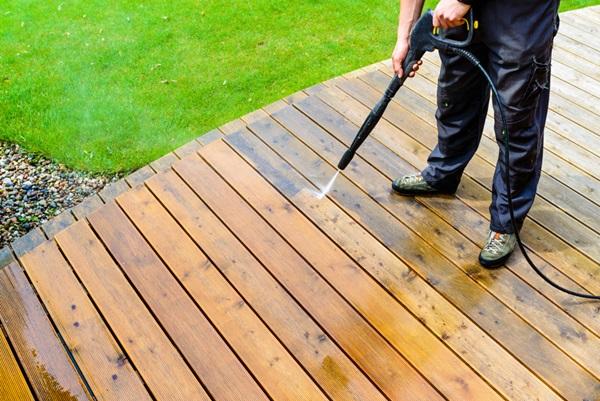 When it comes to your deck or patio area, a few quick chores now will pay dividends by saving you time in the spring.
After testing in an inconspicuous spot, pressure wash your siding, patio pavers, deck floor and posts, and sidewalk to blast away stubborn dirt, leaves, cobwebs, or muck. If you don't own a pressure washer, you can rent one at most home improvement stores. You'll be surprised at the difference a little power from the pressure washer makes (and how fun it is to use!).
When it comes to your furniture, plastic, vinyl, and simulated wood/wicker are easily maintained with some soapy water and a garden hose (and in many cases, that same pressure washer). However, metal and natural materials like wood, wicker, and rattan will have more specific maintenance requirements. Bobvila.com has some great tips on how to care for your outdoor furnishings here.
Get Gleaming Gutters
You may have packed away the pergola and lawn chairs, but don't put the ladder away yet! Next up on the chore list is gutter cleaning. While homeowners in many locations will want to do another sweep in later fall when more leaves have had a chance to drop, September is a good time to do a first clean-out.
Skipping little gutter maintenance can have a large impact. Your gutters help keep your home dry and safe. By directing water away from the house, gutters reduce the chance of hefty water damage to your basement, siding, roof, wall, foundation, and more. Those are some big bucks you're putting on the line if clearing a little debris away doesn't get done.
Always remember safety precautions-- if your roof is difficult to access, or you are uncomfortable being on a ladder or performing any of the activities needed to do the cleaning, ALWAYS contact a professional. Be safe, not sorry. Wear eye protection and gloves, use an appropriately sized, high quality ladder, and make sure you have someone within sight throughout the entirety of the project. A gutter scoop, either homemade from a milk or juice jug or one purchased from a hardware store, is a great way to speed up the task and protect your hands.
For more tips on getting gleaming gutters, check out our "Got Gutter Guilt" feature.
Put the Water to Bed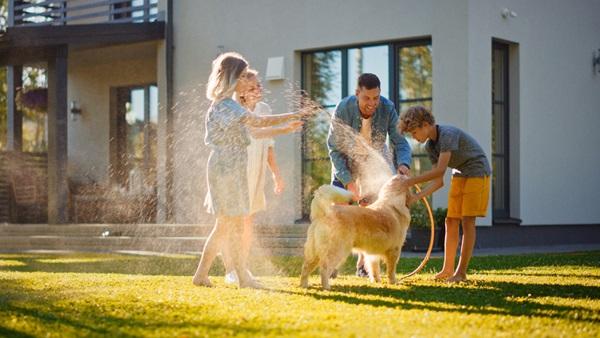 After the furniture has been cleaned and stored, the windows washed, the gutters flushed, and the yard cleaned up, we're left with of the last chores on the list before the arrival of winter: taking care of your garden hoses.
Prior to putting your hose away for winter, check to ensure that it is completely empty of water to avoid freezing and resultant wear to the liner.
Check for kinks, cracks, and holes. With proper storage, many kinks can be straightened, but leaving them in the hose could cause potential issues with cracking and leaking down the line. Cracks, holes, and leaks can be repaired in some cases, but typically only if diagnosed before they become too significant.
Storing it properly means draining it and then coiling it neatly. When you are coiling your hose, first, turn off the water (even better if you have the hose downhill to let excess water drain). Then, holding the hose a few feet away from the spigot, begin by bending the hose into a three-foot-diameter loop and repeating the process, stacking each subsequent loop atop the previous loop.
(One trick to getting a complete and well-stacked circle? Try coiling it around the base of a trash can!)
Get Punchy!
A punch of color, that is. That's right...enough of the boring "adulting" chores (hey, even a fenestration fanatic has limits). Let's talk about adding a little bit of color, drama, and curb appeal to take us into the dark winter.
Planter boxes and patio pots are the easy, non-permanent way to add some pizazz to your space. The ubiquitous mum is a popular choice because it is abundant, low-maintenance, and colorful. It makes a great container plant, and many hardy varieties can be planted in-ground as perennials, their beautiful blooms helping your garden beds go out with a bang.
Other good options for patio pots, window boxes, or fall beds to bring some vibrancy to your porch include rosemary, which has a beautiful dual-toned green coloring, adds height, and smells delicious; ornamental kale, with its wide color palette ranging from bright purples to maroon and every shade of green from soft and light to deep hunter; and the ever-graceful pansy, available in almost any color and at its best with lower night temperatures.
Another fun place to freshen up for fall is your front-door area. A makeover here can be quick, easy, and inexpensive. A few things to try: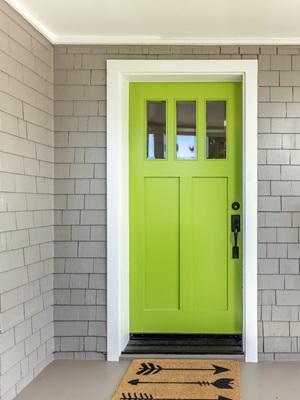 • Paint your door a vibrant or bold color. This is easiest when you can completely remove the door. Use a primer, and if you're refinishing an old wooden door, you'll need to sand first. Check out this article on Fab Front Door Colors for some inspiration!
• Get creative with your house number. Whether you display it on the door or somewhere else, Houzz has you covered with these house numbers for every style.
• Update the door hardware. Replacing your small shabby door handle with a large, bold and sturdy handle and adding a beautiful door knocker can make a world of difference!
• Make the most of the space on your front door. Try swapping out colorful wreaths each season, using a stylish door mat, or placing large vases with beautiful greenery on each side of the door for a quick makeover!
From big to small, there are plenty of projects to work on as we get ready for the changing seasons—we hope this article has given you some inspiration!
*Values are based on comparison of Renewal by Andersen® double-hung window U-Factor to the U-Factor for clear dual pane glass non-metal frame default values from the 2006, 2009, 2012, 2015, and 2018 International Energy Conservation Code "Glazed Fenestration" Default Table