Team Spotlight
The first and only playground for children living with disabilities in the St. Louis area opened this month, and Renewal by Andersen of St. Louis helped make it happen! They were one of a dozen donors who raised money, and helped organizers get a $300,000 grant to make a playground accessible in the Sunset Hills suburb.
How Renewal's involvement came to be is another fun part of this story. The project was stalled, due to a lack of contributors. One of the playground organizers, Daryl Huitt, happened to pitch a funding request to an RbA events manager, who said, "You would need to ask our marketing director, Mark Zellinger."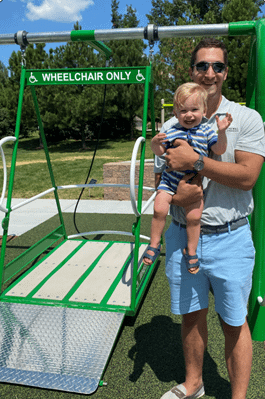 As it turns out, Zellinger and Huitt's family had a previous business relationship. Through this happenstance, the stalled project had found new life!
RbA St. Louis VP of Sales and Operations Austin Birner attended the park's grand opening with his wife Kylie and son Declan. "We are so blessed to have children with no limitations, this project really touched our hearts. All kids deserve the opportunity to just be kids," says Birner.
The park features a wheelchair swing and a wheelchair accessible merry-go-round. It also has special soft surfaces which make it possible for children in wheelchairs to safely access the equipment.
According to child psychologists, inclusive playgrounds can radically change a child's development. Play is how children learn to relate to each other, follow rules, make friends, understand the world and form identities. And when kids with disabilities feel isolated and different at this formative age, when they're unable to simply play with other kids, the effects can be long-lasting.
Thank you, RbA of St. Louis, for being Difference Makers!
Life at the ISC
Who are those superstars you talk to when you call in (or chat with us)? Those are our call center agents! They're there to engage with homeowners, get them started on the path to transforming their home, and provide customer support and triage problems. These rockstars deliver Signature Service to folks across the country every day! Go behind the scenes with this dynamic team and see what a day in the life of a Call Center Agent is like in this month's featured video.
Know someone who'd be interested in being a part of the Renewal team? We are hiring in ALL departments! Visit Careers at RbA today!