Patio Door Peace of Mind
Designer Breegan Jane shares how upgrading doors can mean peace of mindand added value
Most people don't think about it, but windows and doors play such an important role in our everyday lives. For Los Angeles-based designer, lifestyle blogger, and TV personality Breegan Jane, being a single parent has changed how she views the importance of them after putting off an upgrade.
"Looking back, I don't know why I waited so long," she says.
She'll tell you that her three patio doors needed updating badly—on all fronts. They had outdated hardware and grilles, didn't slide well, and had ancient, energy inefficient glass that did little to control sound our to help keep the room comfortable.
She'll also tell you that, as an interior designer, she knows how important it is to invest in a premium product, and how finding doors that were both beautiful and smooth-operating was paramount.
"I chose Renewal by Andersen, and I couldn't be more happy with the result!" She says.
Ask Breegan and she'll give you a long list of reasons why she loves her new patio doors. A big one is that they allow her to enjoy her indoor/outdoor living spaces. But when you boil it down, there are two reasons that especially stand out to her.
Safety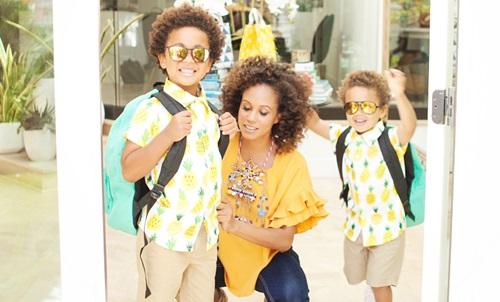 First, let's talk about safety because it's something that's always on Breegan's mind, and why wouldn't it be? She's got two young sons who are very active, and they love to play in their rooms near the patio doors.
"My old doors had me concerned. They had air gaps, they were difficult to open and close, and the glass was very old," Breegan says.
Nowadays, she doesn't have to use all of her force just to get the doors open. Breegan's new Andersen® patio doors open and close smoothly on dual ball-bearing rollers, and they have a reach-out lock system which provides increased security and weathertightness, meaning, she can say "goodbye" to those air gaps. Not only that, she and her boys can enjoy the natural sunlight, and feel better about it.
"What I appreciate as a mom is the option to incorporate glass that helps reduce UV rays, so I chose the High-Performance Low-E4® SmartSun™ Glass, which can help keep homes cooler in warmer months and warmer in colder months, and filters 95 percent of harmful UV rays. Performance like that gives this mom such peace of mind!" she says.
Also, Breegan opted for insect screens, which she didn't have before. The new ones give her growing boys a lot of fresh air, which she is happy about.
Home Value
Next, let's talk about home value. Breegan says that her clients call her because they want modern, approachable luxury infused into their home design.
"For me, that starts with using the highest quality products. I believe that premium windows and doors should be included in planning to maximize your home's value," she says.
Why you ask? Well first, windows and doors are vital to the exterior of your home and choosing ones of premium quality only extends the life of your home. That's something every homeowner can appreciate.
After prioritizing infrastructure options for your home, Breegan says she then likes to think about design aspects and customization.
"When designing, it's important that I have options that suit my clients' preferences, and that includes small details, like hardware colors and style variations," she says.
While not every window and door company may offer customization, Breegan says that she chose Renewal by Andersen in part because of the dozens of color combinations of products. From the ever-popular white, to more bold colors like Red Rock and Forest Green, and there's a variety of hardware options, too, which, she says, can lend to magnificent presentations.
"Because I love contrasting hues, the white exterior with the contrasting Oil-Rubbed Bronze hardware looks stunning on my home's new patio doors," she says.
So, if you're thinking about renovating your home, Breegan suggests considering your windows and doors. It sure changed her perspective on her own home.
"It can really be a game-changer!" she says.
Want to learn more about the myriad ways patio doors can be styled for YOUR home? Check out our design blog on Getting to Know French Doors. Want to see more from Breegan Jane? See her project and more at Get Inspired With Breegan!