Team Spotlight
RbA of Boston helps bring sunshine to Hope Lodge Boston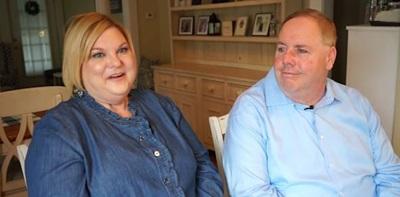 This month, Lisa Gohra and David Burke will celebrate 17 years of marriage.
"It's been the best thing that's ever happened to me," says Burke.
Yet the Massachusetts couple has been through a lot in the past five years, ever since Gohra was diagnosed with papillary thyroid cancer.
Gohra had a nine-centimeter tumor that was wrapped around her trachea, beneath her chest bone. She underwent two surgeries, and in 2016, underwent radiation at Dana-Farber Cancer Institute in Boston. During her treatment, she stayed at the American Cancer Society's AstraZeneca Hope Lodge Boston, a place which provides free housing for cancer patients and their caregivers.
"Every day, I had radiation at 7:00 a.m., and Hope Lodge was just five minutes from Dana-Farber. Quickly after week two, I started to feel pretty crappy and that's when Hope Lodge became a solid place for me to be where I knew I was safe and comfortable, and it was somewhere where my husband had a support system," she says.
As Gohra's husband and caregiver, Burke stayed with her at the Hope Lodge.
"I was able to take care of Lisa, maintain my job, have clean clothes and have a place to eat everyday. I had a sense of family with all of these people that were caregivers, and I had people to talk to who were going through the same things," he says.
The Need for Windows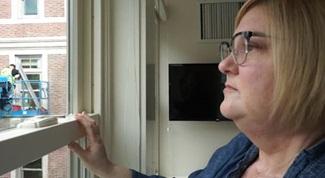 It may sound like an inconsequential architectural detail to many, but the windows were actually an important feature of the facility for Gohra during her Hope Lodge stay, providing a much-welcomed comfort. "The treatments that I'm on for my cancer make me very hot, so I kept those windows open every night and every day. They were very important to me," she says.
Which is why, according to Matt Blom, Senior Manager at the Boston Hope Lodge, they wanted to make sure they addressed some of the more problematic features of the old, outdated windows in the facility. "For one, the old windows were difficult to open and close--obviously not ideal for the guests," he says.
Blom continues, "What's more, we're located right near the train tracks, and on a busy road with a bus stop. We want to make sure the guests are as comfortable as possible during their stay, so getting new windows that help with noise abatement is another way to do that," he says.
Those aren't problems anymore, thanks to General Manager Carl Isaacs and his team at RbA of Boston. In September, the team donated and installed 126 windows at the Hope Lodge. All double hung windows were manufactured with laminated and tempered glass to greatly reduce the noise coming from the nearby train and other traffic.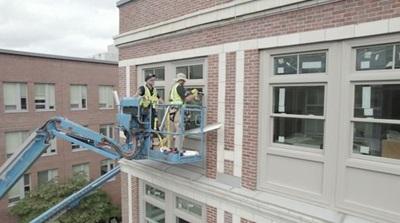 "The windows are great. They're going to allow for fresh air, for a quieter environment and they're going to allow people to sleep better and be more comfortable while they stay here. I think guests will be very happy," said Blom.
Says Isaacs, "That's the best part, to know that you're making a difference in people's lives and to do that is just a great feeling. Some people say 'you're just replacing windows,' but we're changing the lives of people and that's what makes it so special."
Living with Cancer
About six months after Lisa was diagnosed with cancer, she learned that it had spread to her lungs.
"Just imagine if you took a pencil and you made a bunch of dots on a piece of paper. I have thousands of those nodules on both sides of my lungs, so it can't be cut out. I'm on a daily chemotherapy pill that helps those nodules from getting bigger," she said.
Living with cancer is something Lisa does every day. But, she has what she calls her "framily," a support network of friends, family, former co-workers, and organizations like the ACS, helping her along the way and lightening her days.
"I have no lack of resources from my framily and that's what keeps me going," said Lisa.
"When she was originally diagnosed, she said, 'This is going to be a tough road, but if we stick together we can come out the other end okay.' And we've always stuck together," said David.
---
Be sure to check out this month's featured video below, highlighting Lisa and David and the story of Hope Lodge
Hope and Home
One of the most rewarding aspects of our ACS partnership is the opportunity to work with Hope Lodges around the country. From creating and delivering care packages to guests to replacing hundreds of windows, it is something our locations are eager to help with. One of the best parts is getting to meet people like Lisa Gohra and her husband David Burke. This month's featured video showcases the role of Hope Lodge and tells its story through the eyes of Lisa, who stays there during her cancer treatments.