Team Spotlight
RbA of Detroit helps restore a well-loved community education spot
If you drive about an hour west of Detroit, you'll find a place that has become a popular spot for families in the wild outdoors. Howell Nature Center is nestled in 230 acres of hardwood forests, wetlands and lakes. It's also home to the largest wildlife rehabilitation center in Michigan, where they take in 4,200 injured and orphaned animals.
"The mission of the Howell Nature Center is to teach people to be faithful caretakers of one another in the world around us. We're really strong in terms of education and conservation and stewardship of our environment," says JC Carlson, CEO of Howell Nature Center.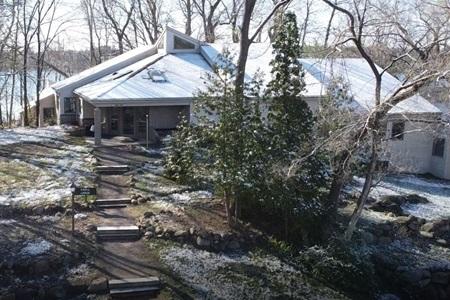 The center is a popular place in the summer, where it holds camps for kids and families. Oftentimes, families stay at Knoll Lodge. But at 30 years old, the building had been showing its age.
"Our windows were in horrible shape and it just wasn't energy efficient," says Carlson.
Some of the windows were rotted and pieces were broken. Some windows wouldn't shut and others wouldn't open. Being a small non-profit, and taking a hit during the pandemic, new windows didn't fit into the Howell Nature Center's budget, but the team at RbA of Detroit heard about the need and stepped in.
In April, the team donated and replaced 26 casement windows.
"We really feel that the Howell Nature Center brings a lot to this community," says Amy Pilarski, General Manager at RbA of Detroit.
In fact, Pilarski's team has formed a partnership with the Howell Nature Center in recent years doing volunteer work.
"We love to get involved in our community in any way that we can and this is something different. It's awesome to see that we're going to make a huge improvement to this lodge here and give it a new, refreshed look, and then also provide the functionality of the windows as they should be," says Pilarski.
"People want to stay in a place that they're comfortable in and Knoll Lodge is now up to a higher level of standard because of the work that was done. I cannot tell you how much we appreciate this gift. Unbelievable. Thank you," says Carlson.
Families will enjoy the upgraded Knoll Lodge for many years to come. Congratulations RbA of Detroit for being #DifferenceMakers yet again!
Check out the video:
When Do the Pros Hire a Pro?
RbA Brand Ambassador, HGTV personality, and designer John Colaneri is back for a third video in his series.
In this episode, he is showing us his renovated rambler home and talking about why he believes it pays to hire a window installation pro.
Want to see more of his project? Visit GetInspiredWithJohn.com!