Veterans Day 2020
Remembering those who have served, here and abroad; in wartime and in peace.
This year marks the 102nd anniversary of the end of WWI, and we take a momet to recognize the significance of the U.S. participation in the 'war to end all wars'. For the past 101 years, Americans have remembered those who served our country in uniform on 11 November in the Great War – first as Armistice Day, and then, since 1954 as Veterans Day.
This November on Veterans' Day, we celebrate and honor the millions of veterans throughout the country, and expressed our heartfelt gratitude and appreciation for their service and sacrifices, and we encourage you to please join us in recognizing our veterans and their families in service to our country and communities, here and abroad, in times of conflict and in times of peace. Thank you, for all that you do.
How to get involved
The Veterans Day National Ceremony is held each year on November 11 at Arlington National Cemetery. The ceremony commences precisely at 11:00 a.m. with a wreath laying at the Tomb of the Unknowns and continues inside the Memorial Amphitheater with a parade of colors by veterans' organizations and remarks from dignitaries. The ceremony is intended to honor and thank all who served in the United States Armed Forces. Throughout the month of November, there are many other ways to celebrate veterans and their families, both locally and nationwide. To learn more about ways to get involved, view the Department of Veterans affairs calendar of events
here
.
Renewal Heroes
At Renewal by Andersen, we are thankful for our veterans not just on November 11, but every day. As a military-friendly business, we have many current and former servicemen and women here at Renewal by Andersen who are doing great work and play vital roles in helping us grow and thrive as a company. This year, we are excited to spotlight some of our colleagues from across the Renewal by Andersen network who are proud veterans. Read on for some of their stories.
Chris Raddatz, Renewal by Andersen LLC, Cottage Grove, MN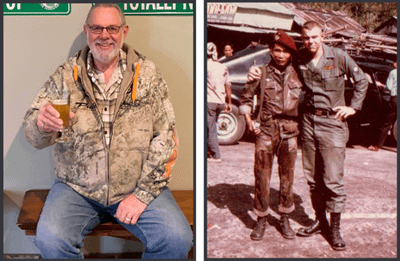 The past few months have been difficult for Renewal's Chris Raddatz. His father, David Raddatz (pictured here, now and during the war), spent a lot of time in the hospital undergoing surgeries and medical setbacks.
Chris has been his father's main healthcare advocate, so they have many hours together. During their visits, Christopher heard his father bring up something that has become more frequent in their conversations over the past two years.
"He started talking more about his time in Vietnam and brought up David's name," says Chris.
The elder Raddatz is a Vietnam War veteran--his best friend during the war was a man by the name of David Buff.
Naturally, Chris was curious about his father's friendship with David Buff, and over the course of the past two years, he has been trying to find him to put the two men in touch again. This most recent conversation led him to search and reach out on Facebook.
"It was a Friday, and I was sitting in the intensive care unit with my dad. I noticed that I had two calls on my phone, and it just had a number, so I called it, and it just went to a dead end. I got a call about 15 minutes later, and I picked up, and the gentleman said, 'Are you Chris Raddatz?' I said, 'Yes...?'" he says.
A shocked Chris handed his father the phone: David Buff was on the line.
"The blood drained out of my dad's face, and he looked at me and he goes, 'I haven't talked to him in 53 years,'" Chris explains. From there, it was a momentous reunion between David Raddatz and David Buff. Christopher says both men on the phone broke down to tears.
Of course, it isn't surprising that Chris understands the deep bonds that are formed in the military--he, too, is a veteran; and a fourth-generation vet in his family, at that.
He enlisted after high school, because he says he needed discipline. Growing up was not easy.
"The odds were completely stacked against me," he says.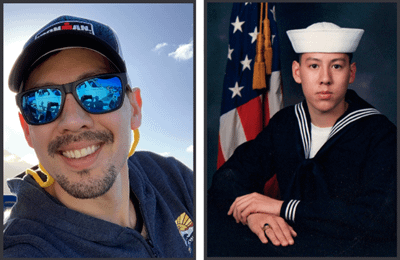 Chris enlisted in the U.S. Navy in 1991. During his service, he was stationed in Virginia, Pearl Harbor and was deployed as part of the Gulf War.
In 1998, he returned to civilian life, and eventually got his degree in visual communications.
Fast forward to 2001, and Chris was newly married. Then came the 9/11 attacks, and he knew he needed to do something.
"I told my wife, 'I'm going to go down to the military base at the airport, and I'm going to see if they need help,'" he says.
He returned home later that day and told his wife that he has just re-enlisted, and he spent the next several years working in Navy intelligence as part of the war on terrorism.
In 2003, he let his contract expire and returned to civilian life once again.
Today, Chirs is the Creative Director for the Brand and Creative team at Renewal by Andersen's heaquarters in Cottage Grove. He has been with the company for 13 years.
To this day, he is amazed over all that life has taught him and remains grateful for where he is today. 10 years of military service changed his outlook on life and how precious each day is.
"I'm just happy to work with good people because there was a time in my life where I didn't know where I was going to go. I didn't know what my future would be," he says.
Having reconnected his father with a best friend, after 53 years, is another triumphant moment he'll have for the rest of his life.
"This will be one of my greatest memories," he says.
Alisha Loegering, Renewal by Andersen of Albert Lea, MN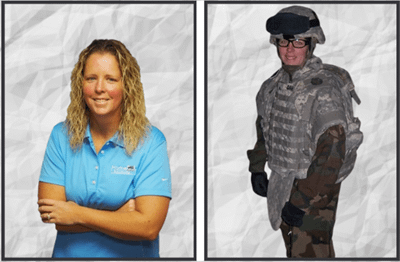 Every veteran has a reason for joining the U.S. military. For Alisha Loegering, it was to build a life of her own. "I came from a family where I had three older brothers. I was the youngest and the only girl, so I was a little bit spoiled. It was time for me to grow up and be my own person and realize that I could do things on my own," she says.
At the time, Alisha was 21 years old and a college student in Moorhead, Minnesota, studying physical education. Like the rest of the world, she had just witnessed the terrorist attacks of 9/11. That event, she says, was a major part of her decision to serve our country. She enlisted and ended up spending eight years in the Army National Guard and two more years in the Air National Guard.
Between 2005 and 2007, she was deployed to Iraq. For much of her time, she worked in an office and became a sergeant in human resources, where she oversaw paperwork for about 250 soldiers and got experience being on the road with her company.
"Initially, when you deploy, it's kind of the fear of the unknown. Then you get there, and you meet people and become really close with people that you're deployed with because you spend day in and day out with them," Alisha says.
Alisha's time overseas was not without tragedy, adding to what she calls a "rollercoaster" of an experience. "We lost a first sergeant, who is the person who is in charge. I worked with him every day, so that was definitely a down slope of the deployment for me. It was a challenging time to build strength within myself mentally, and pull through that and help the company run as we figured out a new avenue and a new first sergeant," she says.
Through it all, Alisha says her experience taught her to be emotionally strong. She also gained friendships that will stay with her for the rest of her life.
Career-wise, Alisha's HR experience in the military taught her skills that she uses today, as Human Resources Director at Renewal by Andersen's affiliate operation in Albert Lea, Minnesota.
Just like in the service, "you're still taking care of people that belong to your company, making sure they're getting everything they need to get as far as employee relations retention and morale and trying to build a positive culture," she says.
Watch more of our conversation with Alisha in the video below.
Carl Fulkerson, Renewal by Andersen of Houston, TX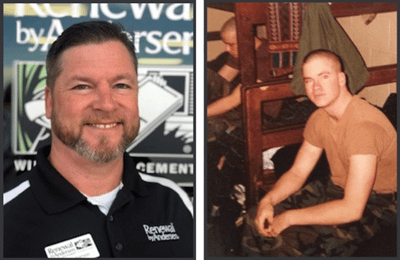 When it came to his post-high school choices, Carl Fulkerson didn't have to deliberate much. His grandfather served in the Navy; his father served in the Army.
Eager for adventure and wanting to support our country after the Gulf War, Carl joined the U.S. Army in 1992. "I thought it was a good way to honor them and also for my own career, my own personal life, something to do after high school," he says.
Carl spent eight years working on launch rocket systems and operating a tank to supply and support soldiers. One of his most memorable assignments, he says, was traveling to South Korea to help secure the Demilitarized Zone--just one of many during his time in the service that was one of many that gave him critical experience in unfamiliar surroundings.
"It is one big world, and being out there, I got to visit and see a lot of different countries and people," he says, adding that he learned a lot about himself, as well. He also learned the value of teamwork, which he carries into his job today at Renewal by Andersen.
Carl has been a part of the Renewal family for four years and he's currently a Senior Design Consultant at RbA Houston. He says his military service helped him greatly in preparing for this job.
"I love this job because I get to visit a lot of people. I get to go out and see people's homes, help them out, work with them as a team and really listen to them find their wants and needs and be able to solve their problems for them," he says.
Watch more of our conversation with Carl in the video below.
Sheon Hunte, Renewal by Andersen LLC, Cottage Grove, MN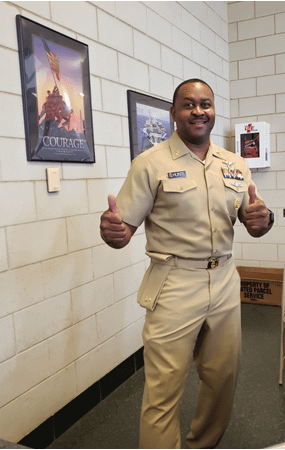 In his 26 years in the U.S. Navy, Sheon Hunte has literally seen the world. He has visited more than 43 countries, traveled to Antarctica, and has lived all over the U.S., including in Maryland, New Jersey, Pennsylvania, and Minnesota, to name a few. For him, those years went by fast.
"It came and went. It was exciting," he says.
Sheon was born and raised on the Eastern Caribbean island of St. Lucia. He moved to New York City when he was 18.
One day, he was looking at the classifieds and noticed an ad for the U.S. Navy.
"I think initially, I was preparing myself to transition into the real world, and quite honestly, my dad and I did not have a strong relationship growing up, so part of my reason for joining the military was my way of finding something to stay busy and something to become relevant," he says.
Sheon enlisted in 1993, and his 26-year-long career took off. He worked various jobs, including painting, anchoring and replenishing ships.
"As far as driving the ship, that was the most exciting thing for me," he says.
His military career eventually brought him to Minnesota, where he helped support reservists in a human resources role, a career role that led him to RbA Cottage Grove. He is newer to the Renewal family, having worked here for just under a year. He says that while he has learned so much on the job, he feels that his military experience helped prepared him for a corporate career.
"It opened my aperture to understanding what makes people tick, what makes people work and how to respond to various situations, whether it be a good situation, a bad situation, or an indifferent situation. From the diversity piece, it gave me an edge on how I interact with people on a day-to-day basis," he says.
Sheon retired from the U.S. Navy last year, and as he reflects on more than two decades of service, the most vital piece to him are the friendships he has forever gained.
"I can always reflect on the beginning of my journey, to where I am today, and I have to count my blessings for what they're worth," he says.
Watch more of our interview with Sheon in the video below.
Brent Anderson, Renewal by Andersen of San Francisco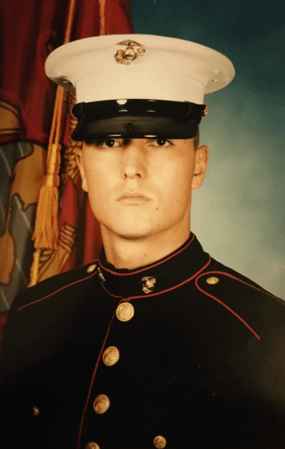 For Brent Anderson, it was a chance encounter when he was looking for some clarity in his life that put him on the path of a military service. "I saw the recruiters on campus one day and thought to myself, 'You know what, I need to get some direction,'" he says.
Brent joined the U.S. Marine Corps in 1996, right out of high school, and attained the rank of Corporal E4. He was stationed at Marine Corps Air Station New River in Jacksonville, NC, where he worked in aviation maintenance, a field he had a passion for.
"I was lucky enough to be able to work on all of the Marine Corps helicopters, which was so much fun," he says.
Brent served until 2000, when he left the service and enrolled in a program to work on commercial aircraft that the Marine Corps had lined up for him. In the wake of the 9/11 attacks, the airline industry took a major hit, and Brent's career took a new direction: window installation.
"It just so happened that my career in window installation and replacement was booming. I have been blessed to be a part of such a powerful industry and the best window brand there is," he says.
Brent has worked at Renewal for 11 years and is now the Director of Operations for RbA of San Francisco--and of course, he remains a proud veteran, and feels like the skills he gained in the service benefit him every day, both at work and at home.
"I love that it helped me grow up a little bit. It showed me some direction and it help me ultimately get on the path to being successful as a father, as a husband, and as a co-worker," he says.
And, of course, he is passionate about his job at Renewal.
The military taught him honor, courage and commitment. But another priceless lesson? Leadership.
"I am proud to bleed Renewal green," he says.
Jen Hopkins, Renewal by Andersen of San Francisco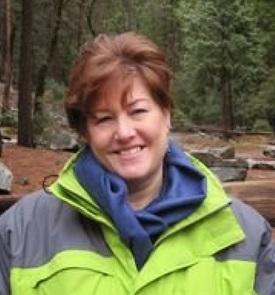 Another San Francisco veteran is Jen Hopkins.
In the early 1980s, Jen was 21, enrolled in junior college, and without a career path, when her mother suggested that she join the military.
"My reaction was very negative to that, but over the course of about nine months, I started to change my mind," Jen says.
Jen eventually came around to the idea, and in 1981, she open-enrolled in the Marine Corps (open enrollment means you do not know which job you will have when you join up), where she served as a Military Police Officer for the next four years, and was stationed in Japan and at Camp Lejeune in North Carolina.
"Initially, I was extremely intimidated, but it ended up being probably some of the best years of my life. I learned how to adapt. I learned that doing things by the book, doing them the right way…can can be very crucial to getting things done quickly and thoroughly," she says.
Jen is new to the Renewal family, having started in July as a Lead Service Coordinator. She says that what she learned in the military, she uses every day at RbA.
"The adaptability certainly comes into play because no day is ever the same. Even though you think you have a map for the day, it may change even five minutes in. But [even then], there is still the right way to do things and the wrong way to do things and I carry that with me," she says.
Watch more of our conversation with both Jen and Brent in the video below.