Let's Get Together...While We're Apart
New traditions to try during this completely unusual holiday season We're a fashionably forward, relatively young (25 years young!) offshoot of a century-plus-year-old company…so of course we're always interested in trends that are a blend of old and new. New ways to celebrate old traditions. Unique takes on well-established holidays. Family traditions, reimagined. Even with all of that, we don't think anyone imagined that the holidays would be the way they are shaping up to be this year.
For now, life as we know it, is different. We may not head out for Black Friday shopping sprees, have a communal Friendsgiving with neighbors, or be able to go over the river and through the woods to Grandma's… but there's nothing to say we can't still enjoy the season. We just need to shake things up a bit this year. To get the socially distanced holiday happenings started, we've pulled together five new ways to celebrate this year. Recipes, activities, and ways to connect safely…you want them, we've got them. Give one or three a try, keep your friends and family safe, and who knows…maybe you will even find on or two to add to your "regular world" repertoire going forward!
Head to The Great Outdoors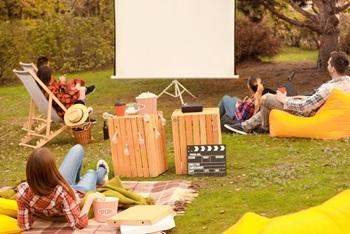 Pack a picnic lunch and visit a local state park. Nobody says you have to eat your turkey at the dining room table! Many parks and recreational spaces are open on Thanksgiving and for the long weekend. Pack some turkey sandwiches and head outside and see what your local park system has to offer.
If you have local family or friends, and still want to have a small gathering of a few people, why not try an outdoor "potluck" where everyone packs their own picnic, and you gather in a park, backyard, cul-de-sac, or other outside location where you can stay six feet apart. Bring blankets and warm drinks; start a bonfire or use a portable propane heater. Arrange seating by family so people can keep their distance. For entertainment, try contactless activities like watching a movie or sports outside on a projector or playing yard games like badminton, croquet, or bean bags that allow you to keep a safe distance.
Get a Move on

Most in-person road races are cancelled for this year…but that doesn't mean you can't earn that extra slice of pie by burning a few calories before or after dinner (or even in between lunch and leftovers).
Virtual races make a great substitute—you can get up when you want, cover the distance however you want (run, walk, spread it out over a couple of days, etc.), and pick a race that's got the swag you want.
Even if your family and friends are spread out across the country, if you are doing a virtual event, you can all register for the same race, get the same shirt, and have some friendly competition before the Zoom call and appetizers!
And when you Turkey Trot around the town over a course of your choosing, you can be benefitting one of any number of charitable organizations—always a great bonus when you can feel good and do good at the same time. Check out some of the most popular, and now virtual, Turkey Trots from around the country on Active.com today!
Mix Up the Menu
Nothing says the meal has to be the traditional turkey, gravy, stuffing, and sides. Here's your chance to try something new. Do you have a new recipe you have been dying to try, but couldn't find the "occasion"? Make it now! You've got the time to cook…and the freedom to not worry about Uncle Mortie complaining "We've ALWAYS had mincemeat pie and that's just how it is," or Auntie Daphne winning the Picky Eater of the Year trophy (again) and rejecting everything but turkey breast cooked just so and one scoop of mashed potatoes (NO GRAVY)…as long as none of the foods touch each other on the plate.
Try having a "local highlights" food fest—celebrating the dishes of where you grew up, where you live, or where you want to travel… For example, Maid Rites and sweet corn for down-home Iowa; Mission burritos followed by Ghirardelli hot fudge sundaes to celebrate San Francisco; poutine and homemade Jos Louis cake for our neighbo(u)rs to the no(u)rth; or biscuits and sausage gravy with a side of fried okra for a Southern comfort food meal.
Themed menus are a great way to get everyone in the house involved… Maybe it is international theme—where every year, you become a culinary traveler. Italian, Korean, Southwestern, Caribbean, etc. Shake things up and have a Breakfast Thanksgiving (because, let's face it, we all know we're skipping that crucial meal every year to make more room for lunch/dinner, right?). Other ideas include a taco bar, a BBQ theme, or a luau. Costumes, skits, movie/TV marathons tied to the theme are all highly encouraged.
Can't get home for the holidays, but still want to celebrate like a local? Many popular restaurants or stores have shipping options, so you can still get some of your favorite treats in time for Turkey Day—or send something from your town to your friends and family. So you can have your Chicago deep dish pizza, classic Texas BBQ, or famous New York style (cheese)cake…and eat it too! (And hey—remember that "Breakfast for Dinner" theme? Try the "New York Brunch" option from NYC's Russ & Daughters (via Goldbelly.com) or beignets and chicory from Café Du Monde in New Orleans.)
One easy-to-implement menu idea that works for small gatherings but can also scale if you are having a virtual, multi-household celebration is signature cocktails/mocktails! Tie it in to your menu, commemorate a group memory, use it as part of the theme. Give a few options, and everyone can customize their own. Need some inspiration? Check out these ideas!
Get the Beverage Recipes
☕ Spiced Cranberry Old-Fashioned ☕ Pumpkintini ☕ Orange-Cranberry Sangria ☕ Pumpkin-Spice Margarita ☕ Hot Cocoa Eggnog ☕ Top-Rated Pumpkin Ales ☕ Spiced Apple Cider ☕
Viva la Virtual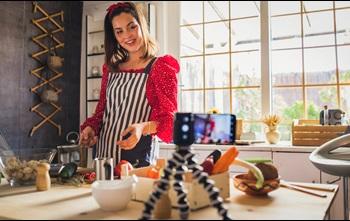 We know it seems like life has become something of a drawn-out, way-past-its-cancellation-date Max Headroom episode lately… but hang in there! And besides—virtual holiday celebrations are WAY more fun than those 8 AM Skype calls. When you're video chatting with family and friends, you can go ahead and use that slightly esoteric Zoom background of kittens and sloths shooting rainbow laser beams from their eyes or indulge in a cocktail or three. And you still don't have to wear pants.
But how, then, to make your celebration seem like just that—a celebration—and not like a budget meeting? How about "communal cooking"? For some people, half of the fun of the holidays is hanging out together in the kitchen, enjoying a beverage and chatting while you work. Why not send our one or two shared recipes for everyone to make, and then set up a laptop or tablet or device like Echo show near your workstation, and get cooking together. Turn on the parade in the background, and you can have a group discussion on which Pentatonix carol is the best or whether Dolly Parton should have gone with sequins or rhinestones on her outfit (and yes! The Macy's Parade IS happening—no audience, but a multitude of performers, floats, and iconic balloons…and, of course, Santa).
Cast your phone or laptop to the TV and see your friends and family in smaller-than-real-life-but-bigger-than-on-the-phone-size. Share a dinner together, even though you are apart.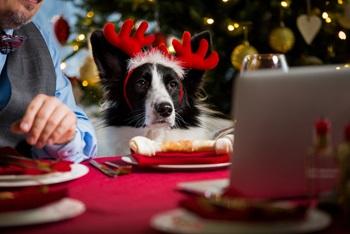 Folks can share what they are thankful for or call for a toast (send out one of those signature cocktail/mocktail recipes ahead of time and celebrate together!). Get the kids involved by letting them "emcee" the event—they can get the party started with a song or a prayer or even a round of knock-knock jokes or a Tik-Tok dance (because no adult is going to pull that one off safely).
After dinner, keep the party going by playing games or doing group activities, or simply leaving the chat window open for people to bop in and out. There are myriad games online from Escape Rooms to charades to card and board games that are "conference call" friendly. Need more ideas? The CDC has a list of 20+ family and kid friendly activities to stay connected over the holidays. Whether you're a couch potato or an action Jackson, there is surely something that will resonate for your group.
Celebrate Thanks, AND Giving
Help a neighbor out. Volunteer to help a neighbor the week of Thanksgiving. Perhaps there is a single person next door who has no nearby family or friends, but would love a half-hour of social time—set up a Google chat, Zoom call, etc., and drop off a slice of pie for them and have a virtual coffee klatcsch.
Maybe you have an elderly neighbor or a single parent or someone who could really use a helping hand. Head over and offer to take care of some of their fall outdoor chores--rake their lawn, clean out the gutters, wash windows, etc. Or, if you know someone who elderly or high-risk, offer to do their grocery shopping for them so that they themselves do not have to go out.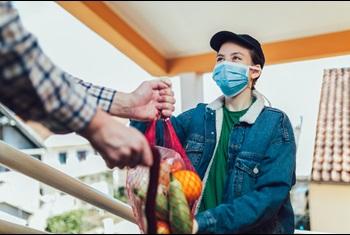 Still want to cook for or feed a crowd and looking for a socially distant way to do it? Go ahead and prepare your favorite meals, sides, and desserts, package them up and deliver them using a contactless delivery method (one commonly used contactless delivery method is leaving the meal outside the front door of the person's home). It's a great way to let a neighbor or relative know you are thinking about them, even if you can't be together in person. For extra TLC, leave a handwritten note or have your kids decorate a place card for them.
The holidays are a popular time for volunteering—but during the pandemic, many organizations are changing how they handle volunteer work. But don't fear! There are still many ways to give back.
Adopt a family charity—use Thanksgiving to research groups you'd like to help out with. Have each family member share a cause or group that they are interested in helping, and share why and then plan to donate your time, funds, goods, or skills in the weeks and months to come.
Have a philanthropic cookie exchange. The traditional holiday cookie exchange is probably out the window this year…so why not try something new that satisfies your sweet tooth and helps a good cause. Instead of getting together in person and sharing cookies, set up a Zoom get-together with friends or family. Ask everyone to bring their two favorite cookie recipes, and on the call, let everyone explain why they love their recipes. Them instead of swapping actual cookies, have people "sell" their recipes by having everyone make a donation to their local food bank or pantry in exchange for each recipe.
It doesn't have to be a big thing. Times are tough all over, and you may want to help out, but not sure where to contribute. Start small—many of these ideas are things you'd be doing anyway for yourself. A little bit of extra kindness extended to someone who needs it may make all the difference.
Remember…
This year will be different. But sometimes, different is okay. And, sometimes, different sparks change. Regardless of how you celebrate, whether you uphold old traditions or start new ones; eat turkey, turducken, or tofu; hang out virtually with friends or enjoy the quiet on your own…from our house to yours, Happy Thanksgiving from Renewal by Andersen!