7 On-Point Trends for 2021
New year, new trends: If 9 months at home has made you hungry for change, we've got hot ideas for you!
Demand for trade professionals increased 60 percent from 2019 as people renovated their spaces to accommodate working from home or distanced learning or simply to create a space that reflected their personal style. With 2021 quickly approaching, the new year paves the way to new trends that will undoubtedly influence home design projects to come. The folks at our sister company, Andersen Windows, shared with us some of the trends that they believe will shape new construction, renovation, and remodeling in the next year:
Back to Nature: Natural Wood and Biophilic Design
Biophilic Design
Designers, builders and architects have been increasingly utilizing the concept of biophilic design in the last few years. Biophilic design works to create a strong connection to the natural environment.
In 2021, we will see homeowners begin to prioritize this design style in their spaces through the use of plants (for both beauty and natural air purification) and creating more opportunities for natural light and ventilation, including broader use of large windows with narrow sightlines and folding and sliding doors to create moving walls of glass.
"I've worked to bring nature into my home through plants – creating a more inviting, calming and beautiful environment. Part of caring for my plants, includes ensuring there is an abundance of natural light. Large windows and doors increase the amount of natural light and not only help to connect our interior space with the outdoors but work to promote the health of the those living on the inside," says author and plant and interior stylist Hilton Carter.
Says producer, designer, and RbA influencer Laurie March, "Incorporating plants into the décor is a no-brainer. They remove allergens, cooking odors, and smoke from the air – who wouldn't want that? They add a natural warmth and texture (not to mention color) to any space. And, there's pride in keeping something alive. There's nothing better than seeing a plant lifting its chin up to the sun streaming through the windows.
"And the greatest thing about decorating with plants? They all live in a pot – which means you get to dress them up. Let your pots help with the decor– these days, there are so many styles to choose from: hammered metal, bright ceramic colors, geometric, woven materials, etc." (Get more style tips from Laurie on her Get Inspired page!)
Natural Wood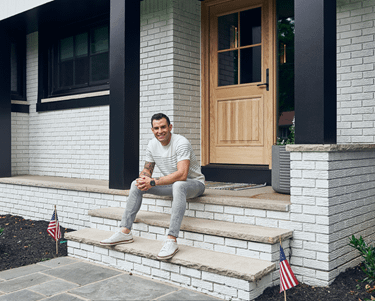 Raw, natural woods will continue to trend in 2021 specifically in flooring and décor accents. Lighter and bleached woods are outpacing darker colors and will be seen in more areas of the home including front entry doors, window trim, and accent walls.
"When renovating my 1960s rambler, I wanted to combine its original mid-century modern feel with an updated rustic-contemporary aesthetic. The natural wood front door creates an accent while adding texture, making the space feel cozy and inviting," says designer, TV personality, and Renewal by Andersen influencer John Colaneri.
Andersen's custom front doors are offered in multiple wood species and stain options to achieve your preferred natural wood look. Or, bring the look inside with one of our stainable, paintable, real wood interiors for your replacement windows from Renewal.
Color Me Trendy: Moody Dark; Beige & Brown; Blues
Color experts have projected the following three colors to rise in 2021 in furniture, wall color, and décor, and other home improvement areas. See how you can incorporate them into your upcoming projects.
Moody, Dark Exteriors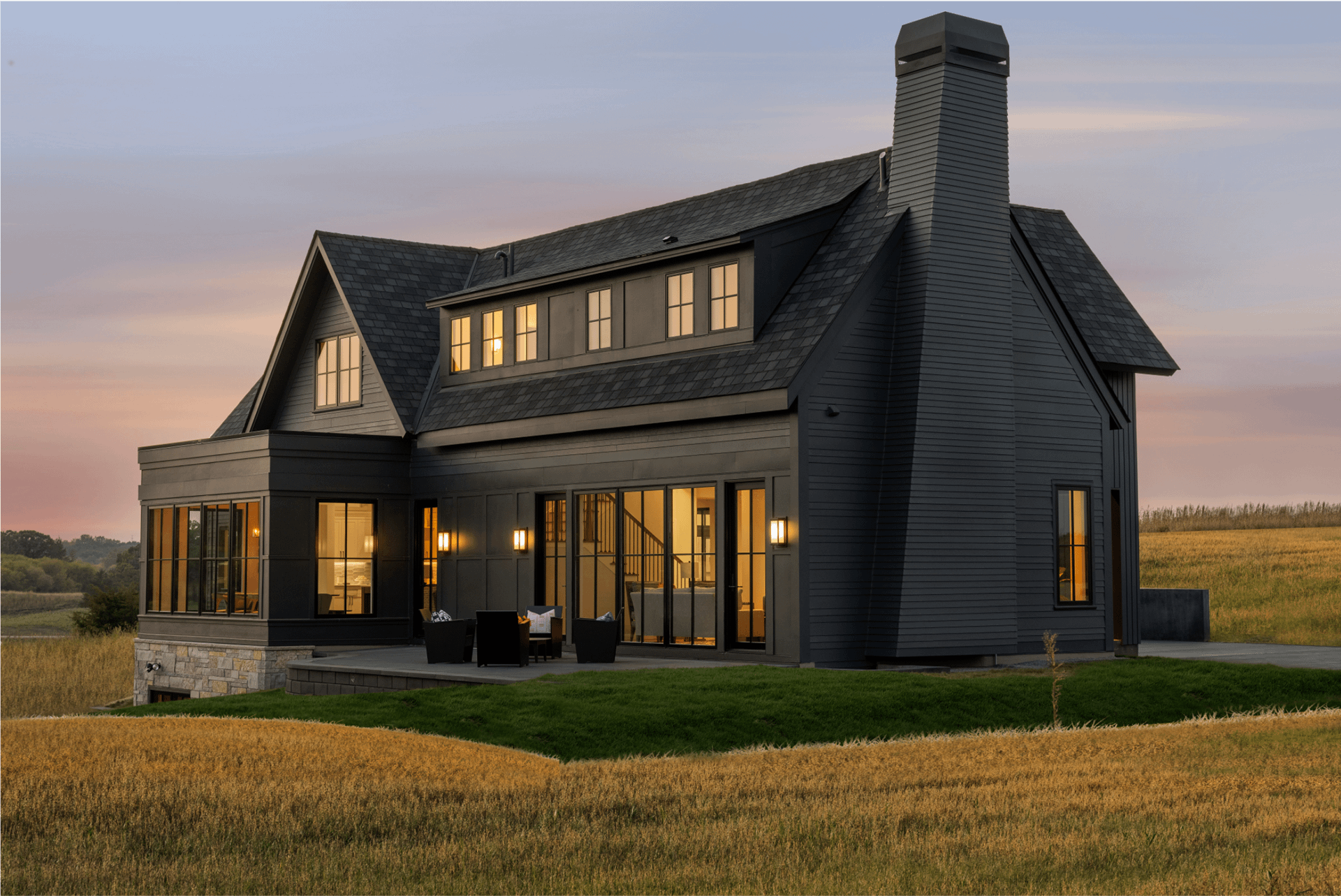 According to PPG, using a single color for both exterior walls and roofing is a growing trend, particularly in black, creating a moody, modern design.
Aesthetics aside, the paint brand noted during a color forecasting presentation, all-black exteriors eliminate distraction and blend into the natural environment, helping make nature shine. Adding black windows to a black exterior helps achieve this dramatic look.
The Eye-land home in Minnesota's White Oak Savanna, built by Redstone Architectural Home features an all-black exterior and roof, helping showcase the sweeping views of the 200+ acre natural savanna it is surrounded by.
Get the moody look by opting for a dark bronze or black exterior when you choose your window color from one of Renewal's 49 color combinations.
Beige and Browns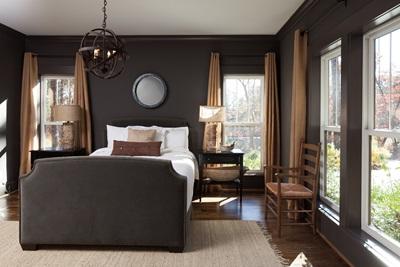 Gone are the days of the ever-popular stark white spaces. While white will always be a foundational color, in 2021 we will see the whites get warmer with beiges and browns also coming to the front of neutral palettes.
Popular paint brand Sherwin-Williams echoes this trend having announced Urbane Bronze as their Color of the Year for 2021. The warm, bronze is reflective of a shift to warmer, neutral tones and the increased desire to incorporate nature into design. Read more about how we have been loving that color here. "Urbane Bronze is a comforting color, drawing from nature for a feeling of relaxation and serenity," says Sue Wadden, director of color marketing at Sherwin-Williams. Sherwin-Williams.
Don't let the walls have all the fun—a number of Andersen products, including Renewal by Andersen, offer interior window color options to achieve the beige or brown look, including Sandtone, Canvas, Terratone, and Dark Bronze...or, chose a stainable or paintable option like our maple, pine, or oak interiors and get exactly the color you're looking for.
Calming Blues
Blues have always had their place in home design. It's an adaptable color that is equally suitable for the exterior of a home as it is the interior. And, inside... it's the color of bedrooms, bathrooms, kitchens, studies, and more. Light, dark, bright, subduded--there's a blue for every style.
In the last few years, we saw the rise in jeweled blues utilized in décor pieces and paint colors for walls and cabinets. Now, we see a shift as muted, calming blues--specifically in warmer tones--rise to popularity.
In addition to its moody dark exterior, the Eye-land home (pictured, right) features pops of light blue E-Series windows, creating additional visual interest and warm contrast against the dark reimagined shiplap look.
If you love color, Andersen's E-Series line is for you! It is offered in more than 50 exterior colors (including multiple shades of blue) for a pop of color on your home's exterior.
Highly Crafted Design: Composite Materials and Boho Design
Composite Materials
Furniture and home furnishings account for a large amount of landfill waste –
26.7 percent of all waste
in 2017. As consumers continue to make conscious purchasing decisions, more are opting for higher quality goods that will last and promote sustainable living.
When investing in bigger-ticket items, consumers want confidence their purchase will stand the test of time. With the development of composite materials like quartz, concrete, and even proprietary Andersen Fibrex® material, products are becoming stronger and more environmentally friendly--and are even more customizable than ever before.
Want a backsplash with the aesthetic of marble, but without the upkeep? There's a quartz for that.
Need a durable, attractive, family-friendly countertop material that can fit with rustic, urban, Boho, or contemporary styles, giving you a statement piece that lasts virtually forever and allowing you the flexibility to change the rest of the room around it? Check out concrete and its myriad finish options.
Want black windows that fit your home's exact openings (even in shapes like arch top or giant picture window)? Fibrex® composite material is here to meet your design needs while giving you a product that lasts. Which shouldn't come as a surprise...Quality and durability are key focus elements at Renewal by Andersen,where we are rigorously testing products to stand up to long-term effects of weather and wear (and, of course, come with the nation's best warranty on replacement windows).
Bohemian Design
Boho design continues to rise in popularity with the potential to edge out the modern farmhouse style for the top design trend in 2021.
The key to Bohemian design is "mixtures." Mixtures of textures, colors, natural finishes, and vintage pieces.
The concept is eclectic, yet pulled together, and focuses on bold colors with a heavy emphasis on organic elements including macramé, jute, wicker, and wood. Boho design also tells a story--collections of trinkets, art pieces, and other momentos of a "life well-lived," pair with rugs, pillows, and other decorative accents (think lamps, sculptures, etc.) make a space feel cozy and lived-in, as well as personalized--but not haphazard.
Bohemian design can draw from many of the other trends in this article--including colors, materials, and finishes such as wood accents like natural-finish window trim from Renewal by Andersen.