Be Smart; Be Safe
April 7-13 is Window Safety Week
Windows let in light and fresh air, and can provide breathtaking views, but they also are vital to safety. It's important to understand what you can do to observe window safety, especially when young children are in the home.
Window Safety Week in April coincides with the arrival of spring, when homeowners naturally want to open the windows and bask in the warmer weather—which brings associated hazards. Children see the world's wonder before they may see its dangers. By following basic window safety tips, you can help prevent injuries related to windows and doors.
Additional Window Safety Week Resources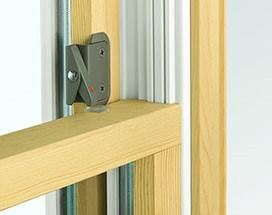 Narrow the Gap
An open window may pose a hazard to an unsupervised child (and never rely on an insect screen to prevent falls). Children can quickly climb to window ledges or sills and fall. If you need ventilation, open windows that children can't reach or open windows from the top.
Alternately, consider installing
window-opening control devices
or window guards that comply with local building codes. When properly installed, these devices will limit the window sash to less than a four-inch opening. These devices have easy-release mechanisms so they can be disengaged to allow the window to fully open if needed for an emergency escape or rescue.
Additional Resources
If there is any place in the world you should feel secure, it's your home. And while accidents are a part of life…we can all do our part to make them as infrequent as possible. Window safety is just one opportunity to protecct our loved ones. Check out our "Safe as Houses" article to learn 50+ small things you can do to help make your corner of the world a little bit safer of a place to live and play.
Look Out for Kids Brochure
Look Out for Kids Activity Book
Remember: Window Safety Is for Everyone!
The National Safety Council is also dedicated to window safety and fall prevention. They have a number of useful tips on making a window escape plan, preventing falls, and other information. Visit their website to iew their window safety brochure, checklist, and kids' activity book...then share them with everyone in your household so they are aware of their role in window safety. Be smart and safe--these lessons can last a lifetime.