Team Spotlight
Renewal by Andersen named to Star Tribune's Top Workplace list for 2019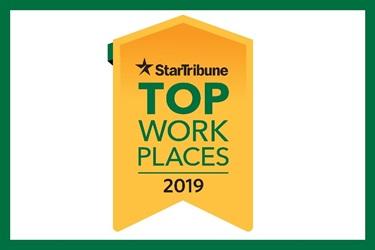 Cottage Grove, Minn. (June 11, 2019) – Renewal by Andersen, LLC., the start-to-finish window replacement division of Andersen Corporation, has been named one of the Top Workplaces in Minnesota by the Star Tribune for the second year in a row. A complete list of those selected was published in the Star Tribune Top Workplaces special section on Sunday, June 16.
Produced by the same team that compiles the 28-year-old Star Tribune 100 report of the best-performing public companies in Minnesota, Top Workplaces recognizes the most progressive companies in Minnesota based on employee opinions measuring engagement, organizational health and satisfaction. The analysis included responses from over 140,000 employees at Minnesota public, private and nonprofit organizations.
"We are honored to be recognized as one of the Star Tribune's Top Workplaces by our employees," said Paul Delahunt, president of Renewal by Andersen. "Employees are the heart and soul of our company. Making Renewal by Andersen a place they are proud to work for is a top priority for us. Being included again this year is a great accomplishment. This award is always expecially meaningful, as the judges are our own employees."
The results of the Star Tribune Top Workplaces are based on survey information collected by Energage, formerly WorkplaceDynamics, an independent company specializing in employee engagement and retention. To qualify for the Star Tribune Top Workplaces, a company must have more than 50 employees in Minnesota. Over 2,000 companies were invited to participate. Rankings were composite scores calculated purely on the basis of employee responses.
"The companies in the Star Tribune Top Workplaces deserve high praise for creating the very best work environments in the state of Minnesota," said Star Tribune Publisher Michael J. Klingensmith. "My congratulations to each of these exceptional companies."
Since opening its first store in Minnesota in 1995, Renewal by Andersen has expanded to nearly 100 markets throughout the U.S. and Canada. It has become one of the largest replacement window networks in the country, having installed more than 4 million windows.
About Renewal by Andersen
Renewal by Andersen LLC is the start-to-finish window replacement division of Andersen Corporation. The company offers a replacement process that includes an in-home consultation, custom manufacturing, and installation through one of the largest nationwide networks of window replacement specialists. For a complimentary in-home consultation, or to view more information about Renewal by Andersen visit www.renewalbyandersen.com.
# # #
Media Contact:
Adam May
Featured Video: Meet Laurie!
Remodeler, designer, project manager...Laurie March is the versatile host for a number of popular DIY and HGTV digital series. A third-generation home improvement professional, Laurie has a passion for remodeling that was that unearthed while remodeling her own 1920's Spanish style home. Now, she's bringing her sense of fun and adventure to Renewal's Get Inspired With... series. This month, meet Laurie and get a sneak peek of her door and window project as she kicks it off in this Instagram video. Want to see more of what Laurie is up to or get ideas for design, projects, or lifestyle tips? Visit Get Inspired with Laurie!

"I was hopeful, but rather skeptical that the installation of Renewal by Andersen windows would do as much to improve the comfort factor of my townhome as they claimed. It was the main factor motivating me to replace my vinyl windows and doors. Barely a month has gone by; summer has arrived and I am a devoted fan and happy customer. My sunroom is delightful despite temperatures of 97 degrees Fahrenheit outside and full sun after 12 pm. No longer is it necessary to draw the blinds to avoid suffering in the heat and humidity of a Williamsburg summer. I am sold on the new technology of the upgrade I got, as well as the rock solid insulation method which is amazing. My A/C is not running constantly as it used to. Upstairs the improved comfort level temperature -wise and savings are just as evident. Looking forward to an equally impressive winter performance. Will definitely be worth it. As I stated, I went forward with the installation of Renewal by Andersen Windows ever hopeful that it would increase the comfort and satisfaction I felt in my home. Based on the results thus far, I recommend Renewal by Andersen without reservation."
--Deborah M.
Williamsburg, VA
"It is easy to give feedback when the experience is such a good one! Your communication as far as scheduling was excellent, as were the quality of the product and the professional installation.
We are thrilled with our new patio doors. They are everything we anticipated and more. The quality is sound, the design and additional features are excellent and the extra security on both the doors themselves plus the screen door are great.
I especially want to commend the two installers Taras and Yurii P. They were very personable, courteous and efficient—delightful in every way. They worked all day and did an excellent job with the installation and did a white glove clean up job when they were finished.

They even went above and beyond the call of duty by helping put back the window coverings as they were difficult for my 81-year-old husband and I to do. Thanks so much for your kindness!"
--Patti & Bob S.
Vancouver, WA