Five Tips to Get Your Yard Ready For Summer Fun
It's summertime, and the livin' is easy!
Okay, depending on when you read this, it's technically still spring. And…depending on WHERE you read this, you may have had snow not that long ago. BUT July is almost here, and even up here in Minnesota we should be in the clear.
It's time to get out there and get your yard, garden, and patio ready for fun—whether that's backyard BBQs and holiday parties, playing catch in the yard with the kids, or just relaxing with a good book and soaking up the sun.
Perk up your patio and deck
When it comes to your deck or patio area, a few quick chores can get it ready for entertaining season!
After testing in an inconspicuous spot, pressure wash your siding, patio pavers, deck floor and posts, and sidewalk to blast away stubborn dirt, leaves, cobwebs, or muck. If you don't own a pressure washer, you can rent one at most home improvement stores. You'll be surprised at the difference a little power from the pressure washer makes (and how fun it is to use!).
When it comes to your furniture, plastic, vinyl, and simulated wood/wicker are easily maintained with some soapy water and a garden hose (and in many cases, that same pressure washer). However, metal and natural materials like wood, wicker, and rattan will have more specific maintenance requirements. Bobvila.com has some great tips on how to care for your outdoor furnishings here.
If you're looking to tackle a bigger project, with longer-term use, consider installing a fire pit. A fire pit serves as both a lighting element and a decorative focal point, as well as makes for a warm, inviting space on chilly evenings (and, for our warm-weather readers, creates a festive bonfire-like ambience even when the nighttime temperature is moderate). A fire pit will help you relax, and will help initiate conversation between you and your guests.
Light up your life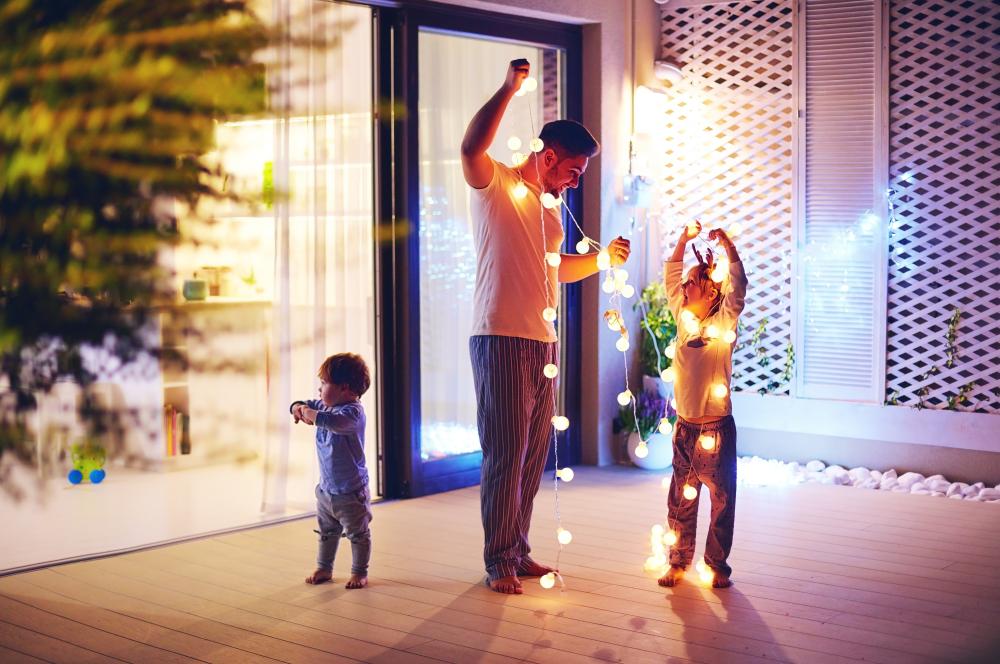 Your patio is all cleaned up and ready to go. Take the makeover one step further with a lighting plan. It doesn't need to be Christmas in July to enjoy seasonal lights. Year-round use of string lights is a popular trend, and can be a chic addition to anyone's outdoor venue.
Bring parties outdoors under warm, intimate lighting by stringing lights above your patio, around trees, or within fencing. Draping strands over a pool will create a reflective appearance family and friends will find very attractive.
If your backyard has any secondary structures—such as a shed, chuppah, or gazebo—string lights are great for accenting them and provide just the right amount of light for your backyard activities.
They also make great pathway markers. Light the way to outdoor structures or create a enchanting walkway through the garden by stringing a guide of lights. This will create an illuminated path that is bright enough to avoid obstacles but subdued enough not to be blinding (to you or the neighbors). Set them on a motion sensor, and you will never need to carry a flashlight.
Liven it up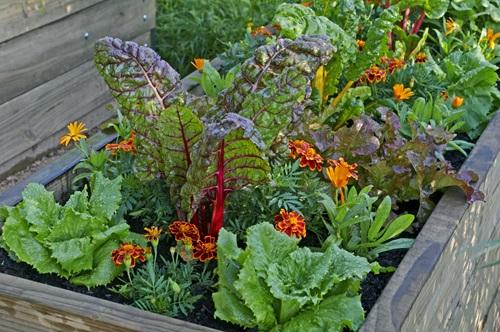 Looking for a way to beautify your patio, make mealtimes fun and homegrown, AND find something you can do with the kids? All in one? One deliciously decorative idea is to use edibles as accents. Plant a selection of herbs and garnishes or vegetables such as tomatoes, dwarf eggplants, or peppers in patio pots. Use pansy bowls or long and low deck-box-style planters to make living centerpieces; taller pots can serve as accents around the deck or patio.
Not only will you have functional décor, you'll also have fresh produce right outside your door. It's a great interactive way to get your guests (or kids) involved with dinner prep. And, as an added bonus, your garden will be easy to move during inclement weather to help protect it! No more losing your future salsa ingredients to an ill-timed summer hail storm.
Looking for some ideas for creative container gardening? Whether you want to go big, with multiple plots; or if you want to do a micro-sized garden (think tabletop aquaponics), we've got ideas in this garden slideshow.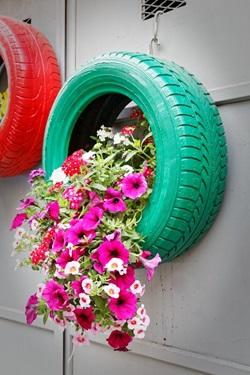 Have a seat
You don't need to make a lot of large-scale purchases to bring new life to your space. You can easily change up the look and feel of your patio with some elbow grease, a bit of paint, and some creativity. Get into the upcycle movement and repurpose flea-market finds, such as using old metal bed frames as outdoor seating surfaces. Old pallets are another great starting points for making all types of functional items—from chairs and benches, to tables, dog beds, and garden workstations.
Everyday discarded items make great accent pieces, too—turn an old wheelbarrow or a kids' wagon into a patio pot filled with flowers. Make a hanging planter with an old tire, some spray paint, and rope. Get the most out of your furniture by selecting pieces that can multitask. For example, take an upright potting bench, give it a coat of fashionable paint, and it can easily do double duty as a sideboard or drink cart ideal for entertaining.
Get your gleam on
Your windows are the heart and soul of your home (we may be biased, of course), so you want to make sure they shine so you can see that great outdoors you've been tidying up, right?
Let in that summer sunlight by getting squeaky windows with these cleaning tips.
Insect screens:
For standard aluminum insect screens: remove insect screens and give them a spray with a garden hose or swish in a kiddie pool for a quick clean. To give them an extra shine, use a mild (think gentle dish detergent) soap and water solution and scrub them gently with a soft fiber brush, then rinse with a hose. Be sure to do one at time and rinse throroughly to avoid buildup.
For those of you with the Andersen exclusiveTruScene® insect screens: less is more! DO NOT use a gardening hose. Instead, remove the screen and simply use a feather duster to clean your screen. Easy peasy!
Want more information? Check out this video for a visual guide on cleaning your window insect screens.
Window Glass
Ready to brighten your view? Follow these steps to clean the glass surface:
• Gather supplies—microfiber or other soft cloth (2-3); mild cleaning solution; squeegee.
• Wipe loose dirt and grime from the glass with a soft, dry cloth or duster.
• Apply a cleaning solution, such as mild soapy water, a white vinegar and water solution, or a liquid window cleaner to the glass.
• Wipe with a soft cloth in a circular motion, beginning at the top of the window.
• Immediately remove the cleaning solution with a squeegee or a clean, lint-free cloth. Use a cloth to wipe the squeegee dry after each swipe.
• To minimize glass-cleaner residue on the glass, do not clean in direct sunlight. Instead, try cleaning windows on cloudy, but dry days.
• ALWAYS AVOID solvents, abrasive solutions, or razor blades in order to avoid damage to the glass.
• Enjoy beautiful, streak-free views!
For more tips, visit Renewal by Andersen's Window Care & Maintenance page.
Happy cleaning!