Get to Know Awning Windows
The awesome awning window is a mighty problem solver
If you are considering replacement windows, choosing the right window type for your home may be daunting, especially if you are interested in something other than a double-hung. While the traditional double-hung window is a great go-to, all-purpose window, there are also a wide variety of other styles that may be an excellent option for your home, depending on what features you need and what style you are going for.
One of the most often overlooked (erroneously so, in our opinion) of those styles is the small-but-mighty awning window.
Awning windows are a great option for those who want a versatile choice featuring simple operation, lots of ventilation, and elegant looks. Renewal by Andersen's awning windows are made of high-quality materials—including Fibrex® composite material and your choice of Smartsun™ glass options—and are a pro at handling the wear and tear of everyday usage and weather.
What are awning windows?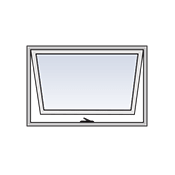 Hinged at the top and opening from the bottom, awning windows are kissing cousins to casements, and offer many of the same benefits—but with a few additional perks.
Whereas a casement is hinged at the side, these horizontally hung windows are hinged at the top, and open at the bottom, cranking out away from the house. The tuck-away hardware makes them super easy to operate (and, of course, is convenient in that it doesn't stick out into the room) and the multi-point locking system means the window seals up tight. In fact, it helps make the awning window our most energy efficient operable window!
And of course, their biggest selling feature? Fresh air. When fully open, awning windows provide ventilation from the entire sash area. Meaning you can capture all the big beautiful breezes and…as a bonus? The top-hinge design allows you to keep the windows open even in rainy weather!
Fun fact: Did you know that awning windows were commonly used from the 1920s-1950s in schools, manufacturing plants, and even some homes to increase airflow because there was no air conditioning? It really shows how effective the awning window design is for ventilation.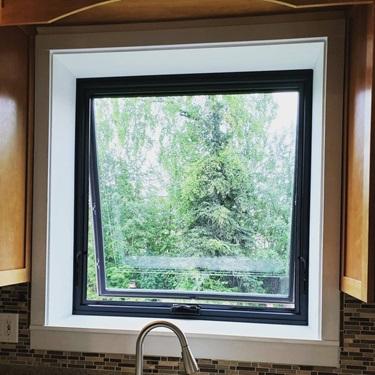 Versatility in placement
Awning windows are often used in bedrooms, bathrooms, and kitchens.
Because the hardware is at the bottom, and doesn't require as much of a reach as a double-hung would to fully open, awning windows can be placed higher on the wall to allow privacy without sacrificing natural sunlight or air ventilation.
In kitchens, awning windows fit great over sinks, counters, or any place that requires a reach, allowing unobstructed views. They are extremely easy to operate and won't get in the way of curtains or blinds. (Did we mention the tuckaway hardware?)
Their horizonal orientation means awning windows are also frequently placed above doors to let you bring in fresh air—without having to race to close the window every time a gentle rain starts to fall.
Elegance in aesthetics
Awning windows are an excellent choice to elevate your space. The mortise-and-tenon frame and sash construction provides a traditional hand-crafted look, while the horizontal design creates architectural interest, serving as a dramatic accent when paired with other windows.
And that ability to "play well with others" is really where the mighty awning window shines. Awning windows are frequently included in multi-window configurations. That's because, like casements, awning windows also pair well with other windows—especially large picture windows—giving you large expanses of glass (and lots of view) while still maintaining fresh air and ventilation.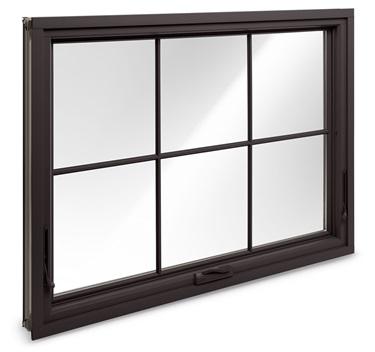 Built to last
All of Renewal by Andersen's awning windows are made with the Andersen-exclusive Fibrex® composite material. The strength of Fibrex® material allows there to be a thinner frame, which means more glass and more view.
Fibrex® material isn't just strong, it is beautiful too! It is resistant to decay and won't rot, chip, crack, or peel.* Plus, Renewal by Andersen's unique manufacturing process fuses the color onto it, meaning you can choose from a wide palette of interior and exterior colors–including dark exterior options not available from many window companies.
Improved energy efficiency
All Renewal by Andersen® windows are ENERGY STAR® certified and can reduce heating and cooling costs. Awning windows are the most energy efficient of all of our operable window types. Your windows will be built with Andersen's exclusive Fibrex® composite material, and one of four unique glass options that help with energy efficiency, temperature, and light control.
If you live in a hot, sunny climate, Smartsun™ Glass is the perfect option to block harsh UV rays and help keep your home cool. If you want to keep warm and cozy while living in a cold climate, Renewal by Andersen's Enhanced Triple Pane Glass is a great option. And for year-round comfort everywhere in between? Our High-Performance Low-E4 Glass.
Pair the insulating properties of Fibrex® material with one of the glass options ideally suited for your home, and you will no longer worry about feeling uncomfortable while you sit next to your window. Take in your beautiful views without sacrificing comfort. What's better than saving money AND having beautiful views every day?
Signature Service
When you begin a project with Renewal by Andersen, you will experience our exclusive Signature Service.
In fact, ALL of our windows come with this special personalized service. Renewal by Andersen is a full-service replacement window company, and Renewal by Andersen's exclusive Signature Service is committed to providing the best customer experience possible. Our team is here to help you every step of the way, and you will have a single point of contact from sales to service. This service features the best people, an exclusive product, and a superior process. Our Signature Service process even includes Nation's Best Warranty coverage.
Need more inspiration?
Visit our product page to learn more about how awning windows can add a unique touch to your home. Want more inspiration for your customized window configuration? Check out Renewal by Andersen's Get Inspired page to view projects from people like you. Like what you see? If you are ready to leap into your project, schedule a consultation to learn more about how we can help design your dream window or window configuration for your home.
*See limited warranty for details.