Top Design Trends for 2023
Wondering what 2023 will bring? Get inspired by these rising trends!
Moving into 2023, we're starting to see more people making use of every inch of their homes — from the backyard to the staircase to the front door.
And while we're always striving to add beauty and personality to our homes, we're also optimizing them for the way we want to live. Whether that means spaces that invite easy entertaining, spaces that make us feel closer to nature, or spaces that simply invite us to linger rather than hurry along to the next task.
With a little help from our friends at our sister company Andersen Windows, we've pulled together top design trends we think will define home design in 2023.
Modern Wood Windows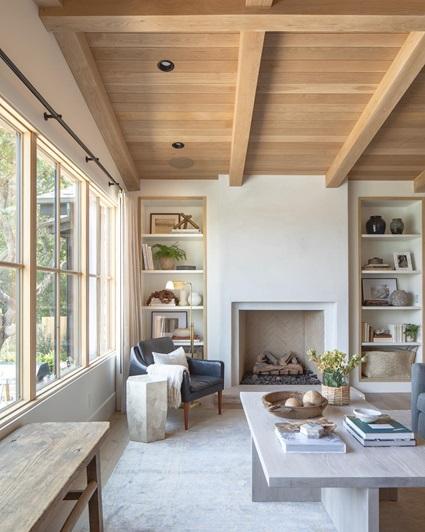 When you think "modern look", you probably think black windows. Which has been the predominant color in modern design lately. But it's not the only way to achieve the look...
One way to go modern, but still add warmth in a subtle, neutral way is with white oak windows and doors. Done right, this wood tone in a light, neutral shade is incredibly versatile.
White oak works beautifully in a range of modern and contemporary styles — think mid-century, Japandi, Scandi, and more. We love it because warms up bright and airy modern homes, and helps avoid the cold feeling that can sometimes characterize this design style.
A design that features clean lines, lots of glass, and windows and doors in white oak brings modernity, and creates a high-design home that is also warm and liveable.

But what else makes for a "modern" style window? Frame color and material obviously have a major impact, but so do other selections.
If you're looking to go modern in your design, but not sure which choices will give you the look you're striving for, we've got five tips to get you started:
Frames: Select a window with a thin, elegant frame to put the emphasis on the glass. Because Renewal by Andersen® replacement windows feature the proprietary Fibrex® composite material (which is 2 times stronger than vinyl), they can be built with thinner frames. And thinner frames mean more glass.
Replacement windows from Renewal can be sleek black on the outside, and still have real wood, paintable, stainable interiors--so it's the best of both worlds.
Grilles: For an ultra-modern look, skip grilles altogether, or select thin grilles to mirror the frames. Want grilles with a modern flair? Try specified equal light grilles, like in the photo above.
Window style: The more glass the better for creating a modern look. That's why casement, awning, picture, and gliding windows are go-to modern options.
Drywall returns: Less is more. You can create a clean look by having your windows installed without any surrounding trim.
Size: Bigger is better, especially in modern design. Large windows that put the focus on the view outside are a hallmark of this design style.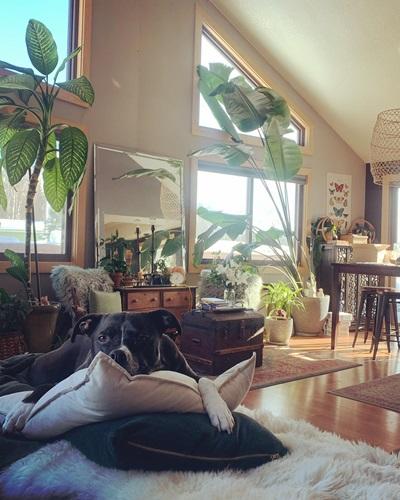 Designers, builders and architects have been increasingly utilizing the concept of biophilic design in the last few years (in fact, it was a nascent trend to watch in our 2021 style issue!). Biophilic design brings us closer to nature by bringing nature closer to us. It's a design approach that connects the home with nature through views outside, as well as using light, air, water, plants, and other elements as components of the design.
Why do we love it? Because nature makes us feel good! Really, it's that simple. Plus, it invites creativity because it can be done in so many ways and at nearly any scale—from a whole home remodel that leverages doors and windows that bring in the most daylight possible down to a small indoor herb garden in a kitchen window.
Biophilic design goes just about anywhere…but it's especially impactful in rooms where natural elements don't just add beauty, they also serve a function. Think about the impact of fresh air and plants in a kitchen or a bathroom
In 2023, we will see homeowners continuing to use this style in their spaces by creating opportunities for natural light and ventilation (including broader use of large windows and folding and sliding doors), utilizing natural textures and materials such as wood, sisal, and stone, and incorporating plants into their designs (for both beauty and natural air purification).
"I've worked to bring nature into my home through plants – creating a more inviting, calming and beautiful environment. Part of caring for my plants, includes ensuring there is an abundance of natural light. Large windows and doors increase the amount of natural light and not only help to connect our interior space with the outdoors but work to promote the health of the those living on the inside," says author and plant/interior stylist Hilton Carter.
Says producer, designer, and RbA influencer Laurie March, "Incorporating plants into the décor is a no-brainer. They remove allergens, cooking odors, and smoke from the air – who wouldn't want that? They add a natural warmth and texture (not to mention color) to any space. And, there's pride in keeping something alive. There's nothing better than seeing a plant lifting its chin up to the sun streaming through the windows.
"And the greatest thing about decorating with plants? They all live in a pot – which means you get to dress them up. Let your pots help with the decor– these days, there are so many styles to choose from: hammered metal, bright ceramic colors, geometric, woven materials, etc." (Get more style tips from Laurie on her Get Inspired page!)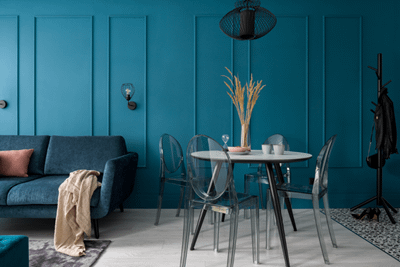 Monochrome design is a maximalist approach to using a singular color from the ceiling to the baseboards and everywhere in between.
We're seeing it go beyond furniture and accents—in fact, it's popping up wherever there's an opportunity to draw attention to architectural details: places like alcoves, molding, and coffered ceilings. We love this trend for the life it can add to the room. As light plays across a monochrome room, you realize how ever changing a single color can be. For example, blue isn't just blue. It can have green, gray, and even violet undertones and hues depending on the time of day, time of year, or surface that it's coating.
Says Sherwin-Williams Director of Color Marketing, Sue Wadden, "When you take away the contrast between trim and walls, the light picks up on different planes, sheens, and surfaces — it's an unexpected and sophisticated look."
Looking for a primer (haha, no pun intended) from the pros on pulling off the color scheme? Wadden and Kiki Redhead of Sherwin-Williams® share five tips for creating a monochrome room.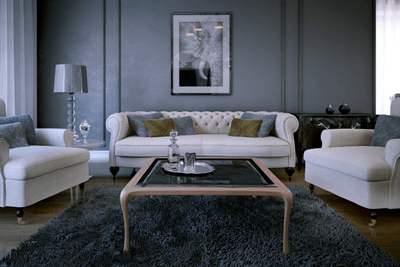 Love before marriage: You're about to surround yourself with it, so it's important to make sure it's not one you'll tire of too soon.
Mind the light: Wadden recommends light- to mid-tone colors in most spaces and using dark colors thoughtfully, particularly in dark rooms or locales where overcast weather is the norm.
Try a neutral: Neutrals don't have to mean boring. Not only are they easy to live with, they're also more interesting than you might realize. "There are so many complexities to shades like beige and cream," Redhead says.
Start small: This could mean picking a less prominent room in your home. Redhead suggests a powder room with a window as the perfect place to test out a wild idea.
Apply strategically: You don't have to paint every surface. Wadden suggests feeling out the look by painting a few key places to start, such as the walls and fireplace in your living room.
Do a test run: Painting your woodwork a bright color is a perfect way to play with this trend if you don't want to commit 100% to a single color. Try painting your window trim, baseboards, doors, and even features like shelving or ceiling beams for a colorful look that's still bold.
Are you ready to cook up an indoor/outdoor lifestyle by using an outdoor kitchen?
It doesn't have to be a giant, elaborate room-like space—although it could. Outdoor kitchens run the gamut—from a dedicated grill area on a covered porch to a fully built-out space for open-air cooking with features like cabinetry, sinks, refrigerators, and more.
We're seeing these spaces in homes large and small, as homeowners are making the most of ALL their square footage. In fact, an outdoor kitchen can work beautifully in a smaller home where it provides an overflow space for people to hang out.
This connection to the outside is a lifestyle, as well as a design style. No matter if you're an avid gardener seeking easy access to your backyard bounty; a host with the most, known for throwing the most-fabulous dinner parties; or just someone who loves to eat — an outdoor kitchen has appeal.
When designer, influencer, and HGTV host Laurie March remodeled her LA home, she "deleted" a downstairs bedroom and added an outdoor kitchen. What does she love about her setup?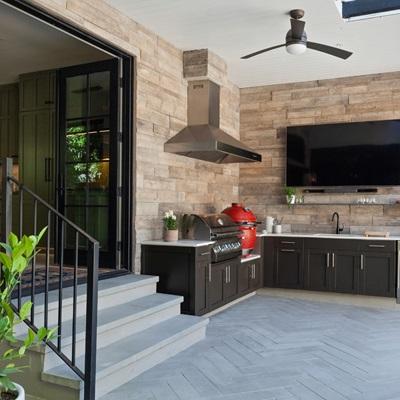 Easy access. A set of French doors connects March's indoor kitchen with her outdoor kitchen. The double doors make it easy to dash back and forth, and they maximize functionality in this modestly sized urban home.
Flexible layout. The L-shaped layout of March's outdoor kitchen allows plenty of space for cooking, mingling guests, and arranging furniture to suit the occasion — whether it's dinner for two or a game day party.
Hardworking space. With a smoker, a grill, a sink, and more, March can take on ambitious cooking projects, and even process her garden vegetables, without bringing major messes or lingering smells indoors. And "putting the outdoor kitchen back-to-back with the indoor kitchen makes it easy to use both spaces to the fullest," she says.
By the way... while most people probably think "warm-weather towns" when they think of indoor/outdoor living, we will tell you…Minnesotans (our home state) LOVE their outdoor kitchens.
Indoor/outdoor living IS possible in cold-weather climates. Just because it's winter doesn't mean the grill goes dark for 5 months of the year. Check out the pictures below from designer and tv personality Anthony Carrino's renovation project below. He put in an outdoor kitchen at his cabin in the Catskills. Oh, and he ALSO has an outdoor, rooftop kitchen on his historic 19th-century firehouse remodel in New Jersey. You can also see both projects at Get Inspired With Anthony.
Learn More
Want more design trends for 2023? Visit our Get Inspired section to hear from all of our design influencers or head over to our sister company, Andersen Window's Endless Expressions blog to see all of the projects in here, and more. Download their 2023 Lookbook for tons of details and inspirational images!