Frighteningly Fun Facts for Halloween
Amaze your friends and neighbors with these fun trivia tidbits (and maybe start a Candy Corn battle)...
Halloween has become an epic event—it's the second-biggest commercial holiday in the United States (It's estimated that Americans will spend
more than 10 billion dollars
on it this year).
But what about you? Are you a "Hallow-fiend": dressing up in costume and heading out with the kids, debating the merits of candy corn, leading the charge for a pumpkin carving contest at work (really, you set something on fire ONE time with a stage prop, and they think it needs to be cancelled forever?), filling the yard with Styrofoam tombstones, animatronic ghosts, and billowing fog machines, and setting the DVR for The Nightmare Before Christmas and It's the Great Pumpkin, Charlie Brown?
Or, are you more of a "Hallow-no": maybe you hide at home, turn out the porch light, and just eat the bag of snack-size candy bars on your own.
Either way, there's no right or wrong way to do the day (because: chocolate, yeah?). To celebrate Halloween's popularity, check out a few of these traditions, tidbits, and trivia about this spooky, silly, and superstition-filled holiday.
Roots in History
Want to be really authentic? Carve a turnip! Root vegetables—not gourds—were the first carved edibles. The origin of Jack-O-Lanterns comes from a Celtic folk tale of a stingy farmer named Jack who would constantly play tricks on the devil. The devil responded by forcing him to wander purgatory with only a burning lump of coal from hell. Jack took the coal and made a lantern from a turnip, using it to guide his lost soul. In the early 19th century, Irish immigrants to the U.S. started using pumpkins instead, because they were more accessible in America.
In fact…much of Halloween's past is Celtic—making it (not St. Patty's Day) our most Irish holiday! Halloween's origins date back to the ancient Celtic festival of Samhain. The word Samhain (pronounced: sow-in) comes from Old Irish, meaning "summer's end".
The Celts, who lived 2,000 years ago in the area that is now Ireland, the UK, and northern France, celebrated their new year on November 1. Samhain was seen as a time when the boundary between this world and the otherworld was thin. The word "Halloween" or "Hallowe'en" means "hallowed evening" or "holy evening" and comes from the Scottish term for All Hallows' Eve (the evening before All Hallows' Day—a Christian holy day celebrated on November 1).
And now you know why fear of Halloween is known as Samhainopobia!
Show Me the Money
According to the National Retail Federation, Halloween is back to boo-ming business this year, with participation in Halloween-related activities once again hitting pre-pandemic levels. Approximately 69% of consumers are planning on celebrating in some way this year, up from 65% in 2021 (and comparable to 2019's 68%).
Top ways to celebrate include: handing out candy (67%), decorating their home or yard (51%), dressing up in costume (47%), carving a pumpkin (44%) and throwing or attending a Halloween party (28%).
Overall, Halloween spending is expected to jump to $10.6B in 2022, with an average of $100.45 spent per person.
Where are we spending all those freaky funds? That amount is split nearly evenly amongst costumes, candy, and decorations—with costumes ($3.6B) having a slight lead over decorations ($3.4B). We'll shell out more to garb our little goblins and put cats in pants (yes, pet costumes count in the total) than we will to eat, er, hand out candy ($3.1B on confections)…and somewhere, some people are actually spending money on sending Halloween cards, with just over half-billion dollars going toward greeting cards.
Forget Pigs in Space…
…It's time for Cats in Pants. That's right, it's everyone's favorite part of Halloween (and if it is not yours, you are truly missing out): Pet Costumes. According to the NRF, one in five people plan to dress their pets up in costume—spending close to three-quarters of a BILLION dollars on sartorial stylings for their furry friends.
What will all of our Best Dressed Best Friends be wearing this year? The top 10 are:
1. Pumpkin
2. Hot dog
3. Bat
4. Bumblebee
5. Witch
6. Lion
7. Spider
8. Ghost or Cat (tie)
9. Superdog/Supercat
10. Devil or Dog (tie)
Mmm-mmm Good
This year, Americans will spend an estimated $3.1 billion on Halloween candy—and while more than 70% of that will be chocolate or chocolate-related, at least a chunk of that will be spent on candy corn. You decide how you feel about that.
So which candy will make your house the hot spot on the block, and which will get you TP'd for sure? Using nationwide sales data, as well as data from major candy manufacturers and distributors, CandyStore.com comes up with an overall Best and Worst list every year.
Tops this year?
1. Reese's Cups
2. Skittles
3. M&M's
4. Starburst
5. Hot Tamales
6. Sour Patch Kids
7. Hershey Kisses
8. Snickers
9. Tootsie Pops
10. Candy Corn
Bringing up the rear?
10. Good & Plenty
9. Licorice
8. Tootsie Rolls
7. Mary Janes
6. Smarties
5. Wax Cola Bottles
4. Necco Wafers
3. Peanut Butter Kisses
2. Candy Corn
1. Circus Peanuts
Nefarious food for thought: If you're one of those folks who loooooove the "classic" candies (or, apparently, black licorice/anise flavor), consider filling your candy bowl with some of the LEAST popular treats last year…that way, you can have them all to yourself on November 1. (But don't blame us if you have to wait until you are done picking toilet paper out of your trees or washing egg off your siding to eat any).
If you are a data nerd, or a fan of handing out locally popular treats, and want to know what the top candy is in your state, CandyStore.com also ranks the top 3 candies for each state every year. This year, they've compiled sales and industry data, and created an interactive map. Check it out below. (View in desktop mode for best interactive experience.) Want to see the data in a table? Here's the whole story.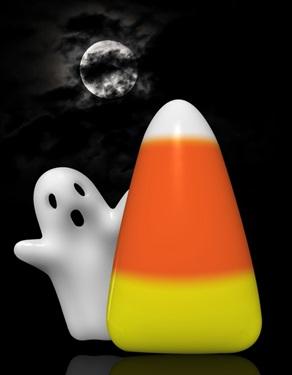 Is It a Uniter or Divider?
You want to talk polarizing? Candy Corn is either an oh-golly-I-love-it or a set-it-on-fire-and-push-it-to-the-curb thing. It's on both the Top 10 Best Halloween Candy list and the 10 Worst. We eat a lot of it, though: this year, there will be nearly 35 million pounds made. That's 9 billion individual kernels of corn, enough to circle the moon nearly 21 times. Our love-hate affair with Candy Corn has been a long-standing tradition. Wunderle Candy Company began making tricolor candy in the 1880s; Goelitz (now Jelly Belly) Candy Co. took over mass production around 1900.
Very popular with farmers, the candy was originally called "Chicken Feed," because of its resemblance to...well...chicken food. It featured a rooster and the slogan "something to crow about" on the package.
Candy Corn is a "mellow cream;" a type of candy that is made from corn syrup and sugar with a marshmallow flavoring. Although Candy Corn is rich in taste, it's fat free. And while it's not calorie free, it's not TOO bad for you, as far as sugar bombs go: one serving (19 pieces) is 140 calories.
It's the Great(est) Pumpkin, Charlie Brown
Last October (2021), Italian Stefano Cutrupi was proclaimed producer of the world's most prodigious pumpkin. His super-sized squash weighed in at 2,703 lbs. On October 2, 2022, Scott Andrusz of Clarence, New York, broke the four-year-old American record of 2,528 lbs. with a ginormous gourd weighing in at 2,554 lbs.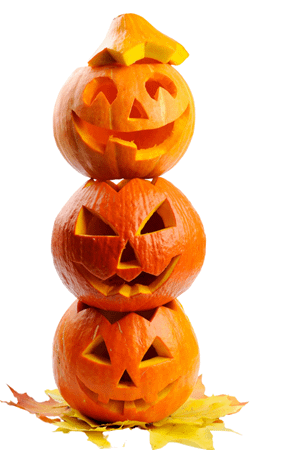 When it comes to CARVED pumpkins, the heaviest jack o'lantern was carved from a pumpkin that weighed 2,350 lbs. The pumpkin was grown by Travis Gienger of Anoka, Minnesota. After its official weigh-in at the World Championships in Half-Moon Bay, California, Gienger transported the gigantic gourd back to Anoka, Minnesota (described as the "Halloween Capital of the World", by the way), where he enlisted friend and experienced pumpkin carver Mike Rudolph to transform it into a Tiger King-themed jack o'lantern for the town's 100th All Hallows Eve parade on October 31, 2020.
With a girth of 233 inches, Gienger and Rudolph's creation was also the largest jack o' lantern by circumference, as well.
If you prefer your pumpkin records by volume and numbers instead of weight… The Guinness World record for most lit jack-o'-lanterns on display is 30,581, set by the city of Keene, New Hampshire, in October 2013. Keene was the original record holder in this category and has now broken it 8 times since the original attempt.
About 40% of pumpkin acres are harvested in the top 6 pumpkin producing states. Illinois continues to reign supreme. In 2022, it harvested 2x as many acres as any of the other top states (California, Indiana, Michigan, Texas, and Virginia). https://www.ers.usda.gov/newsroom/trending-topics/pumpkins-background-statisticsCapital City
Speaking of going big, Anoka, Minnesota (pop. 17,350 and just up the road from Renewal by Andersen's Cottage Grove HQ!), is called The Halloween Capital of the World. The city is believed to be the first city in the United States to put on a Halloween celebration. In 1920, George Greene and other civic leaders suggested a celebration be staged for the whole community to keep kids out of trouble. A month-long build-up led to an epic parade and party—a tradition that continues to this day.
Now prep lasts the whole year round, and the events cover the span of October. Through the decades, the all-family-friendly activities have included pillow fights, a kangaroo court, fireworks displays, royalty coronations, concerts, dances, window-painting contests, house-decorating contests, celebrity appearances, costume contests, style shows, storytelling, running races and, in the 1960s, a snake dance that took long lines of participants in and out of area businesses and homes.
So there you have it…all the trivia you never knew and didn't know you needed to know about this tradition (and candy) filled holiday. Wherever you spend the day, and however you celebrate it (or don't)…Happy Halloween from Renewal by Andersen!