FAQs About Our Window Replacement Process
From one-company accountability and industry-leading limited warranty to our exceptional people and impressive technology, we answered your top questions about the Renewal by Andersen process.
I'm researching replacement windows and considering Renewal by Andersen. What's the first step I need to take?
First, you'll schedule your free design consultation. Give us a call or fill out our form on our website, and we'll set up a specific time that works for you (no vague "somewhere between these times" appointment window). During your individual design consultation, we'll get to know you and your home, identify its particular challenges or issues, and then talk about ways we can address them. At the end of your consultation, you'll be left with a printed (or electronic), detailed estimate with pricing good for one year.
Why is the individual design consultation so important?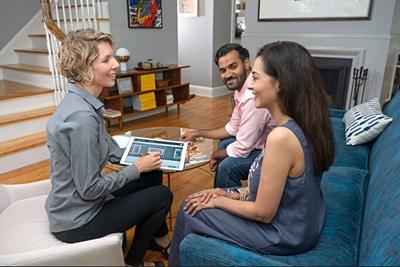 There's no home exactly like yours, so you shouldn't expect a one-size-fits-all solution when it comes to your windows. All of our windows are custom crafted and made-to-order to fit your home's exact needs.
Therefore, before our trained design consultants can give you an estimate, they need to learn about your situation. Your consultant will meet with you in the comfort of your home (many locations also offer online consultations), at a time that fits your schedule. He/she will walk through the details of your particular situation, listen to your needs, talk with you about a number of options, and provide you with pricing for your specific project that will allow you to review your options and make the best decision for your home and your budget.
Because your home is unique, it shouldn't be treated like any other house on the block—that's why your design consultation is so important.
What happens during the free consultation?
Some of our homeowners know exactly what they want when our consultants walk in the door—they know the number of windows, what style, what colors, even which hardware. But for many homeowners, this is uncharted territory. When you schedule your free in-home design consultation, here's what will happen:
1. First, we'll listen to you about your goals and the vision you have for your new windows.
2. We'll inspect your home's current window situation and identify any unique design and installation challenges.
3.We'll talk with you about ways to balance beauty and budget, and come up with a design solution(s) that fits your home, your timeline, and your bottom line.
4. He/she will answer any and all questions you have—whether they are about style ("Can you do a dark exterior trim to match my siding?" or "What's the right look for an Arts and Crafts bungalow?"), performance ("Which energy efficient glass option do I need?" or "Do you have products that can work in a coastal environment?"), logistics ("It's fall…do I have to wait until spring?"), or function ("What do you recommend for an elderly woman who has mobility issues?").
5. Your design consultant will look for the best possible deal for you—letting you know of any current specials or offers running, configuring bulk or quantity discounts, and walking you through all of our flexible payment options.
6. Your consultant will draw up an electronic contract and have it ready for you along with a detailed estimate and pricing good for one year.
I'm having a hard time imagining all of the window styles, grilles, colors, and hardware options. How can you help?
Your design consultant will be bringing actual product samples as well as color swatches so you can see, touch, and feel everything first-hand.
Plus, at your appointment, you'll have access to Real View™, our professional-grade augmented reality tool, to customize your perfect window or door style. Working with your consultant, you can place a window or door in its room, open and close it in real-time, see (or walk!) through it, and examine the hardware up close. Wondering what a black exterior and cherry interior would look like with your new wall color and do for your curb appeal? We can show you—inside and out. Not sure whether an in-swing or an out-swing French door works better with the flow of your kitchen? Real View™ can help you decide.
Renewal by Andersen is the first, and only, company in the industry using this groundbreaking technology. Why? Because when it comes to your home and how you live in it, we believe you should have absolute peace of mind that you are making a sound decision for today, tomorrow, and years down the road.
What's more, industry-first Real View™ helps you actually visualize OUR windows on YOUR home—from both the inside and the outside. You can experiment with colors, window styles, grilles, trim sizes, hardware options, interior stain colors, and more!
Where are my windows built? Who builds them?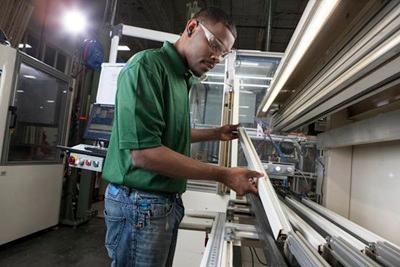 After you decide you move forward with Renewal by Andersen, your project specs are sent to our state-of-the-art manufacturing facility in Cottage Grove, MN—only a few miles down the river from where Andersen Corporation came to life over 100 years ago. Your windows are custom crafted and made-to-order with precision and care by our dedicated employees who take great pride in their work.
One thing that makes production special to us is that we only make to order. Every unit that we make has an order and a name attached to it. When an order comes down the line, our plant workers take care of your project because we know that this is YOUR window, not just an anonymous order.
Want to go behind the scenes at our manufacturing facility and see a bit more of what it takes to build a window in 2022? Check it out below:
What makes your installers the best in the business?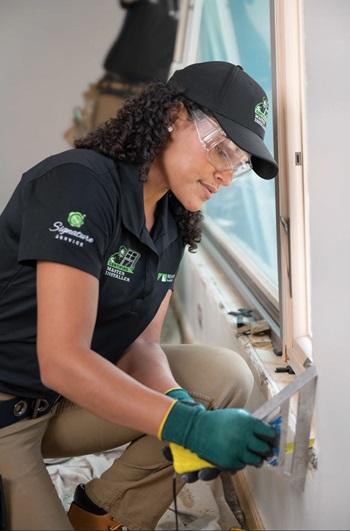 Installation of a replacement window isn't simply a matter of putting a standard-size window into a hole in the wall. It's a matter of expertly fitting YOUR custom window into YOUR home. Replacement window installers need to be prepared to handle any number of challenges such as variations in wall materials and thickness, various types of casings or sill constructions, changes from house settling, and even unforeseen structural damage.
This is why we only hire the best installers—folks who are professional craftspeople experienced in installing windows in homes of all shapes, sizes, and styles. Our installers are proud of the work they do and the products they install, and they're dedicated to working with individual homeowners and going the extra mile whenever necessary (and often even when it's not). Here's what you can expect to happen on installation day.
What is a Certified Master Installer?
Thanks to meticulous training, extensive supervision, and high expectations, our Certified Master Installers are without a doubt the best team for the job—the team we trust to handle the windows built just for you.
Prior to certification, we require all trainers and installers to demonstrate their knowledge of construction materials, building codes, and installation methods. We understand you work hard for your home, and we want you to be as comfortable as possible throughout the installation process. We take pride in setting the highest standards in the market, with no stone left unturned. This includes the standards we set for the men and women installing your windows. We're proud to put our name in their hands.
What happens if I need service on my Renewal by Andersen® replacement windows?
Our windows come with our toll-free number and a unique ID number on each one. Should you have any issues, give us a call and our in-house Customer Care Representatives will be able to identify your exact window (using that unique ID number) and help you get your concerns remedied.
What does the limited warranty cover?
When we say we're with you from start to finish and beyond, we mean it. Our industry-leading limited warranty is the Nation's Best. This fully transferrable, limited warranty covers the glass, the frame and hardware, AND the installation. It's a warranty that is made as a promise to you, and backed by extensive testing.
We are committed to standing by our product, today, tomorrow, and years into the future. We believe that a warranty should be more than just a period of time; the quality of a warranty matters; what and how things are covered matters.
Our limited warranty is one of the strongest you'll find on any window or door, at any price. It's non-prorated and fully transferable. Every window we make is labeled with our toll-free number, should you have any issues with your windows. Highlights to the warranty include: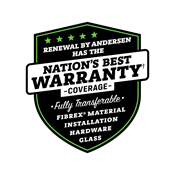 • NO maintenance requirement
• Automatic transferability
• Installation coverage
• NO restrictions for high altitude or coastal homes
• ALL labor for any valid warranty claims
• Clarity—easy for a homeowner to understand
• Additional benefits (color fade, insect screens, and hardware)
What happens to my warranty if I sell my home?
Don't worry—the limited warranty on your Renewal by Andersen® products is fully transferable, should you sell your home.
How many people will I be in contact with throughout the process?
We know it can be confusing when there are a lot of parties involved in an important home improvement project like replacing your windows. That's why we take pride in providing you with a start-to-finish solution.
From design and sales through installation and service, it's all Renewal by Andersen. Our family of specialists is here to make your window replacement project the most streamlined home improvement project you've ever done. After you decide to purchase, here are our specialists you may come in contact with: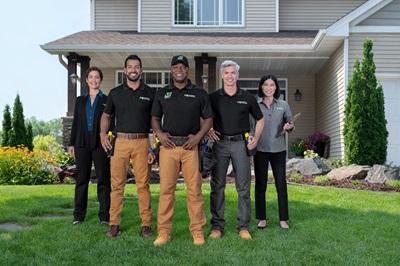 • Concierge (coordinates your project, answers questions)
• Design consultant (assess, measure, educate, demonstrate, solutions, pricing)
• Project Technician (re-measure and re-assess for accuracy)
• Professional Installers (remove old windows, prepare, install new windows, clean up)
• Customer Care Reps or Service Technicians (should any issues arise down the road)
Can't find your question in our list above?
Give us a call or schedule your free consultation—we'll be sure to answer any and all questions you may have so you can make an educated decision and move forward with your window replacement project. It's important who you choose to do this project—you're not going to do it very often; most people only do it once. So do it right.
*The only warranty among top selling window companies that meets all of the following requirements: easy to understand terms, unrestricted transferability, installation coverage, labor coverage, geographically unrestricted, exterior color, insect screens and hardware, and no maintenance requirement. Visit renewalbyandersen.com/nationsbest for details.