Veterans Day 2021
Remembering those who have served, here and abroad; in wartime and in peace.
This year marks the 103rd anniversary of the end of WWI, and we take a moment to recognize the significance of the U.S. participation in the 'war to end all wars'. For the past 101 years, Americans have remembered those who served our country in uniform on 11 November in the Great War – first as Armistice Day, and then, since 1954 as Veterans Day. This November on Veterans Day and beyond, we celebrate and honor the millions of veterans throughout the country, and expressed our heartfelt gratitude and appreciation for their service and sacrifices, and we encourage you to please join us in recognizing our veterans and their families in service to our country and communities, here and abroad, in times of conflict and in times of peace. Thank you, for all that you do.
How to Get Involved
The Veterans Day National Ceremony is held each year on November 11 at Arlington National Cemetery. The ceremony commences precisely at 11:00 a.m. with a wreath laying at the Tomb of the Unknowns and continues inside the Memorial Amphitheater with a parade of colors by veterans' organizations and remarks from dignitaries. The ceremony is intended to honor and thank all who served in the United States Armed Forces. Throughout the month of November, there are many other ways to celebrate veterans and their families, both locally and nationwide. To learn more about ways to get involved, view the Department of Veterans affairs calendar of events here.
A Long-standing Tradition
Andersen has been dedicated to supporting military veterans, active duty personnel, and the extended families who love, nurture and sustain them throughout their training and deployment for more than a century. During World War I, under Fred Andersen's leadership, Andersen suspended normal business operations to produce more than 200,000 window frames for barracks and other military buildings. Employees also manufactured thousands of target frames used in gunnery practice. By 1918, the plant devoted its entire attention to the war effort, suspending normal business. Also during WWI, Mary "Molly" Andersen created the first American Field Service recreation camp for U.S. military nurses in Europe.
During World War II, Andersen redesigned its Narroline® double-hung window to eliminate 97 percent of critical materials for the war effort, aptly naming it the Victory window. Andersen also contributed to the war efforts by producing wooden ammunition boxes. In recognition of these efforts, Andersen earned two prestigious Army-Navy "E" awards, an honor presented to companies whose production facilities achieved "Excellence in Production" ("E") of war equipment.
In 2019, Andersen Corporation was recognized as a Yellow Ribbon Company by the Minnesota Department of Military Affairs (the Minnesota National Guard), for its commitment to leveraging existing programs and building effective support initiatives for vets, active military employees, and their families.
"At Andersen, we believe in working all together to make our company and our communities stronger. It's a privilege to join the Beyond the Yellow Ribbon program as an ardent supporter of veterans and military personnel who have dedicated their lives to selflessly serving our country," says Jay Lund, chairman and CEO of Andersen Corporation. "We are proud of our employees who serve or have served in the military and we look forward to welcoming more service members and veterans to cultivate long careers with Andersen."
Andersen is also a signee of Employer Support of the Guard and Reserve (ESGR) Statement, demonstrating the company's commitment to maintaining the strength and readiness of the Nation's Guard and Reserve units. As part of its comprehensive plan, Andersen commits to new and continued programs that:
• Hire, retain and support employees who serve in the reserves
• Sponsor career events for people transitioning from active military duty to the civilian workforce
• Create support plans for deployed employees and their families
• Provide pay differential above legal requirements for employees who are active in the armed forces
• Engage with veteran-owned businesses and work to include diversity in its supply chain
• Focus on aiding veterans' support nonprofit organizations
Other resources for employees include pay continuation offerings for veterans called to active service and the Military Connections employee resource network which helps to lead initiatives and assist with identifying resources and support for our veterans, active military employees, and their families.
Says Lance Whitacre, Sr. VP of Manufacturing and Logistics and Military Connections executive sponsor, "During November, and especially on this Veterans Day, I want to thank our employees and their loved ones for their military service to our nation. You are true heroes. My father and my grandparents served in the U.S. Military, and while I think of them on this day, I also think of our vast group of colleagues at Andersen Corporation and Renewal by Andersen who have served and continue to serve our country. The Military Connections ERN continues to find new ways to connect and support servicemembers and veterans within our company, and we will proudly support their efforts to further engage and look for new opportunities. Thank you again for your service and thank you for making Andersen Corporation and Renewal by Andersen special places to work."
Renewal Heroes
At Renewal by Andersen, we are thankful for our veterans not just on November 11, but every day. As a military-friendly business, we have many current and former servicemen and women on our teams who are doing great work and play vital roles in helping us grow and thrive as a company. Check out just a few of the military connections and stories we have spolighted this year.
Joining New Ranks
Don Pate has been through a lot of changes recently.
"It's been a big 18 months," he says, smiling. And he has great reasons to smile.
In the past year and a half, Pate and his wife had their first child, they moved to a new house, his wife got a new job opportunity, and Pate transitioned out of the U.S. Army and started a new job at Renewal by Andersen of Louisville.
That's a lot of change, personally and professionally.
But before we talk about Pate's new career at RbA, let's take you back to what eventually led him to the team in the first place: the U.S. military.
Rising Up the Ranks
Pate grew up in Charlotte, North Carolina, and when it came time to decide what to do after high school, he knew he wanted to go to school. But two reasons led him to enlist in the U.S. Army.
"It was the height of the Iraq War, and I was feeling patriotic. So, I said 'Well, I can fulfill my patriotic duty while not going into student debt,'" he says.
In 2005, he signed on with the U.S. Army. He went to school first, enrolling in the ROTC program at the University of South Carolina, and after graduating in 2009, he was activated to serve.
During the next 11 years, Pate would rise through the ranks, eventually achieving the rank of Field Artillery Major and leading a battalion of more than 200 soldiers. He was deployed three separate times to Afghanistan for a total for 30 months and was awarded numerous times, including three Bronze Stars for meritorious service while deployed, two Meritorious Service Medals, a Combat Action Badge, and a Ranger Tab.
"It was a privilege and an honor to do those things and having the opportunity to serve was a great adventure. I'm very grateful for the opportunities that I got and the people that I met along the way," says Pate.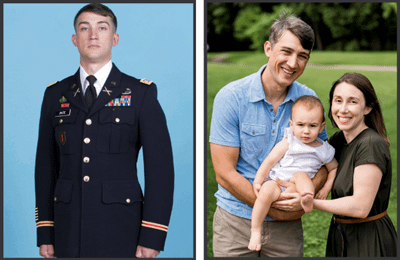 Family Time
Yet, as his time in the military continued, a new chapter was calling. During Pate's service, he met his future wife.
"My wife never left Louisville for my entire career, so we were separated geographically," says Pate.
His military career had him stationed at numerous bases, including in Washington, Oklahoma, Texas, the Northeast coast, and twice to Fort Knox in Kentucky, which is where he wrapped up his military career. It was time for a new chapter.
"My wife and I decided that it's her turn to have a career," he says.
An Opportunity at RbA
Fast-forward to 2021, and Pate, a new father, was looking for his next career move and transitioning out of the Army. That's when he heard about USA Cares, a Kentucky-based non-profit that provides post-9/11 military veterans, service members, and their families with emergency financial assistance and post-service skills training to create a foundation for long-term stability. Job placement is a major focus within the organization, which now has chapters in 12 states.
With a newly formed partnership between RbA and USA Cares, Pate started working in an operations and planning role for RbA of Louisville in August, using the skill set that he developed during his time in the military.
Now, three months into the job and he says he can't say enough positive things about his time at RbA, and believes that his military training and the resilience and adaptability he picked up in the service were all a great help in preparing for his new role.
"One reason that I'm really happy that I'm here is that I feel like I'm making an impact. I can't say enough awesome things about working at RbA of Louisville, especially letting me learn the language, the business, but also giving me the freedom to problem-solve things," he says.
Says RbA Louisville owner and general manager Tim Helfrich: "We needed a new logistics manager, and that's what Don did for the Army, which is exactly what we needed. He has fit in smoothly and it's been awesome."
As Pate settles into his new role, he's reflecting on his time in the military. Now a civilian, Veterans Day feels different than it has in previous years.
"It's nice to know that people give us thanks and they've been appreciative of the separations and deployments and hardships. But at the same time, I chose that life of military service," he says.
It's a service that he's thankful for having done, and at the same time, he's thankful for his next chapter at RbA.
"I'm ever so thankful for having the opportunity to make a difference at RbA of Louisville. It's been great."
Chance Connections
Nolan Kohlrusch (In-Home Sales Rep I) and Aaron Johnson (Sales Manager II) share a unique connection that spans military and civilian life.
Captain Nolan Kohlrusch was a Commander and CH-47F Chinook Helicopter Pilot and served in the National Guard for 13 years from 2006 to 2018. Kohlrusch's tours include Operation Iraqi Freedom (2008 to 2010), Operation Inherent Resolve, and Freedoms Sentinel Afghanistan (2016 to 2017). Kohlrusch began his civilian career with Renewal by Andersen in January 2018 as a Sales Consultant.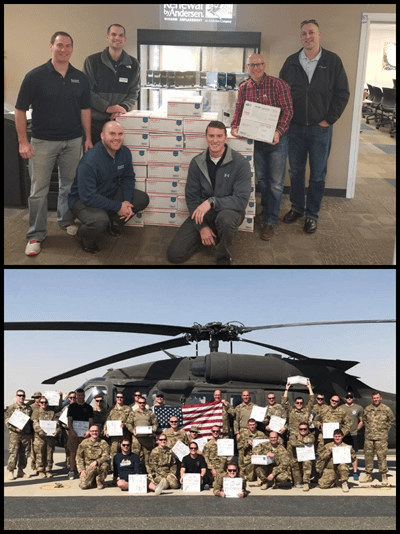 A First Lieutenant in the Army National Guard, Aaron Johnson served as part of the 211th Charlie company from 2018 to 2019, and spent time in Kuwait, Iraq, and Jordan, His company supported the 5th special forces group for their medivac operations. After his final tour, Johnson joined the Renewal by Andersen team in February 2020.
While the two bonded initially at work over their shared service, they soon learned that their connection actually preceded their in-person meeting.
In 2018, not long after starting at Renewal, Kohlrusch had approached his supervisor and asked to set up a military care package drive in support of a sister company to the helicopter brigade that he had done training for in the Guard. Buy-in was immediate from everyone at the Twin Cities branch, and it quickly became a team effort. The location collected several thousand dollars to outfit the care packages, went on a shopping spree, and then sat down to assemble the boxes and write handwritten letters for the 40 servicepeople overseas.
One of the (anonymous) recipients of those packages? None other than a one, pre-RbA, Lt. Johnson. It was, he says, a welcome change from the day-to-day, and a true spirit-lifter for the folks serving so far from home. "To be the recipients of, quite literally, the largest package drop that we received the entire time we were over there, from people that we really didn't have much knowledge of who they were, and they certainly didn't know who we were, was pretty humbling and it feels awesome. The best thing I got out of there was the softest pair of socks. It feels amazing having an organization reach out and just give to people that have no idea who you are."
Fast forward to 2020...Johnson was excited to begin his career at Renewal, and was in the middle of onboarding and sales training at the Twin Cities branch when he put two and two together and realized his new co-worker was not only a vet like himself, but also the person behind that cool care package he'd received overseas. It only reinforced to him, he says, what an opportunity he had in being a part of a company that whole-heartedly support both active and retired military personnel.
Kohlrusch agrees: "Renewal by Andersen is an organization that helps with the transition from military career to civilian career. What a company does for those individuals is one thing, but what a company does for individuals post-military career is a whole other thing," he says.
Adds Johnson, "[The level of help] you receive with that transition here is something I have never seen at any organization I have worked with in the past. It isn't that the company is just, 'oh, we want to do these awesome things and share them publicly...' but, rather the work behind the scenes, how we are assisting people every single day who have served up to 28 years or more... That's a whole other level of awesome in my opinion," he says.
And while Renewal by Andersen may be helping veterans, both men agree their military backgrounds have helped them help their careers at RbA, as well. "In the service, we say 'you embrace the suck together'--meaning you are in it together, and you need to be able to build relationships that are really, really, strong. That training has carried over to my career very effectively. It really has given me an opportunity that when I go into a home, I can build those relationships, I can gain trust, retain trust throughout, and follow up and be present when the time comes," says Johnson.
"When you're in the service, you are presented with every walk of life, so you learn to work culturally and individually with every background. Sales, especially in-home sales, is really similar to that, when you're in a very diverse community and when you knock on a door you never know what you are walking into and you are so prepared for that, and maybe others might not be. I think that's a huge advantage coming out of the military in general, no matter what [role you had when you served]."
A Life of Her Own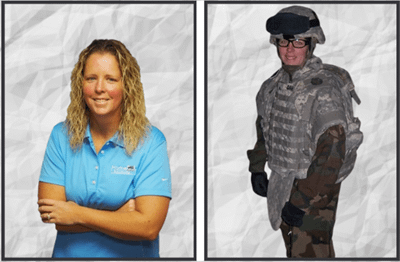 Every veteran has a reason for joining the U.S. military. For Alisha Loegering, it was to build a life of her own. "I came from a family where I had three older brothers. I was the youngest and the only girl, so I was a little bit spoiled. It was time for me to grow up and be my own person and realize that I could do things on my own," she says.
At the time, Alisha was 21 years old and a college student in Moorhead, Minnesota, studying physical education. Like the rest of the world, she had just witnessed the terrorist attacks of 9/11. That event, she says, was a major part of her decision to serve our country. She enlisted and ended up spending eight years in the Army National Guard and two more years in the Air National Guard.
Between 2005 and 2007, she was deployed to Iraq. For much of her time, she worked in an office and became a sergeant in human resources, where she oversaw paperwork for about 250 soldiers and got experience being on the road with her company.
"Initially, when you deploy, it's kind of the fear of the unknown. Then you get there, and you meet people and become really close with people that you're deployed with because you spend day in and day out with them," Alisha says.
Alisha's time overseas was not without tragedy, adding to what she calls a "rollercoaster" of an experience. "We lost a first sergeant, who is the person who is in charge. I worked with him every day, so that was definitely a down slope of the deployment for me. It was a challenging time to build strength within myself mentally, and pull through that and help the company run as we figured out a new avenue and a new first sergeant," she says.
Through it all, Alisha says her experience taught her to be emotionally strong. She also gained friendships that will stay with her for the rest of her life.
Career-wise, Alisha's HR experience in the military taught her skills that she uses today, as Human Resources Director at Renewal by Andersen's affiliate operation in Albert Lea, Minnesota.
Just like in the service, "you're still taking care of people that belong to your company, making sure they're getting everything they need to get as far as employee relations retention and morale and trying to build a positive culture," she says.
Watch more of our conversation with Alisha in the video below.
Now Hiring Heroes
We are committed to hiring veterans, and recognize that military veterans possess the drive, independent work ethic, and leadership skills that are hard to teach. We encourage and welcome veterans of all branches of the service to learn more about us and consider joining our team.
Are you a veteran and looking to start that next career stage? It could be with a long-standing American company, devoted to improving homes, lives, and communities. We have openings across all areas of the organization, from product manufacturing specialists, master installers, dynamic sales consultants, marketing, IT, and RD&I professionals, and many more.
Renewal by Andersen has locations throughout the country, so we welcome our employees, friends, and advocates to refer a veteran today!
Check out career opportunities on our careers page!