Team Spotlight
ESL program helping to change lives at work and at home
Sony Saw has been working at Renewal by Andersen for two years on the Glider production line in Cottage Grove, but being able to communicate while on the job hasn't always been easy, because for Sony, English is not his first language. Instead, it's Burmese.
Says Saw, who moved to the United States in 2004 from Myanmar (formerly Burma), "I could only speak English a little bit, so when I came to RbA, it was hard to understand everyone. I could communicate with the Hmong people, but other than that, I kept quiet."
When Saw heard about the English as a Second Language (ESL) course that is offered at Renewal, he knew it was a good opportunity and a good challenge to take on. During the 40-hour-long course in Cottage Grove, Saw and classmates learned the language of the window industry, how to talk about common payroll and human resources topics and workplace safety issues, among others. He recently graduated from the course and when talking about it, he was all smiles because he has a newly-gained confidence at work and at home.
On the production line, Saw says he now has more conversations with his teammates.
At home, and what may be most immeasurable, is the joy and confidence that Saw feels with his family. He can now talk to his children and grandchildren, who grew up in the United States and primarily speak English.
"I'm so happy. When I go back home, I teach my wife what teacher Heather taught me," he says.
"Sony is fun, and he is very dependable. You always know that Sony is going to make quality parts and get along with people. He is a hard worker and a team player and he is probably one of our strongest team players," says Riley Watson, Value Stream Supervisor II.
Watson is also seeing the impact of the ESL course.
"There are some things we just take for granted, like Sony said. For example, knowing what AM is. It stands for Autonomous Maintenance and we just use that term on the fly out on the floor. You just assume everyone knows what that means. You start to realize how many assumptions you make in your day about assuming that people are really understanding about what you are saying. You realize all of the gaps we have in our daily work that don't accommodate for people don't have English as their first language," says Watson.
The ESL course aims to help fill those communication gaps and build a pipeline of diverse talent.
Now a graduate, Saw is encouraging others on the production floor to take the ESL course, and he is thinking about his next step at Renewal. He wants to be a supervisor.
"They taught us the information it takes to be a supervisor. You have to be a people person and clean up after yourself. I talk to my friends on the line and tell them about it. They tell me they want me to be a supervisor or a leader someday," he says.
Being a supervisor. After graduating from the ESL program, Sony Saw feels that he can be one step closer to that goal.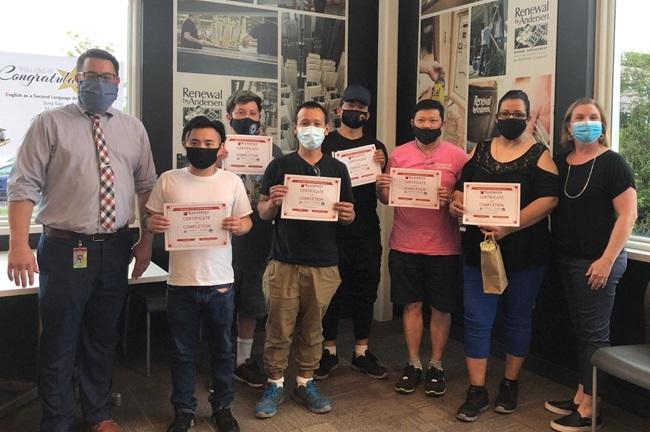 About the Course
Since 2020, RbA of Cottage Grove has partnered with Great Rivers Adult Education Consortium – South Washington County School District to offer English classes to employees. In this course, students learn the language of the window industry, gain benefits and health care understanding, build digital literacy, gain confidence to advance their careers, and confirm their understanding of employee workplace safety. Employees arrive one hour before their shift or stay one hour after their shift to complete two hours of classroom time, two times each week. Many RbA students simultaneously complete additional evening courses in Grammar & Pronunciation, on their own time.
Be You. Be Renewal.
We are hiring! Innovation is at our core, and culture is the spark that drives us. Our Signature Service promise of "the best people in the industry, a superior process, and an exclusive product," has let us install more than 6 million windows in homes across North America...and has helped us be named one of the top workplaces in markets all across the country. Every role at Renewal by Andersen plays a part in delivering surprise and delight to our homeowners. Our customers are trusting us with their most valuable possession—their home. It's an exceptional responsibility and we rely on our exceptional people to live up to it. Whether you are interested in manufacturing, marketing, business analysis, engineering, sales, or more, we have a openings to match your unique skill set.
Don't know anything about the window industry? Not a problem...we want good people with great skill sets; industry knowledge is something that can be taught. It is our goal to bring out the best in everyone. We are dedicated to having an innovative and welcoming workplace where all people feel respected, valued, and driven to realize their full potential.
Learn more about life at Renewal by Andersen and see opportunities available in your area here...or watch the featured video below to see "Who We Are" in action!
Who We Are
Who we are is not just what we do, but why we do it. Ultimately, we do what we do to make a difference--a difference in the lives of our homeowners, AND a difference for our teammates and our communities. Culture is the spark that ignites us, and lets us bring a world-class experience to our customers and drive positive interactions with them and those around us.
We'd love for you to learn more about how you can be a part of the team! Visit Careers at RbA today!