Team Spotlight
RbA of Greater Maine: "We Are Family"
How do you sum up RbA of Greater Maine in one word? Family.
"Our team is our family. Everybody takes care of each other," says Jessica Pearl. She and her husband Troy have owned RbA of Greater Maine for the past five years.
"We're more than financially invested in this business, we are emotionally invested," she says.
Emotionally invested in their colleagues, too.
"If anything is going on in their lives, it's the Renewal team that steps up first," she says.
Something was going on in the life of one of her newer installers, Johnny Jordan. Something difficult.
Johnny and his partner Sonja Salley want children, but, the two had found out that they can't have children of their own. With that news, they began looking into adoption, knowing that it'll cost them more than $30,000. Money they didn't have.
So, the couple created a soap company to help fund their adoption. They figured it would take them years to raise the money, but they remained determined to adopt a child.
Jessica and Troy Pearl learned about the couple's soap business and thought it was a neat idea. They later learned that it wasn't just a hobby, rather, a means to fund their adoption. After hearing that part of the story, it created an instant connection between the couples.
"Adoption is close to our heart," says Jessica. She and Troy have six children. One of them is adopted.
Jessica and Troy knew in their hearts that they wanted to help Johnny and Sonja. So, on November 15, they made a phone call.
"When Troy and Jessica called us, I was in shock, I immediately started crying." - Sonja Salley
The Pearls called to say that they were donating $15,000 to Johnny and Sonja's adoption fund.
"It was a no-brainer for us," says Jessica. "They have really big hearts and they have a lot of love to give. I think Troy and I both had tears in our eyes. It was really touching to be able to hear their relief."
"It gave us a lot of hope," says Johnny.
"Honestly, there are no words to say... 2020 isn't horrible. There are good people," says Sonja.
The donation helped Johnny and Sonja get lined up with an adoption agency. Now, they'll continue to raise money, to one day bring home a son or daughter.
"We're just so excited and we can't wait to watch it unfold for them," says Jessica.
The Pearls have always known that their RbA affiliate operates like a family. Now, Johnny and Sonja know that, too.
"The people are absolutely amazing. Everyone who works there is just like a family. That's exactly what it is," says Johnny.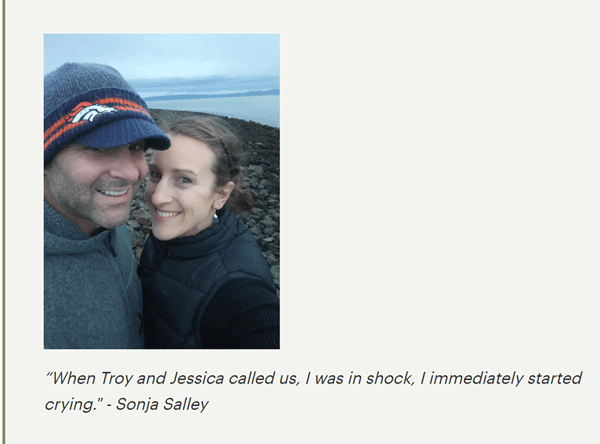 We're Here When You're Ready
When it comes down to it, it's you, our homeowners, who have the final say in how and when we work with you. Your convenience and comfort level working with us on your homes is paramount. That's why we've adjusted our operations and now offer virtual consultations so you can meet digitally with your design specialist and review your window needs. Whenever--and wherever--you need us, we're here for you. Learn more in this month's featured video, or visit us on our website to learn more!
❝I had 13 Windows installed and the installation was completed within six hours. All of the installers had covers over their shoes and no one came into the house without covered shoes. They also laid runners throughout the house and by each window to catch any residue from the old windows. I highly recommend using Renewal by Andersen for new windows. Thank You for your services!❞
--Carolyn L.
Belleville, IL
❝Overall, the windows/doors are great. I've certainly noticed a reduction in drafts and cold spots. The installation was outstanding. I had one problem spot and the crew was able to sort it out. I was impressed by the skill and craftsmanship of the crew. Even the building inspector was impressed by the level of detail shown in the installation.❞
--Teresa D.
Newington, CT