Team Spotlight
RbA Greater WI and National Inside Sales Center spread warmth
Winter in the upper midwest can be challenging enough without the added strain of not having a suitable garments to keep out the elements, stay safe in inclement weather, or even simply commute to work and/or school every day. See how two of our teams are helping out.
National Inside Sales Center: Stillwater, MN
One location holding a winter clothing drive was the National Inside Sales Center (ISC) (located in the Twin Cities, MN area), which partnered with St. Croix Falls Elementary School, for their 1st annual "Winter Readiness" clothing drive.
The need for the drive was identified by ISC Specialist Paige Jackson. Jackson's young son Carter came to her, concerned, as he noticed he had fellow classmates who were not able to participate in recess due to a lack of weather-appropriate apparel. He wanted to see what they could do to help, and the ISC rallied together to start the clothing drive.
Through employee donations, a wide range of coats, snow pants, boots, hats, and gloves were purchased or donated to help students stay safe, warm, and active. Says Megan Amundson, NISC Supervisor, who helped organize the drive, "This really speaks to who we are at Renewal...it's a culture where we help each other freely, without being asked, or without expectation. Paying it forward is done without hesitation."
Renewal by Andersen of Greater Wisconsin and Milwaukee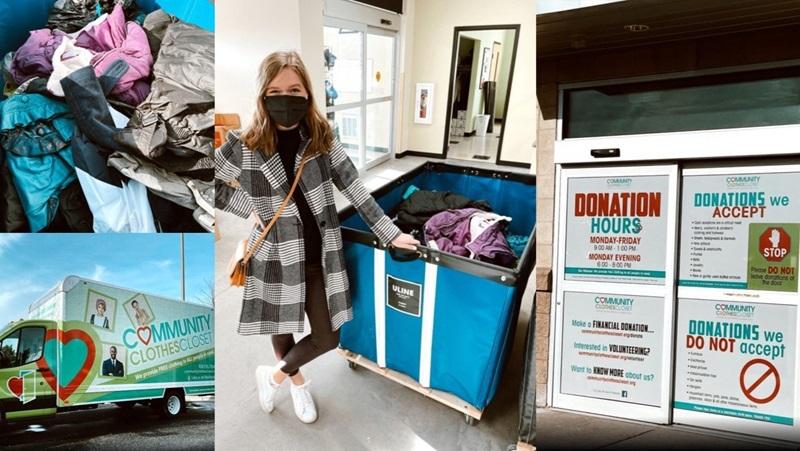 As we get into the colder months, Renewal by Andersen of Greater WI and its sister location, Renewal by Andersen of Milwaukee, are helping keep people warm by collecting new and gently-used winter coats in a coat drive for Community Clothes Closet in Menasha, Wisconsin.
Says Social Media coordinator Alaina Steffes, "Our teams were able to donate many winter coats, hats, mittens, scarves, and boots for the nonprofit. We are proud to have been part of the amazing things that the Community Clothes Closet is doing within our community! Big thank you to everyone on our team who donated winter coats, hats, and mittens this past month!"
The Community Clothes Closet is a nonprofit organization with the mission of providing free clothing to individuals in need. The group was founded with the belief that clothing can open the door to a better future by providing the confidence needed to ace a job interview, project a healthy self-image in a social situation, or stay safe from inclement weather. Individuals get referred to them from other human services organizations. Once referred, the individual and those living in their household can shop for an entire year. They are also offered the opportunity to participate in the many programs offered by the Community Clothes Closet.
Want to get involved? Learn more about the organization here.
At Home With Laurie Returns!
Home improvement pro Laurie March is back on the road to meet some of our amazing homeowners and capture their cool projects for season two of "At Home with Laurie." In this episode, Laurie travels to Jersey City, NJ to chat with Adam and Sumit who have renovated their historic 1880's row house with beautiful Renewal by Andersen windows.
Did you miss season one of this fun series from producter, designer, and HGTV personality Laurie March? You can catch up here.
Want to see what else Laurie is up to? Check out Get Inspired With Laurie!