Celebrate National Dog Day with RbA!
August 26 is National Dog Day, and this month, atHome is celebrating (Hu)Man's Best Friend with a shout-out to some of the best puppers on the planet. First up is
RbA Goes to the Dogs
where some of our design influencers let their pooches take the reins for a day and give us tours of their cribs. We also showcase our *own* four-legged co-workers and some of the great pups we've come across in our clients' homes in
The Dogs of RbA slideshow
! Finally, check out our feature on
Hero Dogs,
true stories of canines who were not only beloved pets but also soldiers, scientists, first responders, and more!
Doggone Good Design
You probably follow our design influencers and brand ambassadors on social media and on our Get Inspired website for their...well, designs, right? Well, keep this on the down low, but this month we've made a few friends who are near and dear to our influencers' hearts...and we're pretty sure that THEY just might be the creative forces behind all the awesome projects Anthony, John, Laurie, and Liz Marie come up with. And for sure we can tell these four-legged wonders have great taste in windows, right?
What would happen if the pups did a social media takeover of their own? If These Dogs Could Tweet? If Instagram became InstaDOG or we all went to FaceBark to see what was going on? Here's your chance... Come along with us as RbA Goes to the Dogs, and we get to meet these creative arf-tists on their own turf!
Laurie March and Rupert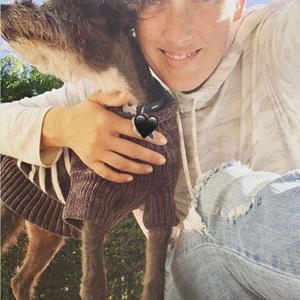 Remodeler, designer, project manager...Laurie March is the versatile host for a number of popular DIY and HGTV digital series--and of course, the host of At Home With Laurie featuring homeowners from around the country.
A third-generation home improvement professional, Laurie has a passion for remodeling that was that unearthed while remodeling her own 1920's Spanish style home. Known for her unique approach to project managing and remodeling, she focuses on overseeing both the emotional and the tactical aspects of a design project.
To see more with Laurie, visit: Get Inspired With Laurie or check out our exclusive web series At Home With Laurie.
Rupert March is 15 pounds of eternally scruffy, yet quietly debonair and eminently dashing rescue pooch. He is a true connoisseur of fine linens, and believes a dog's place is on a pile of silk-covered pillows...or hanging out with mom, which is also a good place to be.
Liz Marie Galvan and Winnie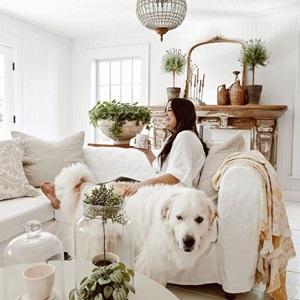 Liz Marie Galvan is everywhere these days (maybe you've seen her on the Today show or touring and promoting her newest book?) She's a designer, small business owner, Instagram personality, author, and the purveyor of LizMarieBlog.com and Whitecottagefarm.com.
A few years ago, she and her husband Jose and moved back to their home state of Michigan, bought an 1800s-era fixer-upper farmhouse on 7 acres, and got to work transforming it into their dream home. Together on all of their platforms, they share the ins and outs of farm life, DIY ideas and inspiration, and stories from our hands-on renovation projects. You can also follow her at Get Inspired With Liz Marie.
Winnie Galvan is a 3-year-old Great Pyrenees who joyously shares her farm with many canine, feline, and ovine (sheep!) siblings and her human brother, Copeland. Being almost human sized, she was a great help in overseeing the window project, making sure every one gave her an excellent vantage for keeping track of all of the White Cottage Farm residents. She also knows which ones bring in the coziest sunbeams, too!
John Colaneri and Brady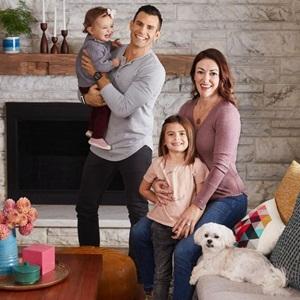 Designer, business person, and TV personality...John Colaneri wears a lot of hats. He is perhaps best known as one half of HGTV's "The Cousins" (with Anthony Carrino), having appeared on numerous series including Kitchen Cousins, Cousins On Call, and Cousins Undercover. John is also quite the business maven, having worked for international and Fortune 500 companies, as well as serving as the senior project manager in his family's construction businesss. Most recently, John launched his own development company, Lilyshea Development LLC, focusing on high-end residential design and custom spec homes. See John's rambler redo at Get Inspired With John.
12-year-old, shih tzu maltese Brady Colaneri is a picture perfect pup who absolutely never, ever, ever, no-bad-dog not ever, never barks at the delivery people, squirrels, or his long-suffering feline sister Luna. (Luna: "That is a patent lie, Brady")
Luna is a 7-year-old tortiseshell cat, who has agreed to play the role of a dog for this piece because "someone must fill these pages with quiety dignity." (Brady: "HEY! Luna, check it out! I can almost catch my own tail if I spin really fast!)
Anthony Carrino and Rossi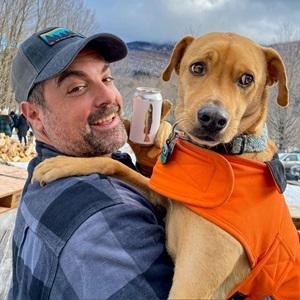 Anthony Carrino is a familiar face to fans of HGTV's Kitchen Cousins, and is a frequent contributor to the Ellen Degeneres, Rachael Ray, and Today shows. In addition to his work in television, Anthony has been in the construction and design industry for nearly two decades. He ran his own general contracting business with his father for 12 years, and he also continues to service private clients in both the residential and commercial design spaces.
The designer became the client as Anthony redid two of his own properties--first, an historic 19th-century firehouse he converted into a private residence for his family, and, second and most recently, an amazing stone getaway cottage in the Catskills. (He even got married there!) Check out both at Get Inspired With Anthony.
Rossi Carrino is 40 pounds of happy-go-lucky. The always-up-for-adventure Rhodesian ridgeback/whippet mix was rescued from St. Lucia and now enjoys chilling in his new sunroom, hiking with mom and dad (he was Ring Bearer at their wedding, too), and chasing S-Q-U-I-R-R-E-L-S. (Don't worry, Anthony, we won't say the word out loud!)