Not Every Hero Wears a Cape: Oct. 6-12 is National Fire Prevention Week
FPW 2019: "Not Every Hero Wears a Cape: PLAN and PRACTICE your ESCAPE."
What is a hero? Someone who rushes in to danger? Someone who helps others? Someone who does things to help other people?
Well, being a hero certainly COULD be all those things…but it can also be much smaller. For example, a hero can also be someone who takes small, but important, actions to keep themselves and those around them safe from fire.
When it comes to fire safety, maybe you're already a hero in your household or community (THANK YOU, first responders and all the brave firefighters!). But if you're just a regular joe or jane, you can still become one—it's easy to take that first step!
Helping everyone become a Fire Safety Superhero is the inspiration for this year's Fire Prevention Week (FPW) theme: "Not every hero wears a cape: PLAN and PRACTICE your ESCAPE."
Why should a solid fire escape plan be the cornerstone of your family's home safety toolkit? Consider:
🔥Home escape planning and practice ensure that everyone knows what to do in a fire and is prepared to escape quickly and safely.
🔥Today's homes burn faster than ever. You may have as little as two minutes to escape safely from the time the smoke alarm sounds.
🔥When the smoke alarm sounds in a real fire, it's too late to start making a plan.
Ready to get started? Visit the National Fire Prevention Association (NFPA) website and download their handy home escape plan grid. The planning grid is also available in Spanish.
According to NFPA statistics, in 2017 U.S. fire departments responded to 357,000 home structure fires. These fires caused 2,630 fire deaths and 10,600 fire injuries. On average, seven people died in a fire in a home per day during 2012 to 2016. In fact, the majority of U.S. fire deaths (four out of five) occur at home each year, and the fire death rate (per 1000 home fires reported to the fire department) was 10 percent higher in 2016 than in 1980.
"These numbers show that home fires continue to pose a significant threat to safety," said Lorraine Carli, NFPA's vice president of Outreach and Advocacy. "In a typical home fire, you may have as little as one to two minutes to escape safely from the time the smoke alarm sounds. Escape planning and practice can help you make the most of the time you have, giving everyone enough time to get out."
And while the NFPA and FPW 2019 are focusing on home fires, these messages of preparedness apply to virtually any location, continues Carli. "Situational awareness is a skill people need to use wherever they go. No matter where you are, look for available exits. If the alarm system sounds, take it seriously and exit the building immediately."
Be Safe and Smart: Additional Tips
A fire at home can start for many reasons—candles, cooking, electrical issues, heating, and smoking materials—to name a few. Because the causes are myriad, practicing fire prevention can keep you and your family safe. Fire Prevention Week is the perfect time to brush up on prevention tactics and prepare your family in case disaster strikes.
Here are a few additional tips to consider during this very important home safety week—and all year long.
5 First and Foremosts
1. First and foremost, install smoke alarms in every bedroom, outside each separate sleeping area, and on every level of your home – including the basement. Three out of five home fire fatalities happen in homes with no or non-working smoke alarms.
2. Next, identify potential fire hazards. Do you have frayed or exposed electrical wires? Are space heaters located near curtains or other flammable materials? Fix what you can and know where other potential dangers lie.
3. Install fire safety windows and doors. If that is not an option, use fire retardant products to fire proof windows and doors. This slows down the fire and helps prevent it from spreading.
4. Plan and practice an escape route. Determine at least two ways to escape from your home and select a location outside for everyone to meet. Also, plan what to do with family pets and know who to call for emergency assistance.
5. Many children are not aware of potential fire hazards. Check out these fire prevention tips for kids to ensure proper fire safety and prevention is practiced by the entire family.
Remember the 3 L's
🔥"LOOK" for places fire could start. Take a good look around your home. Identify potential fire hazards and take care of them.
🔥 "LISTEN" for the sound of the smoke alarm. You could have only minutes to escape safely once the smoke alarm sounds. Go to your outside meeting place, which should be a safe distance from the home and where everyone should know to meet.
🔥"LEARN" two ways out of every room and make sure all doors and windows leading outside open easily and are free of clutter.
More on Developing an Escape Plan
A home escape plan includes working smoke alarms on every level of the home, in every bedroom, and near all sleeping areas. It also includes two ways out of every room, usually a door and a window, with a clear path to an outside meeting place (like a tree, light pole, or mailbox) that's a safe distance from the home.
NFPA offers these additional tips and recommendations for developing and practicing a home escape plan:
🔥Draw a map of your home with all members of your household, marking two exits from each room and a path to the outside from each exit.
🔥Practice your home fire drill twice a year. Conduct one at night and one during the day with everyone in your home, and practice using different ways out.
🔥Teach children how to escape on their own in case you can't help them.
🔥Make sure the number of your home is clearly marked and easy for the fire department to find.
🔥Close doors behind you as you leave — this may slow the spread of smoke, heat, and fire.
🔥Once you get outside, stay outside. Never go back inside a burning building.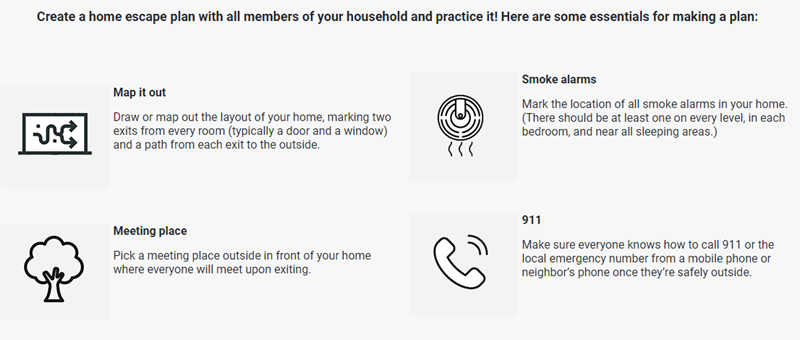 The National Fire Protection Association is the official sponsor of Fire Prevention Week, which is held every year the week of October 9 (the anniversary of the Great Chicago Fire). To learn more about this year's Fire Prevention Week campaign, "Not Every Hero Wears a Cape: PLAN and PRACTICE your ESCAPE", and home escape planning, visit firepreventionweek.org.
Downloads courtesy of and press release content reproduced from NFPA's website, www.nfpa.org/publiceducation © NFPA.