Forget the Mother of Dragons…Punxsutawney Phil Says "Spring Is Coming"
We're more than halfway through February, and that means two things: it's home and garden show season… and spring is right around the corner! (And even if you're one of our snow-bound northern neighbors, it's still not THAT far off)
Whether you're putting your home on the market this spring or just feeling motivated to give it some TLC as soon as the crocuses start their brave journey upward to the sunshine, the look and feel of the outside of your house is often just as important as the inside.
So as you get ready for warmer weather consider adding one or more of these exterior update projects to your spring to-do list. (And, of course, stay tuned to atHome, where we go in depth on many of them!)
Ding-Dong Ditch the Old
Create a welcoming entryway by replacing or updating your front door. For a quick cosmetic fix, paint it a bright or bold color, get creative with decorative house numbers, or add a fun or funky doormat. Want something dramatic? How about adding some sidelights to bring in daylight and add curb appeal.
Ready to put your fab face forward? Check out this article on the psychology of door colors—and find out what your front entrance says to the world.
Green It Up
Let Mother Nature do your decorating. Weed and replant flower beds and add mulch or wood chips to finish the look. Window boxes filled with brilliant annuals are an easy way to bring color to your home. (Check out these
window box ideas
for more inspiration.)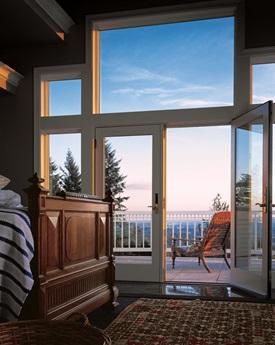 Update your deck/patio.
Everyone loves stepping into an outside oasis. Why not consider some ways to perk up your patio for spring?
One way you can set the stage for it is by refreshing your patio door. Whether you choose a classic French-style patio doors or a more contemporary door design, it's important to find a high quality door that will last and a style that adds to the character of your home (both inside and out).
Get Your Gleam On
Prettify your picture window—or any window—by giving it a thorough washing inside and out. It's like having a made bed—it makes everything else look better! Oh, and don't forget to clean those insect screens. (Need tips? Get them here!)
What's Old Is…Old
Put away the squeegee. Maybe your windows are beyond just needing a "spit shine". If your windows could use an upgrade, consider replacing them with a new look and style custom matched to your home. If you have trouble deciding on a window style or color, use our visualizer app to create a 3D model of your house to preview how it will look!
Want more tips for getting ready for spring? Check out our homeowner's blog!