Get to Know French Doors
See how you can take advantage of this fabulous fenestration favorite in your own home
Hailing from the architecture of centuries past, the French door is at once historically significant and modernly purposeful. This wood-paned door with symmetrical glass insets was introduced to the French during the post-war Renaissance period–during which time electricity was yet to be in use. Thus, these window-like doors brought immense light and illumination to dark interior spaces and allowed for expansive views of the outdoors.
When one thinks of a French door in a historical sense, often the Palace of Versailles comes to mind with its breathtaking Hall of Mirrors featuring mirrored walls facing a long bank of floor to ceiling French doors. These innovative doors allowed light to spill in and illuminate the hall's interior in the most magical way.
Today, these doors are still used for the same purpose and continue to be one of the most popular types of doors across many décor styles from traditional to minimalist. However, the French doors definition and design have changed a bit – instead of the original multi-pane grille-style design, they now come in contemporary designs, with and without grilles. These updated French door styles allow for more light to flow through and into interior spaces and provide unobstructed exterior views.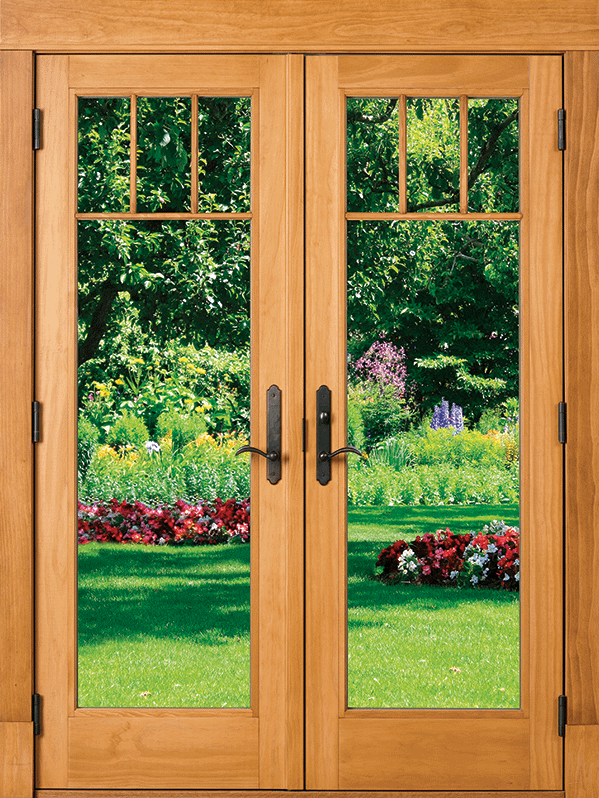 What do French doors look like?
Focusing on proportion and symmetry, the doors' design features panes of glass inset into frames (or a simulation of individual panes, created using grilles) echoing the structure and look of a window. They can be installed in many configurations and multiples of units to suit the intended space and function. While traditional colonial-style grilles were once ubiquitous, today, patterns range from colonial to prairie, fractional to farmhouse (pictured), even to custom...or no grilles at all. Hardware can be traditional and ornate, or sleek and modern.
Comparing interior vs. exterior doors
While both interior and exterior French doors appear similar at first glance, they are indeed very different in construction, purpose, and cost.
Interior doors, often used between rooms such as the kitchen and dining room, can be lighter and less expensive than an exterior door, as they do not need to stand up to the elements of nature. They are often comprised of materials like lightweight wood or fiberboard. Because they are inside the home, in between rooms, security and energy efficiency are not as paramount as they are with exterior doors, which are keeping the outside world at bay. Interior doors do not typically need special weather treatment—a simple coat of paint/stain or varnish can last them for many years—nor do they need they same level of insulation.
Exterior French doors are solid and often composed of hardwood or steel or other metal, and can be clad in vinyl, aluminum, or fiberglass for extra protection from the elements. Glass is typically energy-efficient, as well as tempered. And, of course, because it's not only Mother Nature you need to keep out, exterior French doors will come with a locking system—preferably three-point or more.
At Renewal by Andersen, we offer beautiful Andersen Frenchwood® patio doors with stainable oak, maple, pine, or prefinished white interiors. Frenchwood ® exteriors are available in a variety of colors in a urethane finish or in a low-maintenance vinyl. Frenchwood® doors are available in both hinged and gliding styles.
For those who like the light and the function of a gliding French door, but with a bit of a modern twist, we also offer two contemporary styles of gliding doors. Andersen Narroline® sliding patio doors feature a stainable natural pine interior and a vinyl exterior in your choice of six colors. Andersen Perma-Shield® sliding patio doors have a low-maintenance, rigid vinyl surface inside and out that protects its sturdy, engineered wood core.
Considerations when buying or replacing French doors: size, space, security
French doors come in a multitude of configurations: double door (pre-hung on a single doorjamb); pre-hung as a single door where only one side opens; bi-fold; sliding or gliding, or pocket door that slides into the wall, and more.
Depending on the model you choose, you can elect single-, two-, three-, or four-panel configurations (or work with us to design something unique!). You'll find our exterior French doors in two signature styles: Sliding French Doors and Hinged French Doors.
Frenchwood® hinged doors are the traditional-style French door. Like all of our Andersen® patio doors, they feature climate-neutral performance, with easy operation even in the toughest of climates, and an energy-efficient design with continuous weatherstripping and interlocking design features that help keep your home draft-free and provide energy savings, too.
The hinged model comes in traditional inswing, but is also available in a space-saving outswing version, as well.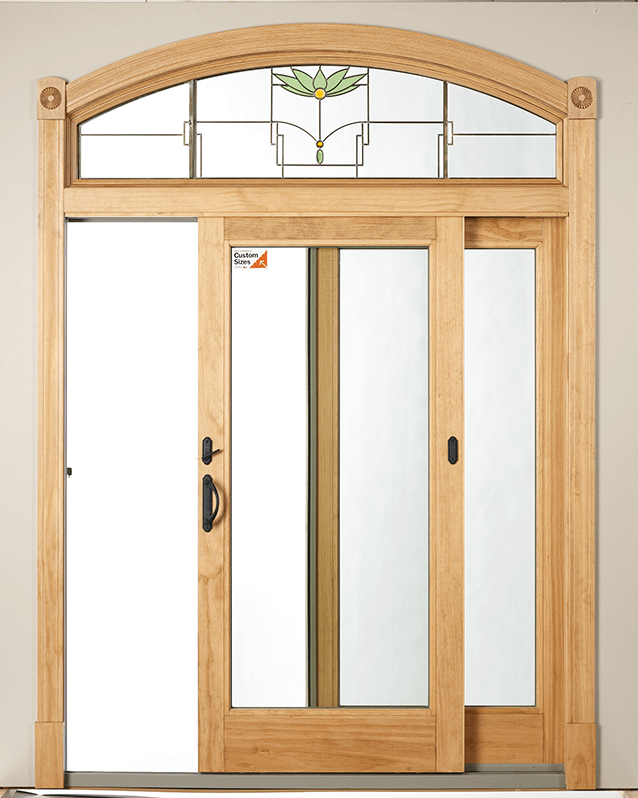 Want to conserve even more floor space? Try a gliding, or sliding, French door. Andersen® Frenchwood sliding patio doors combine the traditional styling of French doors with the space-saving convenience of a sliding patio door, adding a beautiful, energy-efficient touch to your home.
Also referred to as gliding doors, Frenchwood® sliding doors have redefined the traditional French exterior door category. These patio sliders have the same aesthetic appeal as standard French doors, but leave your floor space free for furniture and walkways.
Like their hinged counterpart, Frenchwood® gliders feature stainable oak, maple, pine, or a prefinished white interior. Multiple grille, color, and hardware options to match your home's architecture and overall style. And, because they're Andersen® patio doors, they're just as effective as effective in sealing out drafts and water.
Speaking of keeping the bad stuff out…our hinged exterior doors are equipped with multi-point locking systems to provide the ultimate in safety and longevity of use, and our sliding doors the unique Andersen® reachout locking hardware that pulls the door panel snugly into the jamb for a weathertight seal and enhanced security.
Since installing new doors is a major undertaking, you will also want to consult a professional before purchase and DIY installation. Or, of course, give us a call and our start-to-finish process will handle all aspects of your project for you!
Find the style French door that's right for you
There are many French door styles available from which to choose. You'll find styles from traditional to contemporary to meld nicely with any décor.
Traditional French door styles include the original colonial grille design and Prairie style doors. These types of French doors are ideal for use with semi-formal and formal homes.
Contemporary doors styles come with no grille or fractional grille designs making them perfect for use in modern, minimalist, and eclectic style homes. Homes where the view is meant to be maximized such as a mountain lodge or beachfront cottage, will find the contemporary styles give the most unobstructed views to bring the outdoors in.
No matter what your style, when you work with Renewal by Andersen, your door can be customized with a variety of hardware styles and finishes, grille patterns, and interior stains.
Whether you are looking for a contemporary glass door, a classic French-style hinged, or something uniquely you, Renewal by Andersen can help you complete your patio door project with a product that looks great—and performs with ease and excellence.
With so many different styles of French doors from which to choose, you are sure to find one easily to suit your space!
Why choose French doors?
🚪 French doors can bring immense beauty and brightness to your home. They offer semi-privacy when closed in the interior and can be a wonderful option to use between the dining room and kitchen or for entry into the great room or family room—keep them open to preserve an open-concept floor plan, or shut them when you'd like to have distinct spaces.
🚪 The large expanse of glass in these doors means you will never have a shortage of natural light, keeping your home bright and beautiful. Want to dial it back a bit? Certain models of our Frenchwood® doors come with a between-the-glass blinds option for when privacy or shade is called for.
🚪 French doors provide easy access to your patio or backyard, making them ideal for outdoor lovers and active families.
🚪 They are perfect for warm summer days or bringing the outside in--master the art of indoor/outdoor living with these doors.
🚪 Renewal by Andersen's 5-point locking system on its Frenchwood® patio doors not only offers an increased level of security, and also improves energy efficiency.
🚪 Solid wood exterior doors can provide increased energy efficiency as they are thick and protect against the elements. Interior French doors can be closed off to rooms not often used, allowing the rest of the home to heated or cooled more efficiently.
🚪 For homeowners or those who buy and sell homes, French doors make a valuable investment.
🚪 Because of its aesthetics, Frenchwood® doors prove to be a smart investment. With the addition of this type of door, you could increase the potential sale value of your home.
🚪 Our hardwood French doors can be bought to suit your décor and refinished to suit new owners when selling your home. Consult your local real estate agent to see if French doors are a wise addition for your home.
Need more inspiration?
Check out our photo gallery below, visit our website, or schedule a consultation today!