Honor and Remember
How a chance meeting turned into a unique memorial for a fallen soldier
When Renewal by Andersen of the Twin Cities design consultant Nolan Kohlrusch showed up for his appointment with Charles and Roberta Freese, he knew right away that he had something in common to talk about.
Kohlrusch, a Chinook and Black Hawk helicopter pilot and unit commander for the Minnesota Army National Guard, is also a combat vet who had served in Iraq during the most recent conflict.
"As soon as I walked into their home I noticed the military relics, the flag, the medals—as a vet myself, it naturally caught my eye. I assumed it belonged to Charles and we got to chatting about it and about flying helicopters."
As it turns out, Charles Freese was also a helicopter pilot (Kiowas) who had done several tours in Iraq. In addition, Kohlrusch discovered that Roberta came from a long line of military families, and that between her and Charles, they had had family members that had seen combat in every conflict since the Civil War.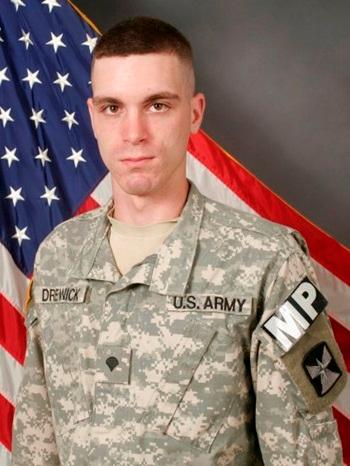 After talking a bit, Kohlrusch learned that most of the items in the main display case were actually for their 22-year-old son, Dan Drevnick, who had died in combat in 2009 (Operation Iraqi Freedom) when insurgents attacked his unit stationed near Basra, Iraq. "Charles and I were talking about what had happened, and about how it was sort of a random thing. Not something you necessarily expect. That area was considered one of the 'quieter' areas," he says.
"You know, serving over there, I'd been in hundreds of indirect fire attacks like that one…it's something you almost get used to. And you just never know. You never think, 'hey, it could be my day today.' But that day, it was a group of three Minnesota soldiers."
Kohlrusch had been deployed to Iraq at the same time as Drevnick, albeit at a different location. "I remember when this happened…so the story hit home on multiple levels."
The Freeses and Kohlrusch spent some time talking about the experience of serving, and sharing stories about Dan, and eventually got down to the original purpose of the visit—designing a window solution for the couple's two-story, Woodbury, MN, home that was undergoing a complete exterior transformation.
Charles and Roberta were looking to do the whole house's windows and a patio door. They also worked with Kohlrusch to design a beautiful entry door.
Unfortunately, a few days later Kohlrusch got a call from Roberta. In the end, she said, they had decided that given some other repairs they were making from a recent storm, the custom entry door just wasn't in the budget at that time. Kohlrusch assured them that removing the door from the order would be no problem, and put in a change order.
Meanwhile, the Freese's story had caught the attention of Twin Cities Senior Sales Manager Tim Ruff. With Memorial Day approaching, Ruff wondered if perhaps there was something they could do for the family. Ruff and Kohlrusch met with Tim Pepera (Area Director for Corporate-Owned locations) and RbA Twin Cities General Manager Andrew Knopick.
After some brainstorming ideas for volunteer activities or special projects they could help out with, Kohlrusch had an idea. "I said, wait—what about the door they were wanting to do? Is there a way we could help them get that entryway that they had initially wanted?"
Knopick agreed that that would be an excellent idea. "You know, doors—entry doors—those are such a personal part of these projects. It seemed like the perfect tribute for them."
The Twin Cities location decided to donate the door and the labor/installation to the Freeses, and when their tech measure appointment was scheduled, Kohlrusch paid them a surprise visit to let them know.
"I think they were surprised. Certainly touched. And it absolutely made my day to be able to share that with them," he says.
The door was installed on a beautiful May day, right after Mother's Day. On hand for the reveal were a small group of Renewal employees including Kohlrusch, Ruff, and Knopick.
Roberta and Charles shared a little bit more about their son with members of the team. "Dan was our 'wild child.' He had a rebellious streak—pierced his ears, grew out his hair in high school," says Roberta. A gregarious, energetic kid, Drevnick was "an adrenaline junkie" who loved racing cars, skateboarding, snowboarding and could always make people smile and put them in a good mood.
He knew that he wanted a career in law enforcement—his father Kenneth was a state trooper; his stepfather Charles a veteran of the National Guard—and so decided to go into the service to work toward his goal.
Despite the family's long history of military service, or perhaps because of it, Drevnick's parents were, understandably, nervous. "We knew he'd be deployed. We knew what that meant. But we supported him," says Roberta.
Drevnick enlisted at the close of his high school career in 2005—missing his high school commencement to go to basic training. "It's hard, as a parent, to see your kid enlist and go off. You want to protect them, and you hate to see them go off like that. But at the same time, when Dan came back from his training…he had grown up so much. He was so proud of himself. He felt good about what he was doing. It really was the best thing that had happened to him," Roberta recalls.
Following basic training, Drevnick enrolled at Century College, where he was studying law enforcement. He put his college career on hold when he was deployed to Basra with military police company of the 34th "Red Bull" Infantry Division out of Stillwater, MN, in March, 2009.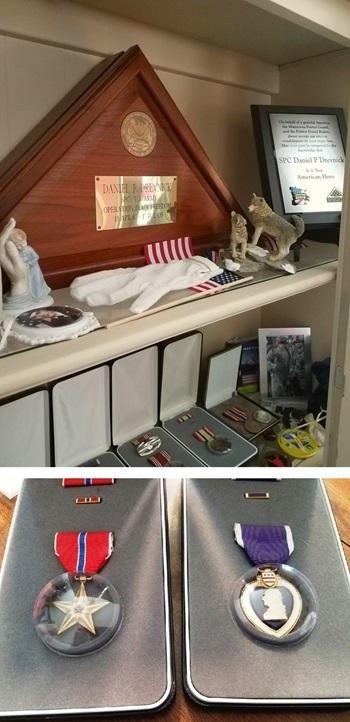 "Dan made very good friends in the service," says Roberta. "He thought of them like a second family. To this day, we are still close to them and their families. Still get together. Maintain that connection."
It was a mid-July day in 2009, and Drevnick and three of those good friends: Specialists Jacob Benson, James Wertish, and Carlos Wilcox, were about to start their shifts; Drevnick was headed out on patrol. The four were standing together, talking, when the hostile rocket was launched into the compound. Benson was the sole survivor of the attack.
Fast forward to nearly a decade later, as Charles and Roberta are showing some of the mementos from Drevnick's time in the Guard. The collectible coin commemorating the three young Minnesota heroes who died that day. Dan's medals, including the Bronze Star and the Purple Heart. His folded flag. The three spent shell casings, tucked inside a glove, from the twenty-one gun salute at his funeral service.
And while they are reminders of a life that was cut unfathomably short, they are also reminders of the joy and pride Drevnick instilled. "He believed in what he was doing. The National Guard is here to serve and protect," says Charles. "We lost a son. But we are proud of what he fought for."
It was only natural that they easily connected with the young veteran Kohlrusch when he started working with them, and that they shared their experiences openly. "When it comes to loss, every family is different. For us, we knew we wanted to tell Dan's story; share it with as many people as we could," says Roberta.
And while the door project was a not insignificant one, for Kohlrusch, the idea of surprising and honoring the Freeses with a new door was a "no-brainer."
"This family has given so much to this country," he says. "Dan was sixth-generation service member. They've served in combat back decades. Roberta and Charles are so dedicated to the community—they are a Gold Star family, and very active with that—talking to other families, sharing their experiences. Just super humble, super giving people.
"To be able to give back to them, even just a little, was an especially moving experience. I'm grateful that in working for Renewal, I'm working for an organization that allows me to be a part of something like this."
Concludes an emotional Roberta, "This connection with Nolan being a vet, serving in the same area as Dan, at the same time, and flying helicopters like [Charles]… It's almost like this was meant to be.
"This door is a memorial for our son—every day when we leave, when we come home, we go through this door, and are reminded of him. It's like he's welcoming us home every day."