Team Member Spotlight: Celebrating Father's Day the RbA Way!
It's a family affair for many of our Renewal employees. This month's team member spotlight highlights some of our Dad-Kid teams from across our corporate markets! Check out the collage below...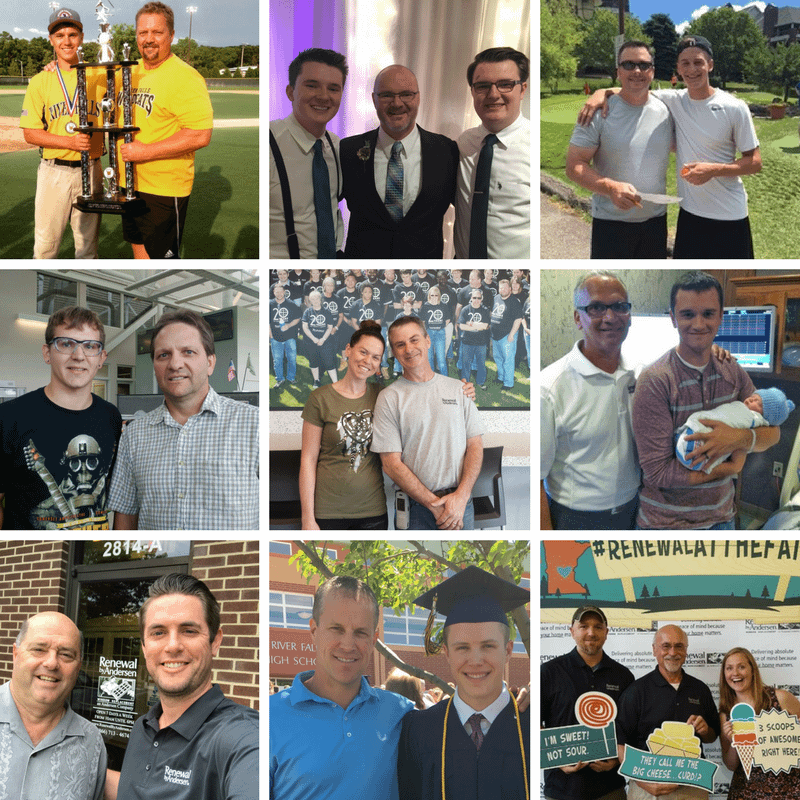 Pictured:
Top (L-R):
Troy Larson (Value Stream Supervisor; Corporate) and son Jaxin Larson (Seasonal Value Stream Associate/Manufacturing; Corporate)
Joe Levi (Value Stream Manager; Corporate) and sons Zac and Josh Levi (Seasonal Value Stream Associates/Manufacturing; Corporate)
Tom Coquyt (South Regional Sales Manager; Corporate) and son Lucas Coquyt (Seasonal Value Stream Associate/Manufacturing; Corporate)
Center (L-R):
Mark Kumpula (Value Stream Supervisor; Corporate) and son Michael Kumpala (Manufacturing Team Lead)
Mike Dardine (Electromechanical Tech; Corporate) and daughter Tonya Dardine (Value Stream Associate/Manufacturing; Corporate)
Robert Mannooch (Retail Development Manager; Detroit, MI) and Justin (Operations Manager; Detroit, MI) – pictured with Justin's son, Drew (Baby; Detroit, MI)
Bottom (L-R):
Mark Chaikin (General Manager; Capital Region) and son Kevin Chaikin (Retail Marketing Manager; Corporate)
Matt Graetz (Retail Development Manager/Lean; Corporate) and son Mason (Manufacturing Floor)
Dave Faddler (Service Supervisor; Twin Cities, MN), daughter Julianna Copeland (Associate Marketing Manager; Corporate), and son Sam Faddler (Installer; Twin Cities, MN)
Featured Video: From Our House to Yours--Heart and Soul
It's said that the eyes are the windows into the soul, revealing character, heart, and charm. Which begs the question: can a window have a soul?

At Renewal by Andersen, we think so--when it's a window backed by more than 100 years of refined craftsmanship, fused with the precision of today's most advanced technology, and built just for your home.
Find our more in this month's featured video: "From Our House to Yours"
"Team Power!"
"TEAM POWER! It all began with our in-home consultation. We were so impressed with the presentation and demonstration of product, we signed up right then and there.
As the teams (in the field & office personnel) prepared for the task of window installation we witnessed how extremely well that they interacted professionally and [their] work ethic for providing the best possible results.
We are blessed to have partnered with this company that offers the very best of service and products that are second to no other."
--Robert and Merle M.
Gresham, OR
"Impressive"
"This project was very impressive from beginning to end! The product (patio door) is exactly what the salesperson described.
In this day and age replacing something in the home can be very costly, so it is nice to have a satisfied feeling when the project is ended. I would highly recommend Renewal by Andersen to anyone!"
--Nancy C.
Fremont, CA
"Friendly and Knowledgeable"
"Our Renewal by Andersen experience was interesting and informative.
[They] gave us factual and detailed information about the windows which helped us to make our decision to purchase them. The installers were friendly and knowledgeable about their jobs. Trash was efficiently disposed of. We also appreciated the follow up call to see if we had any concerns to discuss. Great experience from start to finish!"
--Duane and Deborah K.
Edmond, OK
"Meticulous"
"I couldn't have been more pleased with our Renewal by Andersen windows and sliders. It was a pleasant experience from the original presentation through the final installation.
Colin and Chris J. arrived the first day and immediately got down to business. They were meticulous through every phase. Brock and Justin R. joined them the second day and were equally as qualified. They were careful to leave both inside and outside as they found it. Four perfectly delightful gentlemen."
--Nyla W.
Lacey, WA